Manufacture
Packaging
Good Things Come in Small Packages
SCHOTT introduces an online shop with low minimum order quantities to help smaller companies overcome the challenges associated with conventional purchase order procedures for primary packaging.
sponsored by Schott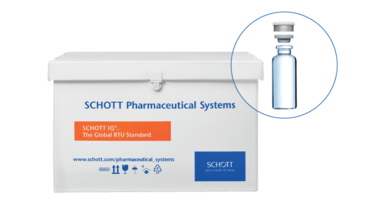 With the prominence of small biotechs and start-ups in the biologics development space, the traditional big pharma business model is being disrupted.
In 2018, for example, 38 of the 59 new drugs approved for use by the FDA originated from small biotechs (1); however, many aspects of the supply chains in a pharmaceutical environment are still geared towards larger companies – including primary packaging. The complex and sensitive nature of biopharmaceuticals demands robust packaging solutions, which tend to be subject to minimum order quantities – a common practice in many industries. But for smaller companies developing a drug product for a niche patient population, "minimum" can mean burdensome.
Finding the right vendor is also a challenge for small businesses. A large variety of packaging solutions is available across different suppliers, and an easy comparison between various offers is sometimes difficult. Additionally, price negotiations with suppliers, reams of paperwork, and long lead times before receiving orders are commonplace. To keep up with the industry's trajectory, we need new, modern solutions to ensure suppliers can support the smallest – and arguably the most influential – companies in the biopharma arena.
The order process: simplified
To make it easier for smaller companies to order the packaging they need in the right quantities, SCHOTT has launched an online shop for its customers. With low minimum order quantities, the online platform provides customers with containers in desired quantities without lengthy manual ordering requests. The online shop stocks a range of premium ISO-certified borosilicate glass special vials, as well as ready-to-use containers. Options include a variety of filling volumes, coatings, and different blowback types for vials. All products are in stock and ready to ship quickly. Furthermore, pre-tested container-component systems in ready-to-use formats round off the offer. The latter are especially interesting for labs and start-ups looking for an easy way to order pre-sterilized containers and matching components in small quantities. The solution is called SCHOTT Fast Track Kits. The kits consist of adaptiQ® (currently available in 2R, 6R, 10R, and 20R formats, but the portfolio will grow) ready-to-use vials, and matching stoppers – everything required for fast and simple processing. Further product types, such as syringes, cartridges and COC Polymer containers can also be requested online. Offering these from stock is part of the shop's growth plan.
Regardless of the type of packaging sought by current and future customers, the user-friendly design of the online shop aids navigation and streamlines the purchasing process; existing customers will easily find their products and detailed information on packaging solutions. And new customers, who may be less familiar with the SCHOTT brand, can easily discover information on products that suit their needs. Of course, SCHOTT's customer service team is always available to help and respond to any questions. It is simple for customers to register themselves on the shop's website and they can place the order without the usual price and document exchange associated with traditional ordering processes negotiations (which can be difficult for smaller customers).
One key advantage of SCHOTT's range of products offered in the online shop is the ability to use them during the complete product life cycle of the drug. Order quantities can be easily scaled up and packaging registration stays untouched.
SCHOTT's pharma online shop is currently available within the European Union but will be available to customers in the USA and Canada in Fall 2020 – inquiries from other countries are welcome, too.
SCHOTT Pharmaceutical Systems design solutions to ensure medicines are safe and easy to use for people around the world. Because human health is of the utmost importance to SCHOTT, the company will continue to use modern technologies to support businesses on the front lines of drug development, regardless of their size.
Visit the online shop to find out how SCHOTT can assist with your primary packaging needs: https://shop.schott.com/pharma/
Receive content, products, events as well as relevant industry updates from The Medicine Maker and its sponsors.
IQVIA, "The Changing Landscape of Research and Development" (2019). Available at bit.ly/2O0pXPh.