Business & Regulation
Trends & Forecasts
Patient-Centric Perspectives
Patient-centricity needs to be more than a buzzword. Here's how Boehringer Ingelheim is creating a culture of patient-centricity throughout the entire organization.
Keri Yale | | 5 min read | Practical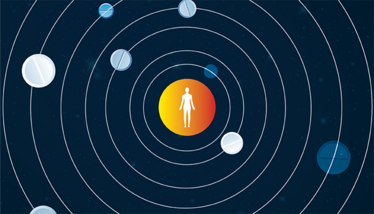 Early in my career, I worked with the HIV/AIDS community as an advocate liaison. Their constant refrain was "information is power," and it's something that remains true to this day. If patients are active in their healthcare journeys, they are better able to make the right decisions and more likely to proactively seek out better options. And for those of us in the pharma industry, information shared in the conversations with patients and caregivers empowers us to develop products, services, and solutions that provide even greater value to the patient community. Patients are uniquely placed to share what it is like to live with the condition, and we should be prepared to listen and take action.
Not only is robust and early patient engagement considered best practice, it is now incumbent on pharmaceutical companies to help discover what matters most to patients and to communicate insights gained from patients to regulatory authorities. In the US, the 21st Century Cures Act helped propel the field of patient experience data in regulatory decision making, and both companies and agencies need to continue to collaborate in this culture change to align with what could be described as the "new bedside manners for the 21st century."
As patient-centricity has gained traction across the health ecosystem, it has at times been referred to as a buzzword. To ensure it doesn't remain just a buzzword, patient-centricity should be a way of thinking and acting with authenticity. It should sit at the core of everything we do. At Boehringer Ingelheim, patient-centricity is a mindset and culture that puts patients first. Growing beyond buzzwords and making its value known gives it a real meaning within our organization, and it has been paramount to our success.
However, there have been challenges in embedding patient-centricity throughout the company. We knew there were pockets of excellence and several people working in this way, but we wanted to make it part of the very fabric of our company. How? We made each senior leader responsible for having a patient-centricity plan to identify the objectives and activities for the department they lead. These plans looked very different from one team to the next; we want them to be authentic to the nature of the work in each department. I believe it's critical in any company to have "buy-in" from its leaders when it comes to patient-centricity. If leaders are talking about patient-centricity, it emphasizes the importance of the topic and employees are more likely to get on board.
We have also created a patient ambassador program. Patient ambassadors are champions of patient-centricity (I refer to them as our "boots on the ground"). These individuals are either nominated or self-identify, and they play an active part in advancing our patient-centric culture. They participate in monthly meetings, which include knowledge exchange opportunities and help identify new ways to address patient-centricity within their own teams. After onboarding, the monthly meetings offer insights into best practices and guidance on how to incorporate patient-centricity into their roles – and their priority is to champion a patient-centric mindset in themselves and their teams.
I'd also like to mention our "Promise Tree." It starts with a bare tree trunk. Employees are asked to take a leaf and write the first name of someone they know living with a disease and their relationship to that person. They place the leaf on the tree and make a promise to that person that they will continue to contribute to the health of patients. This exercise reminds us that when we say patients, we mean people. Friends, parents, siblings, neighbors. The Promise Tree connects everyone to that individual experience of health and helps build an understanding of what it is like to live with a condition or illness.
Another tool we use is Patient Minutes – short presentations that highlight the story of somebody living with a disease or a patient engagement activity that helps us better understand patients' needs. It could be patient stories, patient insights, or information we want to share broadly so everyone can benefit from that knowledge. Hearing directly from patients is our most powerful tool. It helps to better understand their experiences and reminds us of the urgency and the importance of our jobs. With this tool (and others), patient ambassadors and other employees are able to amplify patient-centricity.
We've been engaging with patients for decades – beginning with our work in HIV/AIDS, but, over time, we've needed to shift the mindset from not just appreciating that we can learn from patients, but being strategic about it, giving it a budget, and making it a genuine priority. We've had to think about what information we capture – and how we capture it. We've also had to ask, "What are we learning?" What is the value that is being delivered to the business and, more importantly, to patients? Could it be shown in trial design, materials, education, or how we create awareness?
Ultimately, I'd like to see patients increasingly being more involved in their own healthcare – and in the development of new medicines and therapies. As an industry, we've expanded the ways through which we gain insights and have learned much about how to involve patients from the very beginning. Understanding patient experience and preference, as well as addressing unmet needs, should shape the development of products and services – not the other way around. By developing our products and services in collaboration with patients, both the patient community and the industry stand to succeed.
A more patient-centric mindset in an organization doesn't happen overnight. It takes activities. It takes people. It takes a change in thinking. It's not just something you talk about or something you're doing, but a way of being that flows from the leadership down and right back up through an organization that has become newly empowered and energized because its employees know that they are partners in this change. The patients we serve are why we get up in the morning and why we maintain a strong sense of purpose and urgency.
Receive content, products, events as well as relevant industry updates from The Medicine Maker and its sponsors.