Manufacture
Technology and Equipment
Just Press Print
Can decentralized additive manufacturing bring customized medicines to targeted patient groups?
Maryam Mahdi | | Quick Read
Researchers at University of East Anglia (UEA) and Loughborough University, UK, have developed an additive manufacturing technique that allows for the production of highly porous medicines with tuneable release profiles. The team believes that the approach could be used to develop customized drugs for patients at the point of care (1).
"Though 3D printers can't replace conventional large-scale manufacturing methods, such as tableting, their flexibility, small footprint, and portability make them well suited for small batch production of medications for targeted patient groups with specific clinical needs," says Sheng Qi, a reader at UEA. The new 3D printing method used by the UEA researchers relies on hot melt droplet deposition to print medicines. In contrast to the traditional fused deposition modeling method that relies on the continuous deposition of 'roads' of materials, hot melt droplet deposition 3D printing builds the 3D structure by fusing tidy droplets of molten materials. This allows for the printing of highly porous structures with good precision. By manipulating the size of pores within tablets, the 3D printing approach can produce small batches of solid dosage forms that are capable of regulating drug release depending on the patient's needs.
Qi explains that the technique could be particularly beneficial for patients with polypharmacy, as the printer also allows for drug combinations to be developed. "By using printed tablets, elderly patients, as well as those living with chronic conditions, all stand to gain as they can access maximal drug benefit with minimal side effects and reduce their burden of taking the medicine," she says.
The team is collaborating with industry professionals and the UK's National Health Service to translate their research from academia to healthcare and pharmaceutical settings, which will include rethinking supply chains. "A new type of supply chain network is being developed to suit small batch and point of care manufacturing," says Qi. "It's exciting to see how the role of traditional medicine manufacturers will change and how additive manufacturing will influence the future of drug development."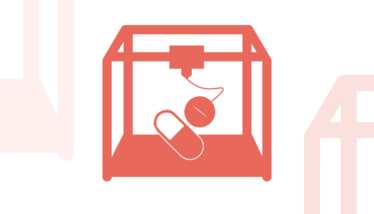 Receive content, products, events as well as relevant industry updates from The Medicine Maker and its sponsors.
B Zhang et al., Int. J. Pharm. (2021). DOI: 10.1016/j.ijpharm.2021.120626