Manufacture
Contract Manufacturing Services,
Drug Delivery,
Packaging
One Stop Shop
In a market filled with complexity, working with a single supplier simplifies the supply chain and focuses effort towards a single target
Adam Stops | | Longer Read
sponsored by Stevanato

The pharmaceutical industry is evolving, with a trend towards high-value products like complex therapies and combination products. The demand for these complex therapies is inspiring drug developers to think more about the right containment and delivery systems; developers are looking for system solutions that offer superior levels of quality, patient comfort and stringent regulatory requirements.
But the need for state-of-the-art packaging and delivery solutions is not just restricted to newer products. Across the whole pharmaceutical industry, drug developers are looking for improved supply chain efficiency and cost-effective go-to-market solutions. Additionally, the COVID-19 pandemic has changed the way companies view supply chains and operations; many now recognize the challenges of working with multiple suppliers across different geographies. Simply put, pharmaceutical companies are increasingly keen to explore how a single provider can support all of their combination product needs – from sourcing the right, high-quality containment system to ensuring the appropriate manufacture of the delivery device.
With world-class manufacturing capabilities and over 70 years of industry experience, Stevanato Group excels at creating customized drug deliver y and containment solutions for pharmaceutical companies. Our ethos has always been to listen to customers and remain flexible to the needs of the customer. Moreover, our large global footprint allows us to connect with customers the world over. By working closely with a supplier who can provide a cohesive and efficient service – providing optimized glass containment and device services, as well as the appropriate equipment and analytics – pharmaceutical companies can simplify their commercial journeys. In fact, we can support pharmaceutical customers at every stage of the process –from the choice of container to the manufacture of the delivery device for the combination product.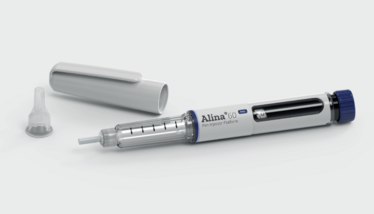 Delivering real quality
Stevanato Group offers a broad range of products and services to ensure that our customer's drug products are matched with the best possible containment and delivery systems. Customers can either choose all of these services for holistic support – or they can mix and match. For example, our customers can work with us to learn more about the different types of containers available for their particular needs, including support for extractable and leachable. Here, our analytical services can extract deep insight into the compatibility of a customer's final drug product with the chosen container – from extensive feasibility and development testing all the way to design verification testing that can be used as part of their combination product and regulatory submission.
Some companies are also keen to use drug delivery devices, like pen injectors (see sidebar, Alina in Focus); we can offer support here too. Stevanato Group has invested in platform technologies, like Alina, to enable more pharmaceutical companies to provide healthcare to patients. By providing platform, offthe- shelf technologies, pharmaceutical companies benefit by being able to access drug delivery device technologies with a low upfront cost and a fast timeto- market. Along with the benefit of leveraging the extensive experience of our plastics and device experience at our world-class manufacturing facility in Germany, Stevanato Group can support customers in selecting the optimal devices for their unique requirements, we can even provide testing and design support in case customized solutions are required. As market trends continue to evolve, the focus on specific drug delivery systems will continue to grow.
Flexible and scalable assembly equipment is also a crucial element of Stevanato Group's offering, with proven technologies used to develop customized solutions. Small-scale, benchtop units are available for device and process development purposes, often useful for clinical or stability batches for submission, along with rotary platforms for scaleup toward higher volume commercial production. Fully automated, linear platforms are also available for highvolume production with complex assembly tasks, in-line automated inspection and process checks, as part of high-speed, largescale commercial production. Support is provided throughout the process – from clinical trials to fully automatic high-volume production. Our aim is to ensure customers choose the best equipment solutions based on their production volumes and the characteristics of their devices.
At Stevanato Group, we pride ourselves on providing customers with best-inclass devices and technologies catering to different needs.
It all adds up to a streamlined endto- end solution for pharmaceutical companies around the globe – enabling them to focus on delivering world-class treatments to patients.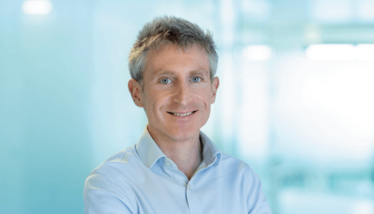 Alina in Focus
Stevanato Group offers a wide range of drug delivery systems to service the ever-increasing need toward selfadministration. Adam Stops tells us more about Stevanato Group's Alina platform pen injector, which provides a costeffective alternative to customers wishing to enter into Combination Products.
What is SG Alina?
SG Alina is a manually operated, variable and multi-dose pen injector. Alina was designed to be a truly patient-centric device wherein dose dialing, injection forces and dosing have been optimized for patient comfort. The injector features visual, audible, and tactile feedback for dose setting, and a clear pre-injection dose indication to avoid underdosing; we also incorporate dose correction to avoid injection errors. SG Alina, manufactured in our site in Germany, is suitable for all standard 3 mL glass cartridges and has also been optimized for our SG Nexa® 3 m L solutions to enhance speed-to-market.
How does Alina meet Pharma customers' needs?
As an off-the-shelf product with customizable features, SG Alina allows pharmaceutical companies to benefit from low upfront investment costs by accessing the installed production capacity at our manufacturing site. It also enables choices on styling, color and dosing regimes from the in-built customizable options that allow the pen injector to be optimized toward specific patient groups and therapies. Another key advantage of the SG Alina platform is that it has been developed as an integral part of a full solution: we recognize the delivery device is just one important part of the combination product and so from our deep understanding of how pharmaceutical products, containers, closures, and drug delivery devices interact with each other, we have designed SG Alina to ensure an optimal system solution.
Receive content, products, events as well as relevant industry updates from The Medicine Maker and its sponsors.