Manufacture
Packaging,
Quality & Compliance
Optimizing Surfaces
Creating a chemically stable inner container surface is an ongoing quest for packaging makers. Different options can help to minimize the risk of delamination, protecting sensitive drugs or improving lyophilization results.
sponsored by Schott
Combating Delamination with SCHOTT Vials DC
Glass delamination has been known about for decades, but the problem only permeated pharma's consciousness in recent years, following a number of product recalls. It was found that drugs were corroding the inner surfaces at the bottom-near area of some glass vials and causing thin, flexible fragments called "glass lamellae," or "flakes," to detach. Delamination typically occurs weeks or months after filling, and there are a variety of container, processing, storing and drug formulation factors that contribute to the problem.
In order to tackle this challenge, we looked at all the relevant steps in glass production to identify which step increases the risk of delamination the most – and we found that conventional converting processes might generate inhomogeneities on the inner surface of the vial in the bottom-near wall area. In light of this, we optimized the manufacturing process to create vials with a unique surface homogeneity and chemical stability: SCHOTT Vials Delamination Controlled (DC).
The key point is to use already established manufacturing principles and to more tightly control those process steps, which has an impact on the delamination propensity. The end result is that pharmaceutical companies do not have to reregister a drug when changing the Type I packaging container to SCHOTT Vials DC.
As a matter of fact, only a very small portion of conventionally manufactured vials have an increased delamination propensity. Yet these "outlier vials" are the ones which might cause a delamination recall. Therefore, the key point of our DC technology is to cut off those seldom outliers by tighter control of the process steps that influence the delamination propensity. But how could this delamination propensity be monitored during packaging production? SCHOTT developed and patented a quick routine test to tackle this challenge – the SCHOTT Delamination Quicktest. This Quicktest is used to validate the process for SCHOTT Vials DC and serves as release criteria based on a quantitative limit value.
The Quicktest works as follows: random vial samples are taken out of production according to ISO 2859 and autoclaved bottom up for four hours to tease out the delamination critical zone. In a second step, the vials are filled with WFI (water for injection) and autoclaved again. The extracted amount of sodium correlates with the likeliness that the vial will experience delamination later on. By monitoring these values and adhering to certain thresholds, the delamination propensity of the vials is minimized to the highest extent possible.
The capabilities of SCHOTT Vials DC were proven in a case study. Within a period of 48 weeks, no delamination was observed with 2 ml SCHOTT Vials DC stored at 40 °C with three different model buffer/solution systems (citrate, phosphate and sodium bicarbonate), whereas the reference vials (standard quality) developed delamination or pronounced pre-indicators for delamination for phosphate and sodium bicarbonate. The study was the Parental Drug Association's most frequently downloaded Technology/Application paper in 2017 (1), which demonstrates the industry's growing interest in delamination.
Finding suitable vials for delamination screenings
SCHOTT also uses DC technology to produce typical "outlier vials" with an increased risk for delamination in accordance with regulatory requirements like the European pharmacopoeia and the US Pharmacopeia. Although this may seem surprising at first, there is a good explanation; using conventionally produced vials for a predictive screening study might be misleading. Most likely, you will not see delamination even for a critical drug/formulation, as the majority of the conventionally produced vials exhibit a low delamination propensity.
Therefore, we produce outlier vials with increased delamination propensity with a defined parameter setting and a high process capability on purpose. These so-called Dela Test Vials should be used for a predictive screening study to elaborate if the drug formulation is sensitive to typical outlier vials. Our Dela Sample Kit combines such Dela Test Vials plus SCHOTT Vials DC in a complete package – and is a good basis for predictive screening studies.
Convincing Inner Strengths
Another way to improve the chemical stability of a pharmaceutical container is to apply coatings to its inside surface. For drugs in need of even greater protection, or for applications that are subject to lyophilization, such functional coatings offer a proper alternative.
These thin, yet highly effective layers are applied with the help of a PICVD technology, which stands for "Plasma Impulse Chemical Vapor Deposition." The vials are washed, dried and then placed inside a reactor where a plasma reaction takes place. Multiple vials can be coated simultaneously within a single cycle that only lasts about a minute. Afterwards, the thickness of the coating and quality of the vial itself are checked with the help of automated inspection systems.
Over the past decade, we have seen our coating capabilities evolve. Today, they enable us to offer vials whose inner surface show additional properties – an ion barrier or hydrophobic behavior, for example.
SCHOTT TopLyo® coated vials for efficient lyophilization
Lyophilization places high demands on pharmaceutical packaging. It needs to be able to withstand mechanical and thermal stresses, guarantee low chemical and physical interaction of the container walls with the drug and, last, but certainly not least, allow for an intact lyo cake and complete removal of the dosage after reconstitution to reduce overfilling.
SCHOTT TopLyo® vials are endowed with a stable and hydrophobic interior surface and are especially recommended for lyophilization. The hydrophobic properties are similar to the so-called lotus effect: liquid residues are drawn together to form individual drops and consequently leave minimized residual volume. The adhesion of substances to the surface of the containers is thereby reduced.
The coating further ensures an aesthetic lyo cake as fogging and disruption of the lyo cake during the lyophilization process is avoided. Further, residual silicone typically found in siliconized vials is fully avoided for SCHOTT TopLyo® vials using the PICVD process. There is a pronounced trend for high potent biotech drugs to avoid residual silicone as the efficiency of the drug might be affected.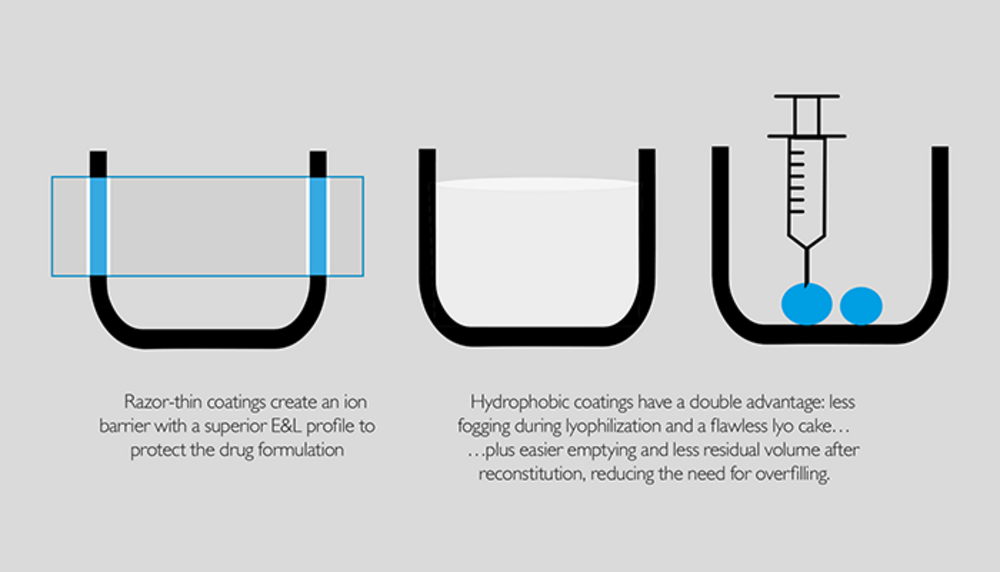 SCHOTT Type I plus® – inert SiO2 layer
The inside SiO2 coating of SCHOTT Type I plus® vials provides an ion barrier that significantly reduces the interaction between drug product and container surface. Consequently, the coating ensures that the formulation remains stable over shelf life by reducing ion leaching from the packaging. Sensitive drug formulations thus benefit from increased shelf life stability and minimized adsorption of proteins in liquid formulations. Further, a pH-shift for unbuffered formulations is avoided using SCHOTT Type I plus®.
Demand on the rise
Due to the rise of biotech drugs and the need for superior packaging solutions, we are significantly increasing our coatings capabilities at our production facility in Mullheim, Germany. Our 20 years of experience in manufacturing coated vials have been incorporated in the conception, focusing on minimizing glass-toglass contact and reducing particle load.
Enjoy our FREE content!
Log in or register to gain full unlimited access to all content on the The Medicine Maker site. It's FREE and always will be!
Login
Or register now - it's free and always will be!
You will benefit from:
Unlimited access to ALL articles
News, interviews & opinions from leading industry experts
Receive print (and PDF) copies of The Medicine Maker magazine
Register
Or Login via Social Media
By clicking on any of the above social media links, you are agreeing to our Privacy Notice.
U Rothaar et al., "Comparative delamination study to demonstrate the impact of container quality and nature of buffer system", PDA J Pharm Sci Technol, 11/12, 70, 560-567 (2016). PMID: 27325595.