Manufacture
Bioprocessing - Upstream & Downstream
As the need for smaller plants, flexible manufacturing and competition intensifies in the biopharma industry, so does the need for intensified processes. Increased speed to market, reduced cost of goods and increased volumetric productivity are some of the benefits offered by perfusion cell cultures. For a perfusion process to be economically feasible, high cell densities need to be attained with low volume of cell culture medium. Achieving and maintaining steady-state conditions with low perfusion rates require specific media – ideally fine-tuned to the needs of the particular perfusion application. For example, in an N-1 bioreactor, maximized high growth rates and viability are required. In contrast, in a production bioreactor, such high growth rates may be detrimental, due to increased bleed rates and associated product loss. A high performing perfusion cell culture medium needs to not only provide the required nutrients, but also to minimize the generation of toxic by-products. A critical step, therefore, is to appropriately balance and optimize perfusion media according to the metabolic needs of each specific process – and steady-state perfusion is the most challenging of these applications.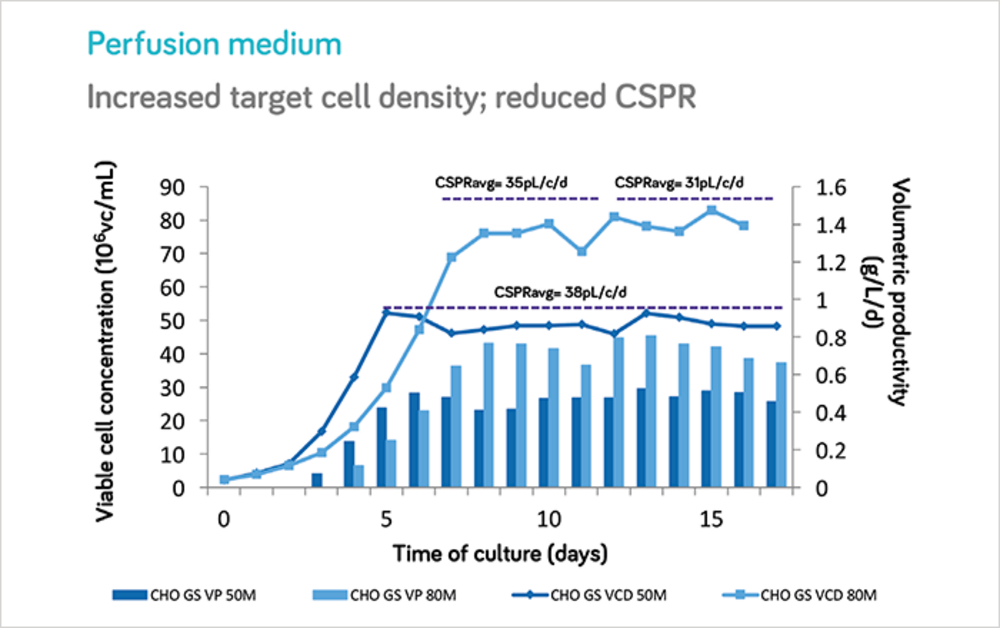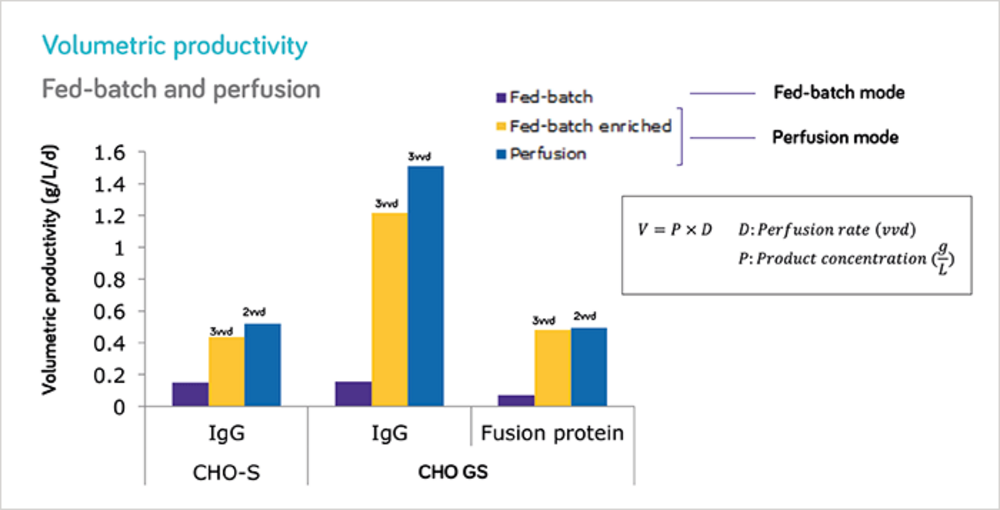 At MilliporeSigma, we have developed a catalog CHO cell perfusion medium specifically designed for intensified perfusion processes, including steady-state. We developed this novel cell culture medium with seven different industrially-relevant CHO cell lines producing various types of proteins. The results at bench-top bioreactor scale have been excellent. In particular, we have found significant differences between our perfusion medium and enriched fed-batch medium (EFBM): the new product allows us to simultaneously increase volumetric productivity, as compared to EFBM, while at the same time increasing specific productivity and reducing cell-specific perfusion rate (CSPR) from 80 to 40 picoliters per cell per day in steady-state. In non-steady-state applications, CSPRs lower than 20 picoliters per cell per day have been generally achieved.
The flexibility of perfusion technology is apparent at two levels. On the one hand, variable drug production amounts can be achieved with the same equipment just by modifying the duration of a steady-state perfusion run. On the other hand, perfusion can be processed for different applications such as a tool for high density cryopreservation, for N-1 bioreactor intensification, or as production bioreactor. The breadth of applications as a production bioreactor is quite extensive as well, varying from steady-state and dynamic perfusion to different types of perfusion/fed-batch hybrid systems. Studies show the potential economic advantage of perfusion and continuous manufacturing overall, compared to batch-based processes. Ultimately, the choice between any of the types of perfusion, fed-batch or hybrid processes will depend on many factors that relate to the specific manufacturing plant and drug being manufactured.
Enjoy our FREE content!
Log in or register to gain full unlimited access to all content on the The Medicine Maker site. It's FREE!
Login
Or register now - it's free!
You will benefit from:
Unlimited access to ALL articles
News, interviews & opinions from leading industry experts
Receive print (and PDF) copies of The Medicine Maker magazine
About the Author
Delia Lyons