Manufacture
Packaging
Raise Your IQ
We believe a standardized approach to primary packaging will give companies more filling-line flexibility.
sponsored by Schott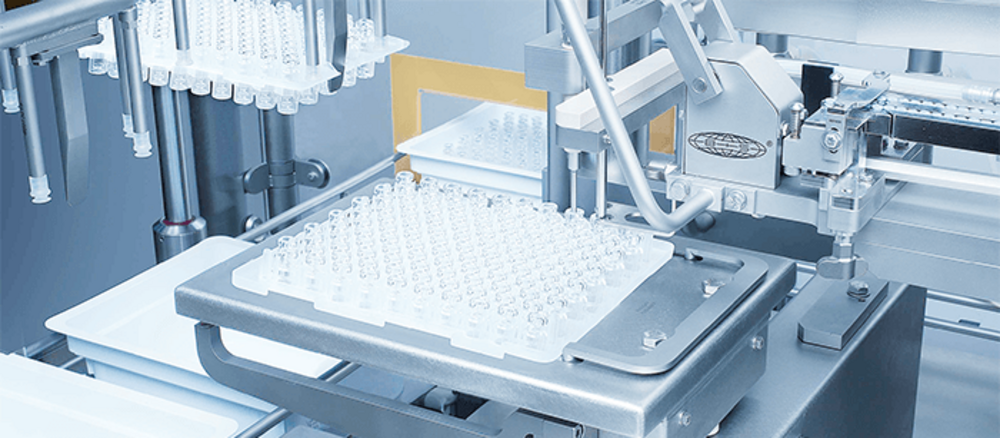 The current trend towards high-value medicines for smaller patient populations will likely accelerate with the advent of personalized medicine and diagnostic tests that can better assess which medicines will work in which patients. In some cases, a company may only be filling a few hundred vials at a time. Many pharma facilities were built around a traditional "blockbusters" model – filling millions of identical containers in a single run – so small batches can be a production nightmare. On Monday a company may be filling a 6R vial, and on Wednesday need to swap to cartridges. Most filling lines are not efficient when it comes to short production runs and the frequent changeovers can lead to a lot of downtime. Containers will need to be changed, equipment will need to be cleaned/ decontaminated, and ramped up, which can take several shifts. There is a key need in the industry for new manufacturing systems that allow for more flexible production, and some filling machines have already been developed that can cope with different types of containers. But how can makers of primary packaging contribute?
At Schott, we believe that the answer is standardization.

A New Age of Collaboration
"In the light of particle reduction and smooth handling of the drug product during production, reliable processes have gained importance. This calls for a new type of cooperation mindset between formulation developers and suppliers, as well as amongst the suppliers themselves. The iQ™ approach is a good example of how to step up the dialogue between packaging suppliers and fill and finish specialists."
Thorsten Häfner, Director Business Development at Groninger.
"iQ™ works on whatever machine you want. As of today, it is already compatible with over 30 machine platforms of all the leading and also upcoming vendors."
Fabian Stöcker, Head of Global Strategy & Innovation, SCHOTT Pharmaceutical Systems.
Time to agree on a new standard
iQ™ is one of the newest products launched by Schott. The concept is simple: iQ is a flexible filling platform that standardizes nested ready-to-use (RTU) syringes, vials and cartridges in a single tub format (a 3-inch tub as per ISO 11040-7), allowing them to be processed on a single machine. Using the same tub means fewer format parts to swap during changeovers.
Before we started developing iQ, I attended a conference where one speaker gave a presentation explaining why the size of a tub needed to be specifically optimized for each packaging format. The benefit? Matching the right sized tub to the container is useful for logistics and saving space in warehouses, but in terms of processing it leads to a great deal of tub variety and the need to optimize machines for each tub size during changeovers. Changeovers times can vary depending on machines and formats, but it wouldn't be uncommon for a changeover to take several shifts.
Our view at Schott is that a more standardized approach would be of great benefit. With iQ, there is minimum effort required when changing from one format to another. Using one standard size of tub means less machine adjustment and significantly faster line changeovers. At CPhI 2017 in Frankfurt, we performed live demonstrations of changeovers on our booth, showing that they could be performed on a Bausch+Ströbel filling machine in 10-15 minutes, with just a small handful of components.
The benefits can be summarized as follows:
Reduced complexity. Validated, RTU containers and components have already had a positive impact on customer processes and product time to market. Now, we're also reducing the complexity of running filling equipment, by ensuring that the process of introducing the containers is fully harmonized.
Maximized flexibility. Choosing the right container for the right drug is important, but we offer a full range of different container options to our customers in a standardized platform – meaning that customers get their perfect container, in a more flexible format that works on most standard filling lines. iQ™ is compatible with Schott's syriQ® prefillable syringes and adaptiQ® ready-to-use vials, as well as the new cartriQ™ ready-to-use cartridges, which will be available soon.
Improved patient safety. iQ relies on the proven nest-and-tub format, which prevents glass-to-glass contact and breakage. At Schott, we also have ways of identifying and preventing cosmetic defects that may affect the strength of the glass. We also have particle reduction programs at Schott.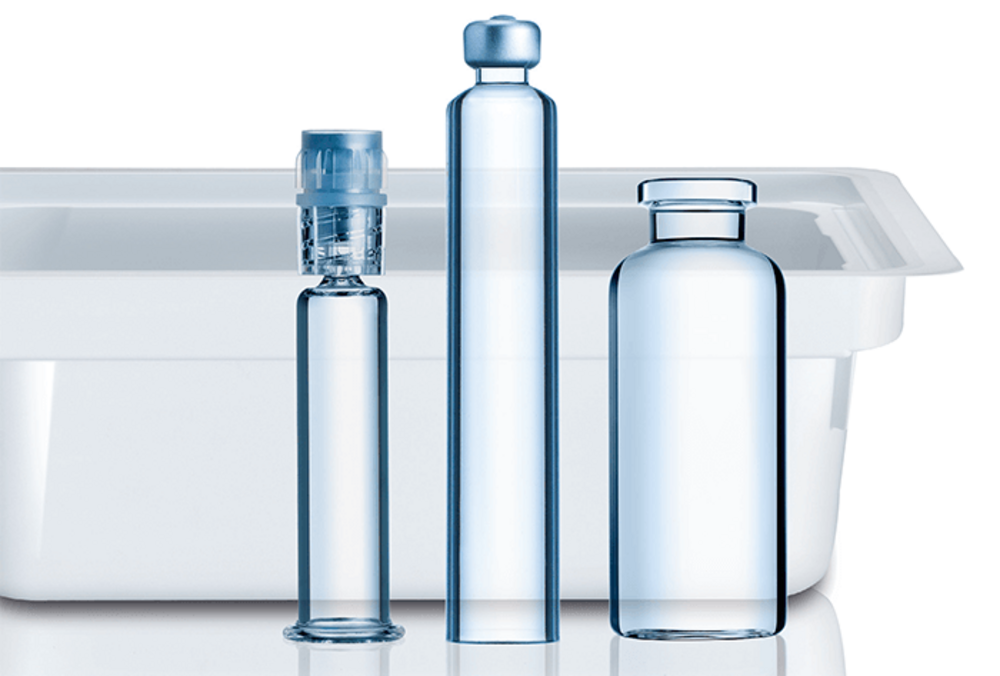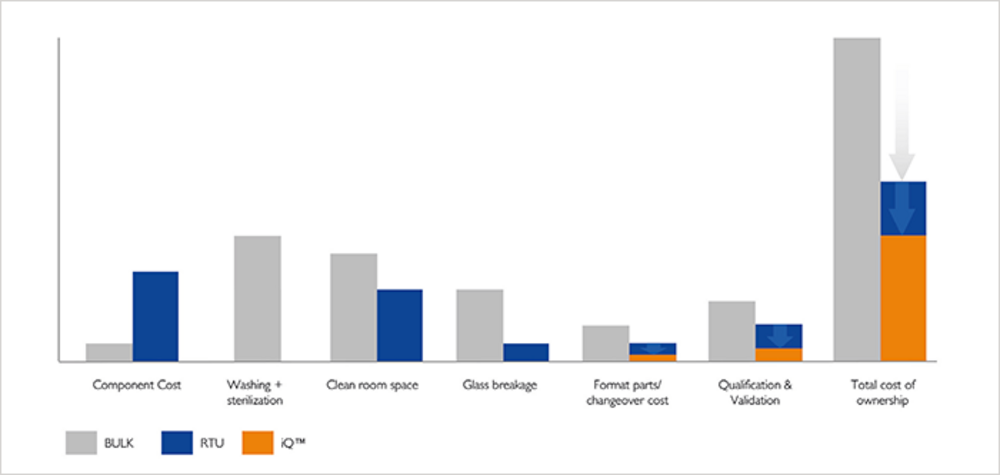 Counting the Cost
Traditional aseptic manufacturing consists of three separate lines – a bulk cartridge line, a bulk vial line, and a pre-filled syringe line – in separate clean rooms. Switching to RTU containers saves space by eliminating washing machines and heat tunnels, but the ultimate cost-saving solution is to invest in one processing line with nested filling that can accommodate different types of containers. Companies save money because they are only purchasing and running one line, and they will also only need one clean room.
Bulk filling – Total cost of ownership includes components, washing and water for injection usage, sterilization and power usage, clean room space, glass breakage, format parts and changeover, and qualification and validation.
RTU – Initial cost for the components may be higher, but savings can be found in the elimination of washing and sterilization steps, reduction in clean room space, less parts and changeovers, and reduced qualification and validation.
iQ – The new concept boosts the advantages of RTU filling. Thanks to less cost for format parts and changeover, and qualification and validation, pharma companies can gain even more benefits.
A case study* has found that iQ can:
reduce investments by up to 40%
reduce clean room space by 60%
reduce running costs by up to 40%
reduce time to market
*The above cost savings are based on the results of an individual case study. The actual savings may largely vary depending on the specific customer's situation. SCHOTT cannot accept any responsibility for the achievement of the above savings.
The idea for iQ developed over time. Its origins can be traced back to the emergence of RTU syringes. The fact that RTU syringes can immediately enter a sterile environment was a huge boon for manufacturers – getting rid of their washing or sterilization steps, reducing equipment and running costs, and making their processes leaner. RTU has set the standard for syringes and is now offered by a number of vendors, including Schott. In time, the industry began to ask for RTU vials as well, which raised a number of questions.
What should the packaging for RTU vials look like? What is the best tub size? The best nest? Do we optimize the packaging for logistics? Or do we optimize the packaging to make it easier to use from a process perspective? While Schott was considering these questions, the need for more flexible manufacturing processes in the industry began to become more urgent. Rather than tailoring processes and packaging for individual applications, we opted to develop a standardized platform.
Combined wisdom
iQ launched in October 2017, and the feedback has been incredibly positive. For vendors, it is not enough to develop a new vial or machine that is incrementally better than what is already available – vendors must listen to their customers, identify the challenges they face, and then collaborate to come up with holistic solutions that are easy to implement. iQ involved collaboration with a large number of companies, to ensure the platform was truly fit for purpose. We worked with machine vendors (Bausch+Ströbel, Bosch, GEA, Optima, Groninger and Vanrx, among others) to standardize packaging dimensions and to ensure that our platform would run on most filling machines. We also liaised closely with established elastomer component suppliers (including West, Aptar, ARaymond, Daikyo, Datwyler, and Gore) to offer pre-validated and flexible container systems. Ultimately, we are not offering an individual product, but a full, validated solution.
Customers were also involved in the iQ development process – and were pleased to see us adjusting our product portfolio in response to the industry's need for increased flexibility. I believe that standardization is the way forward, without a doubt. Biopharma manufacturing needs to change by becoming easier and more efficient – standardization can enable this. You find standardized solutions almost everywhere, from WiFi and USB to shipping containers and palettes, to the size of credit cards. All these standards have some greatfeatures in common: they enable flexibility, simplify and speed up processes, and also save costs. We want to do the same for RTU packaging and filling lines – ensuring that customer processes run smoothly and have the flexibility to adapt to changing industry needs. In essence, we want customers to worry less about packaging components and processes, and instead focus on the real business of making medicine that helps people to live healthier lives.

Finding a Perfect Fit
Manufacturing containers is one thing – but providing holistic container-closure-systems is another. Hence, SCHOTT's concept includes a set of pre-validated elastomer components. The aim is to help pharma companies to significantly lower their test efforts.
Read the full article now
Log in or register to read this article in full and gain access to The Medicine Maker's entire content archive. It's FREE and always will be!
Login
Or register now - it's free and always will be!
You will benefit from:
Unlimited access to ALL articles
News, interviews & opinions from leading industry experts
Receive print (and PDF) copies of The Medicine Maker magazine
Register
Or Login via Social Media
By clicking on any of the above social media links, you are agreeing to our Privacy Notice.