Manufacture
Packaging,
Facilities,
Technology and Equipment,
Bioprocessing - Upstream & Downstream
Raising the Bar(code)
Track and trace barcodes must appear on secondary packaging, but are there benefits to applying similar codes to parenteral containers?
Stephanie Sutton | | Interview
When thinking of traceability in the pharma industry, most of you will immediately think of serialization regulations, such as the Drug Supply Chain Security Act (DSCSA) or the EU Falsified Medicines Directive (FMD), which mandate the use of 2D matrix codes to be applied to each individual pack of pharmaceuticals (among other obligations). However, there is also room for traceability to be used in other ways to benefit pharmaceutical manufacturers. For example, applying unique product identifiers to glass containers could help prevent mix ups and allow manufacturers greater visibility into where problems are occurring in the fill and finish process.
The ISPE has published a Discussion Paper on the unique identification of primary containers to drive product traceability and quality (1). The paper outlines the current implementation of unique container identification technology in parenteral manufacturing lines, including potential solutions, and provides a summary of the challenges that technology developers face when it comes to developing and implementing identification solutions in process lines.
Tod Urquhart, Product Manager and Core Team Leader at Stevanato Group, has taken a lead role when it comes to drafting the paper. We spoke with him to learn more about the benefits of applying a unique identifier to glass containers.
Why did you become interested in the idea of unit-level traceability for glass containers?
There has been a lot of focus on pharmaceutical secondary packaging – and I think the industry breathed a huge sigh of relief when it met the mandates for the DSCSA and FMD. Compliance with traceability initiatives has cost companies hundreds of millions of euros/dollars. I have been working in serialization for well over a decade and I was interested in how we could take the concept of traceability further and deliver more value for the industry.
Most traceability solutions only apply to the secondary packaging. Once a product is removed from that packaging, the traceability is lost. Glass containers usually have a label on the container but it can still be damaged. Putting the finished product inside a secondary box is also the last step and provides no traceability on the manufacturing line. If a barcode were to be applied to glass pharmaceutical containers prior to fill-finish, it would allow tracking throughout the filling and sterilization processes, which could help identify problems or issues within the process, enable faster root cause analysis, and, ultimately, help companies improve their processes and save money.
Although adding a unique identifier to glass parenteral containers could offer many benefits for manufacturers, it is not easy to mark glass packaging. Glass is glossy and non-absorbent, and the containers also tend to be very small and have curved surfaces. In short, it is far more complicated than adding a barcode to secondary packaging of prescription medicines.
At Stevanato Group, we looked at the idea of marking containers with a laser solution, but it was rejected because the technology could potentially create micro-cracks in the glass. We looked at various other printing technologies – and someone told me that they had the need completely covered. But when I looked at their idea, it would have reduced our output per machine by around 50 percent. The industry would not want to absorb that cost – and we did not want to reduce our capacity so significantly. After that, we started to consider other technologies and looked at nine different solutions. In the discussion paper, several key characteristics are described for a marking process:
It should be a digital process capable of managing high speed serial numbers and barcodes.
Must have no impact on container integrity or glass mechanical properties.
Must not be impacted by or impact on sterilization processes.
Must have minimal impact on manufacturing lines (such as filling, inspection, etc.)
Must be readable with standard serialization cameras.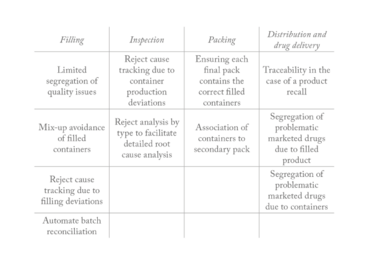 How can manufacturers benefit from applying unique identifiers to parenteral containers?
In a PDA survey (cited in the ISPE discussion paper), respondents cited a variety of considerations that would inspire them to build a business case for implementing unit-level traceability of glass containers: limiting batch segregation, avoiding mix ups in the filling process, reject analysis inspection greater traceability in the event of a product recall, segregation of drugs in the market, automating reconciliation, racking, improving clinical trial monitoring, and increasing efficiency, such as overall equipment effectiveness.
I like to refer to unmarked glass containers as "vanilla glass." All the containers are identical and they move at high speed throughout the line. If there is a problem with, for example, particulates being present, the container will be rejected. However, when it is in the reject chute you do not know which container has been rejected for particulates, for example, or for a container closure integrity issue container without thoroughly examining the container and conducting an investigation. Unique container identification provides individual container visibility in the key manufacturing processes.
One challenge with filling lines is that batch release documentation may not be completed until two or three weeks after the product has been filled. If a problem is identified, manufacturers must ascertain the filled product that has been impacted and this is not an easy task. As such, it is common for manufacturers to over segregate or even write off the entire batch.
But if each container has a unique identifier there will be a date and time stamp associated with the point at which a container has been filled. If contamination is found, you can check the identity of the containers that were in the machine during the period of concern and use a defined segregation policy based on real data.
Once the batch is complete on a filling line, pharma companies must also ensure there is a complete reconciliation of the process, to prevent the potential for a mix up when a different filling process begins. The reconciliation process is laborious; if 100,000 containers go into the machine there must be a complete count to check that 100,000 containers came out! By marking individual containers, the whole process can be automated. You know exactly which containers entered the machine and once you know which containers have been rejected, you'll know if any containers are missing – and potentially still in the line.
Traceability gives individual container visibility in the line. You will know the date and time each container was filled, which pump was used, and how long it took – and this insight could be used to improve the process overall. In the same way, unique containers can be used in the automated inspection process. Today, when a defect is detected it is difficult to determine the reason a container was rejected without additional manual intervention. Unit level traceability will indicate which container was rejected and why, thus helping with process improvement and reconciliation.
There are also benefits beyond manufacturing. Traceability is incredibly useful during a product recall. I was working at a pharmaceutical distribution company in Asia during a product recall, and that is when it really hit home how important serialization is. Keeping track of the status of the recall was very challenging. We had no idea where the affected products had gone. Which doctor, clinic, or pharmacy had them? Or were they already in somebody's medicines cabinet? It seemed an impossible task.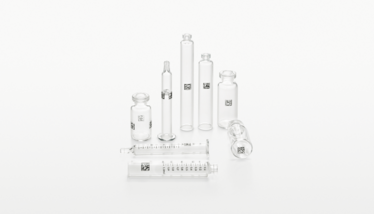 How did you get involved with the PDA and the ISPE?
In 2016, I went to a PDA meeting in Venice and started talking about the concept of unique identification for parenteral drug containers. At that time, it was not on anyone's radar and so understanding the concept and why it may be important was a challenge! But, in time, the PDA began to understand the potential benefits and they have been very supportive by conducting surveys of their members to get viewpoints on traceability. In one of their surveys, they asked if their members would consider using unique containers; 68 percent of respondents said yes, which was a ringing endorsement to what we were doing!
In 2019, I started looking at different standard agencies to see if they could offer support because the pharma industry is driven by standards! I went to a few different organizations. One of them told me that it would be much easier to get support if I was from a big pharma company; but, as I was from a supplier company, it may be more difficult!
A working group was set up with the initial aim of creating a discussion document that could be used for implementing unique identification of primary glass containers.
But the ISPE stepped up and offered their support. They have been incredibly helpful. Other people showed their support too and we have authors on the discussion paper from many different companies, including LifeBee, Eli Lilly, Novartis, Groninger, Optima, Seidenader, Vetter, Alexion, Alfasigma, CIM Pharma, ISPE, and Janssen-Cilag.
I believe that the solution for unit-level traceability cannot just come from one supplier. Stevanato Group is not the only supplier to our customers – they will also be working with our competitors, as well as equipment providers. The challenge requires a multi-ended strategy and work from different parties to make it successful.
A working group was set up with the initial aim of creating a discussion document that could be used for implementing unique identification of primary glass containers. Because of the pandemic, nobody was traveling so we were able to have our weekly group meetings with everyone attending – and it allowed us to work quickly and consider the viewpoints of pharma manufacturers, filling line manufacturers, inspection machine manufacturers, and so on.
There is a lot of detail in the document, and it outlines how to go about implementation. The whole point of a standard is to make something easy, not just for pharma manufacturers but also for suppliers like us. It is about creating a level playing field and understanding how we can all work together. From the very start, the aim has been to develop an open-source solution that can be used by the industry through a licensing model.
What were the considerations around where to place the barcode?
We had a lot of conversations about this in the working group. We did some tests using our process to test the best place for the barcodes in terms of readability and not creating defects in the container. When discussing 0.5 mL syringes, a group of engineers from one pharma company said that they did not want the code anywhere on the body because it would prevent the detection of particulates during inspection. They wanted the code on the plunger, but I strongly advised against that because it is the plunger that guarantees drug sterility during the shelf life. We eventually agreed it should be placed on the body. The discussion paper states the recommended place to apply the code, depending on whether you are using a syringe, cartridge, or vial.
How will the barcodes be applied in practice?
To answer this, I need to take a step back and look at the processes. For sterilization, for example, there are different processes depending on whether you are using a ready-to-use syringe, or vial. The temperature difference and effect on the container can be significant depending on the process. We wanted to apply the same marking process and methodology to all containers. We had to go away and think about how that would work and make sure it was suitable for all the different processes that might be used. We tested many different approaches! For the discussion paper, we agreed that the preferred method should be a digital printing process and that the inks must be able to withstand process temperatures. Standard inks can be destroyed by sterilization temperatures, so inorganic inks are better. Laser systems can also be considered, but as mentioned previously, they can potentially impact on the container so this needs to be carefully considered.
In my view, there are three key things with serialization: readability, readability, and readability. If you cannot read the code then it is all pointless, so the code needs to be able to withstand all steps of the fill-finish process – as well as other tests, such as stability tests – and still be readable.
Also discussed in the paper is nest/container aggregation – which I think will be a novelty to the industry.
At Stevanato Group, our solution is a digital process that prints a GS1 ECC 200 2D data matrix barcode on the container after the forming process and immediately inspects it against a standard – rejecting it if necessary. That way, we know the code will be readable as it passes through the rest of the line and process steps internally and externally. You would not believe how many grey hairs I have from developing this process. It is not easy to get such a small barcode onto a glass container and ensure that it is readable in all circumstances.
As for the software requirements, we followed traditional serialization architecture. We have a Level 3 (L3) system that runs on the line, and a Level 4 (L4) system that works at a corporate level to create and manage the unique serial numbers throughout the life of the product
Also discussed in the paper is nest/container aggregation – which I think will be a novelty to the industry. I proposed the idea because it will make it easier to potentially implement this unique identifier approach on existing filling lines. Most syringe filling machines use a nest during the filling process. When reading the code on a syringe, you'll need to remove the syringe from the nest, ensure that it is facing the camera and that any systems do not affect the sterility and validation of the process. Product aggregation is a process that can overcome these issues by creating an electronic parent and child relationship between the container and the nest. The exact process for this is described in the paper for those who want the details…
What are the next steps?
There are huge benefits to introducing this concept and the ISPE has been very supportive.
To conclude, I would like to point you to the purpose of the ISPE document – to obtain your feedback on four areas:
Have all your potential use cases been covered? If not, what has been missed?
What are the perceived challenges of implementing this solution?
If there are challenges, how can they be overcome?
What additional discussion or data is needed for this to become the basis of a standard for the industry?
We eagerly anticipate your feedback!
Receive content, products, events as well as relevant industry updates from The Medicine Maker and its sponsors.
ISPE, "Unique Identification on Primary Containers to Drive Product Traceability & Quality," (2021). Available at https://bit.ly/3eRJekB.