Manufacture
Technology and Equipment,
Quality & Compliance
Safety in Numbers
Viral contamination can shut down a plant for months – affecting manufacturing, causing business disruption and ultimately threatening drug supply and patient safety. Comprehensive viral safety means taking the right steps to prevent viral contamination upstream and using the right technologies to remove viral contaminants downstream.
Sladjana Tomic-Skrbic, Gregory Voyta |
sponsored by MilliporeSigma
How did you find yourself at the M Lab™ Collaboration Centers?
Gregory Voyta: Before joining MilliporeSigma, I worked for a consultancy firm on biotech processes. I was involved in a variety of activities, including membrane testing, working with bioreactors, and engineering downstream filtration processes. I presented a tangential flow filtration project when being interviewed for MilliporeSigma, and today I am a biomanufacturing engineer with the company. I work with customers in the M Lab™ Collaboration Centers.
Sladjana Tomic-Skrbic: I studied biotechnology and completed a doctoral degree in biology and biochemistry. Then, I spent three and half years in academia working on designing and purifying ar tificial binding proteins, alternatives to monoclonal antibodies, before joining MilliporeSigma, process development scientist team in Europe. Now, I lead a field-based team of process development scientists that provide high-quality scientific and technical support , aswell and collaborate with customers developing or manufacturing biopharmaceuticals. Our support is mainly at the customer sites, but occasionally we also have joint activities in the well-equipped M Lab™ Collaboration Centers. I am also the focal point of a dedicated worldwide team within technology management and the Manufacturing Sciences and Technology (MSAT) team with expertise in process development and viral clearance for virus filtration studies.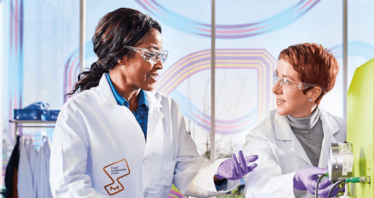 Why is viral safety such a crucial topic?
STS: There's always a risk of microbial contamination when you're making biopharmaceuticals. The aim of biosafety is to minimize the risk of contamination and protect patients from the impact of viruses and bacterial contaminants of the drug production process. It's critically important in both upstream and downstream processes, and manufacturers must demonstrate sufficient level of biosafety to regulatory agencies before their products can reach the market. My team works with customers on various pain points in viral filtration, which is a critical step in downstream biosafety. Projects may include to gain and/or broaden knowledge in virus filtration, expand capacity limits, explore prefiltration options, sizing, spiking options and validations.
GV: A multitiered approach is needed to ensure viral safety, and includes methods to prevent adventitious viruses entering production processes, detect contamination in raw materials and process intermediates, and remove viruses in downstream purification. Virus filtration is a key focus of any viral safety strategy, as it is implemented across all downstream purification processes. Virus filtration is a key focus for us – largely because its mode of virus removal and size exclusion can provide effective viral clearance. This is a critical step implemented in most downstream purification processes. Many customers have questions about how to maximize the performance of parvo- or retrovirus filters in their processes, and we have technical experts that can support customers at every stage. A customer can have one of our process development scientists on site to do the initial sizing before moving to MSAT, who will focus on implementation and scale up. These discussions could cover everything from customer training, to troubleshooting a problem, to helping with a virus spiking trial, depending on the customer needs. As one example of a recent project, a customer came to us because the volume they could process through a filter was too low to be economically viable and they needed help optimizing their filtration process. We did a lot of troubleshooting looking at different filters, adjusting pH and looking at processing efficiency of different concentrations of protein solution. We ultimately optimized their process and wrote a publication describing the different steps we took and why the process added value to the customer, to share the benefits of filtration optimization with other customers (1).
"The aim of biosafety is to minimize the risk of contamination and protect patients from the impact of viruses and bacterial contaminants of the drug production process."
On what other viral safety topics do customers seek additional advice and expertise?
GV: One company came to us because they didn't have any experience with virus filtration. We brought them into the M Lab™ Collaboration Center and replicated their existing system. This gave the customer the opportunity to bring in their engineers, operators, and staff who write the batch records, to learn more about the process, how it works, and what to look out for to anticipate potential issues.
STS: In addition to customer visits, implementation work and hands-on training, our colleagues focusing on the BioReliance® biosafety portfolio conduct viral clearance studies at testing laboratories, which customers find very helpful. During spiking studies, some customers sometimes experience lower volumetric throughput than they typically observed in process development studies. This can be caused by a number of different issues, and the engineers of the M Lab™ Collaboration Centers have a lot of technical expertise in troubleshooting such issues. They have also published in this area, providing a good technical explanation of the sources of some of these problems, including the impact of the virus spike quality (2, 3).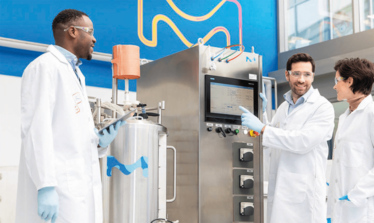 What feedback have you received from customers?
GV: Customers are generally delighted with the hands-on support they receive; and if they have any concerns or questions – now or in future – they understand that they can reach out and speak with us. When it comes to virus filtration studies, we help our customers feel confident that there is plenty of technical support to ensure that implementation, prospective virus spiking studies and process development can be done efficiently and easily. Whenever we support a customer, we also provide them with reports for their specific process to help them understand the variables and critical steps in the process.
STS: Customers like to proceed as fast as possible because "time is money" and they often have set deadlines to solve problems. We have more than 20 years of experience in virus filtration and can solve most customer problems. Recently, I worked with a customer on virus filtration and their feedback was that we are professional, quick to react, highly knowledgeable, and have stateof- the-art equipment. I think all of these factors are crucial for success.

The projects involve meetings at the M Lab™ Collaboration Center, as well as the customer site. Why is it important to have both?
STS: Having access to the expertise at the M Lab™ Collaboration Centers can be invaluable. There is a huge benefit to customers coming to the M Lab™ Collaboration Center to use the equipment without disrupting their own production lines to perform testing or process troubleshooting. But on the other hand, it can be useful for some customers to use their own equipment and fresh feed.
GV: It is personal preference and the decision comes down to how closely the customer wants to mimic their processes and how easy it is for them to have everything they need at the M Lab™ Collaboration Centers versus their own labs. We think it is important to offer both options.
Do you work internationally?
STS: Absolutely! As a global organization, we have facilities and resources worldwide. A recent client required a viral clearance study and spent time in our viral clearance BioReliance® facility in the UK. It's so important to have in-person discussions with scientists to troubleshoot any issues. Besides the individual support teams in each region, we also have a dedicated global team (more than 200 experts) supporting the M Lab™ Collaboration Centers network, with a lot of experience in different aspects of viral safety. The team exchanges ideas, troubleshoots problems, presents at conferences, and shares the knowledge with customers to help prevent issues with newer customers or processes. The European team recently performed a viral clearance study for an Asian customer who traveled to Europe for the studies so that they could observe and discuss the results in person. The project overview given by the Asian colleague and working face to face with the customer like this is very handy if issues crop up, which they invariably do – and these studies are not cheap to repeat!
GV: There can be differences in how tech transfer works in other regions so ongoing dialog is impor tant to keep everyone on the same page. We have viral safety experts in all fields, including regulatory experts, process development expertise from pre-clinical to manufacturing scale, not only in virus filtration but also in raw materials and in process testing, material treatment such as HTST, chemical inactivation, and other removal technologies such as chromatography. We do a lot of tech transfer between groups in the different regions, and we can provide customers around the world with the same levels of support – regardless of location.
Sladjana Tomic-Skrbic is Manager, Process Development Scientist-EMEA and Gregory Voyta is Biomanufacturing Engineer, MSAT – Downstream Americas, both at MilliporeSigma.
www.emdmillipore.com/virus-preventdetect-remove
A Continuous Trend
By Gregory Voyta
Currently, there is a lot of interest in the biopharma industry in intensified manufacturing and continuous processing. For that reason, we've set up a new initiative called the BioContinuum™ Platform, which is designed to help intensify and evolve manufacturing processes while still maintaining purity and viral safety. Many of the technologies within the BioContinuum™ Platform are not new technologies, but new approaches using established technologies. Many customers have shown interest in coming to the M Lab™ Collaboration Centers to look at new ways to run their existing systems more efficiently.
At the M Lab™ Collaboration Centers, we often work with traditional batch style mAb processing. However, we have been receiving a growing request for demonstrations covering intensified processing technologies and applications, where customers can see how this might operate in practice and ask questions. With more traditional batch processes, companies typically ask questions about implementation, but with intensified processes, the questions are a little more diverse – for example, customers may be looking at small scale or pilot-scale systems only and are wanting to know how the technologies work. Many customers are interested in our BioContinuum™ Platform offering for intensified, connected or continuous processing and how the technologies and systems will integrate with their current manufacturing processes. As intensified processing and increased process efficiency is a focus for the industry, and we have a legacy of experience in filtration and purification, many customers come to us looking for answers on how to implement it in their processes.
More information about viral safety and virus filtration is available at: www.emdmillipore.com/virus-preventdetect-remove
You can also visit our M Lab™ Collaboration Centers: www.emdmillipore.com/mlabs
Receive content, products, events as well as relevant industry updates from The Medicine Maker and its sponsors.
J De Souza, K Scott, P Genest, "Virus-Filtration Process Development Optimization: The Key to a More Efficient and Cost-Effective Step," BioProcess International (2016). Available at bit.ly/2Mi27ge.
P Genest et al., "Artifacts of Virus Filter Validation," BioProcess International (2013). Available at https:// bit.ly/2CpUm3w.
A Slocum et al., "Impact of virus preparation quality on parvovirus filter performance," Biotechnology and Bioengineering (2012). Available at bit.ly/2Cvhiy7.
---