Manufacture
Bioprocessing - Single Use Systems,
COVID-19,
Standards & Regulation
Scoping Out the Future of Single Use – Together
Cytiva's single-use and fluid management technologies were deployed in the production of vaccines and treatments to fight the COVID-19 pandemic. Now, the company is keen to work collaboratively to apply lessons learned – and address increasing demand for flexibility and component interchangeability.
| 6 min read
sponsored by Cytiva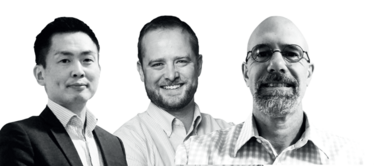 Featuring Erik Storm (Fluid Management Product Leader, Cytiva), Jeff Carter (Strategic Project Leader at Cytiva and BPSA Chair) and Chor Sing Tan (Strategy Manager, Growth Initiatives, Cytiva)
What are the current concerns in single- use bioprocessing?

Erik Storm: Although single-use technology is maturing, supply chains still contain risk due to sole-sourced or sole-manufacturing site components and raw materials. Cytiva and others in the industry have invested to expand supply and component options, but our industry struggles with a slow pace of acceptance of these changes. We're also feeling the effects of a large degree of end-use customization of single- use consumables and the complexity it adds to operations.
Jeff Carter: Overall, the biggest concern is ensuring uninterrupted supply of parts to fulfill customer orders – and hence to maintain drug manufacture. Within this broad field, specific unresolved issues include the definition of standardization and how to achieve standardization of components and final assemblies. However, the large number of component families and the number of items within a component family will eventually force the industry to address the standardization issue. The good news is that effective handling of standardization will have immediate benefit in the security of supply for single- use equipment. The connection here is that securing supply often requires dual sourcing. Dual sourcing requires demonstration of component interchangeability, and that demonstration is dramatically simplified if the industry has figured out the component- standardization question.
And is that why the FDA released new guidance on post-approval disposable material changes (1)?

JC: Pandemic-related supply chain problems forced the industry to reassess preconceived notions regarding qualification of alternative parts and embrace new strategies, such as dual sourcing. Essentially, suppliers and end users were both asking, "How do I take what is available and continue to operate?"
The FDA appears to have recognized these trends with the release of the high-level guidance you mention. The full implications of the guidance are not yet clear. It would be impossible for the agency to be exhaustive in their handling of the topic, but the guidance provides several examples of changes and how they should be managed. Readers are likely to have varying interpretations and to interpolate or extrapolate to cases not in the guidance. I think this is a very good reason to pull this into an industry organization – BioPhorum seems like a good candidate – and workshop the guidance to better understand its implications and to come to a common interpretation. For example, the guidance mentions some items, such as sterilizing filters and purification resins, but not others, such as bags and other single-use manufacturing equipment. I would be quite interested to see how biomanufacturers will apply the guidance. Because it may affect us as a supplier, we need to understand how biomanufacturers will see validation requirements. This will help us to construct our boundaries related to, for example, single- use component changes, and it will help us to support biomanufacturers to qualify changes.
Chor Sing Tan: Much of the impetus will come from our customers – many of whom were already proactively driving implementation of the European Medicines Agency's ICH Q12 guidance for managing post-approval CMC changes (2). The new FDA guidance and the agency's increased openness to early engagement is a mature approach – one in which the customer participates in regulatory change. It is important to highlight that single-use technology is both raw material and process equipment. Changes made could impact process performance, and process equipment design and operation qualification. The new FDA guidance has provided examples to illustrate the importance of change classification based on risk assessment, established conditions of the process as reference point, process monitoring, raw material supplier qualifications, and process simulation models to predict the impact of change.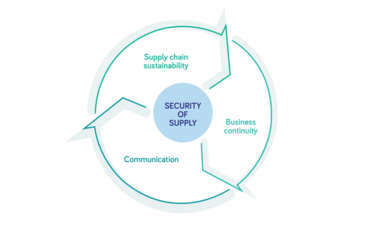 Being Better Collaborators

How can suppliers and their customers collaborate more effectively? The answer is easy: talk more and share more.
"It would help us to help manufacturers if we had more information about their plans and the anticipated demand for their products," explains Jeff Carter. "It's a 'help me help you' situation. If customers can give their suppliers, like Cytiva, more information about where they want to go, we will be able to help them when they get there – or help them get there. We don't have enough of these kinds of conversations, which would help the entire supply chain!"
Erik Storm says that the bioprocessing industry has a great deal to learn from other sectors in terms of sharing inventory levels, historical usage rates, and predicted changes. "Single-use technology is the most logistically complex and risky aspect of bioprocessing. Operations can be interrupted by poor standardization and supply chain management," he says.
To mitigate this risk, the industry is attempting to establish dual sourcing of raw materials, which requires close liaison between manufacturers, suppliers, and regulators to determine equivalence and establish best practices for change management. "Cytiva's enterprise business provides integrated applications-based solutions, not just fluid management technology," says Storm. "Customers share their problems and we will collaborate with them to develop a single- use strategy for their unit operations – for example, to implement tangential flow filtration at a given scale."
"I believe that as suppliers, we need to rebuild trust in the industry," says Chor Sing Tan. "Supply chain issues that started during the pandemic are still causing manufacturing delays. In light of these challenges, we have a duty to help rebuild trust in the industry. We've worked alongside customers to suppor t them through the challenges of the pandemic, and we continue to provide comprehensive solutions by analyzing design specifications and the associated equipment and consumables requirements. As a supplier, we can share expertise to mitigate problems that arise in areas like biomanufacturing, fluid management, logistics, and supply. That is important to help rebuild trust."
How will the guidance impact advanced therapy bioprocessing?

ES: Manufacturers of advanced therapies, such as cell and gene therapies, often rely on single-use technologies, so this new guidance is very important to them. A key consideration will likely be to apply risk- based approaches to material criticality and dual sourcing earlier in process development and clinical development. Bringing structure to evaluating the risk of a material change early in the development process may make change easier to justify later.
Will Cytiva lead or follow discussions around the guidance?

JC: The guidance was really directed at end users rather than organizations like Cytiva, so we won't be leading or following – rather, we will be collaborating. The topic of interchangeability is extremely important for the industry, and Cytiva has joined in discussions about the definition of interchangeability in industry forums. I believe a joint approach between suppliers and our customers is essential if the industry is to challenge paradigms and determine how to best operate within given regulations.
ES: I agree. Customers will drive the dialog around the guidance – but it will be our job to collaborate and provide information to support the discussion, so the topic can be approached from a risk- and science-based perspective. Such an approach will be key to solving the interchangeability challenge.
Receive content, products, events as well as relevant industry updates from The Medicine Maker and its sponsors.
US Department of Health and Human Services, "Changes to Disposable Manufacturing Materials: Questions and Answers Guidance for Industry" (July 2022). Available at https://www.fda.gov/media/160300/download
EMA Committee for Medicinal Products for Human Use, "ICH Guideline Q12 on Technical and Regulatory Considerations for Pharmaceutical Product Lifecycle Management" (2020). Available at https://bit.ly/3CLIARs