Manufacture
COVID-19,
Packaging,
Vaccines,
Supply Chain
Securing Supply Chain Integrity
Whitney Winters, Senior Director, Strategic Marketing, Containment Systems at West Pharmaceutical Services, discusses the impact the pandemic has had on the supply chain for primary packaging.
Stephanie Sutton | | Interview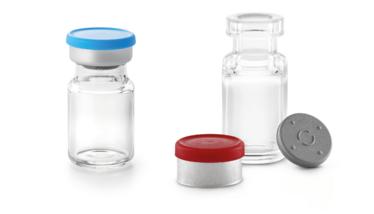 What different components typically go into a vaccine vial?
From a containment perspective, the system comprises a vial, elastomeric closure (stopper), and seal (crimp cap). Drug packaging must protect the drug product and help maintain safety and efficacy, without adding anything that could negatively affect the drug. Ensuring both consistent high quality and container closure integrity are critical to maintaining the sterility of the container system.
How has demand for vaccine vials changed – and what supply chain issues have arisen?
With COVID-19, there has been a large spike in demand for vials, elastomeric stoppers, and seals in a very short period. All the risk mitigation plans vaccine developers and suppliers have in place are now being tested and adjusted as necessary to meet the increased demand. Open communication has been critical! Supplier management teams have had to be proactive in communicating with key suppliers so that they can collaboratively establish risk mitigation plans for dual supply or multi-sourcing suppliers. Demand planning and sharing of both short-term and long-term forecasts has also been important.
Developing robust supply chains and working with trusted suppliers has become even more critical. Vaccine developers and their suppliers are all rapidly expanding capacity and building flexibility into their supply chains while maintaining the stringent quality requirements required in our industry. Safety stock of finished inventory and raw materials is being increased and many are looking for suppliers with global networks that can supply locally.
Do vials have to be made of glass? What different types of materials can be used?
The majority of vials used to package vaccines are glass vials, but there are alternative options, such as cyclic olefin polymer and cyclic olefin copolymer (COP/COC) vials. Polymer vials have good break resistance and low temperature qualities; however, they can present a greater likelihood of permeation. Some customers have been interested in alternatives to glass vials, but most have been looking at ways to maximize their supply of glass vials by using larger glass vials, for example. Larger vials allow manufacturers to include multiple doses within one vial to maximize the constrained quantity of vials available in the market.
Vaccine manufacturers should always evaluate their chosen container system to ensure that it is suitable for their specific product.
The industry has had to move quickly; are there challenges associated with choosing primary packaging systems in haste?
Development and distribution of a vaccine for SARS-CoV-2 has presented challenges that are, without hint of exaggeration, unprecedented. And selecting a vial/stopper primary package system has been complicated greatly by the accelerated timelines for vaccine approval. A vaccine manufacturer wants to reduce risk as much as possible, as accelerated timelines do not permit standard evaluation of a drug product with a package system. Selecting proven components and systems is a good way to start. You can also leverage your supplier's technical data and material characteristics for the container system components.
It's also beneficial to identify suppliers with long-standing history of quality and reliability. Many vaccine manufacturers have chosen to partner with suppliers they are familiar with or have an established relationship with.
Have you had to make changes to keep up with demand?
The ability to access dependable transportation continues to be a focus for our logistics teams. We have partnered with top global logistic providers to prioritize the timely transportation of our product and to help accelerate the movement of equipment globally. Our suppliers, whether they provide equipment/services, materials, logistics and distribution, have been working hard to ensure they are delivering on their promises as they understand the impact they have on our ability to supply and assist with the overall global pandemic response.
Securing global capacity to meet supply remains a top priority. Our teams are working tirelessly with our customers to ensure we supply the right components and solutions to help address challenges presented by this pandemic. Again, communication is critical; we have to listen carefully to understand customers' progress, scale up initiatives, and other needs.
How do you think the current focus on vaccines will impact the industry's future?
The rapid development of COVID-19 vaccines will have long lasting effects on our industry. It has opened communication and collaboration among competitors, as we see multinational companies manufacturing their rivals' vaccines to increase output. We see customers being more agile with greater R&D flexibility, and supply chains with modular COE and shifts in locations. The rapid response to COVID-19 creates a model for new processes and quicker regulatory reviews moving forward. With the new technologies being used to create COVID-19 vaccines, we have a whole new set of tools to fight contagious diseases and other illnesses, which could lead to more effective vaccines in the future. As the industry innovates, primary packaging will also need to evolve and change to meet the market.
Receive content, products, events as well as relevant industry updates from The Medicine Maker and its sponsors.