Manufacture
Bioprocessing - Upstream & Downstream,
Technology and Equipment
Single-Pass Promise
When EMD Serono wanted to increase drug production, they found that their manufacturing process did not have the required capacity. The answer? Working with the M Lab™ Collaboration Centers to intensify the upstream process and implement singlepass tangential flow filtration to overcome downstream bottlenecks.
Torsten Bisschop, Matteo Costioli |
sponsored by MilliporeSigma
How did you become involved with the project?
Matteo Costioli: I've been working with EMD Serono for over 10 years and I am responsible for all new biological entities (NBE) process development at our site in Switzerland – from bench to GMP manufacturing at 2,000L scale, for Phase I and II. Our company had seen great success with our new immunooncology therapy, BAVENCIO® (avelumab), and clinical trial data revealed that we needed to increase production to accommodate a larger patient population. My role at the time was to optimize the process for commercial manufacturing and to validate the process for marketing submission. Our facility and processes, however, did not have the capacity to support this increased production. Even if titers were increased upstream, we didn't have the tank space downstream. The facility was also used for other products so we couldn't make big changes.
Torsten Bisschop: The team from EMD Serono came to us because they wanted to enhance their existing tangential flow filtration technology (TFF) by applying single-pass TFF (SPTFF). The team there had already done some experiments with lab-scale SPTFF to reduce volumes after dilution and liked the results, but they wanted additional expertise to scale up the process.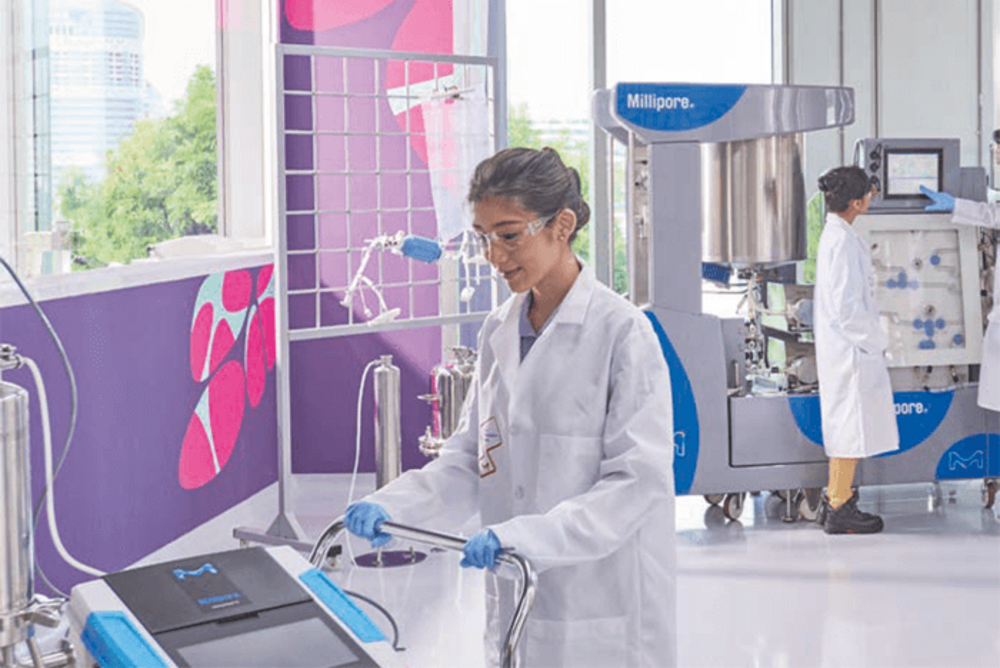 Why SPTFF?
MC: Downstream processes have not evolved to cope with the increasing titers upstream, so bottlenecks are an issue in many biopharma companies. SPTFF has been very helpful because the concentration of the protein solution reduces the volume of liquid, allowing scientists and engineers to work with higher titers, in an environment designed for lower titers, without altering the facility. SPTFF is relatively easy to implement – it can almost be considered plug-and-play – and it is already very well known in the industry.

TB: TFF is present in all biopharma manufacturing processes and SPTFF is a different way of using the existing technology. With SPTFF, the flow over the membrane is serialized to prolong the residence time of the feed under pressure. This allows you to achieve the desired concentration in a single pass, whereas in standard batch TFF you need to recirculate and pass the material over the membrane multiple times. After the single pass, your concentration is ready immediately. It's a much simpler process than traditional TFF.
SPTFF is a next-generation manufacturing project which is part of our new BioContinuum™ Platform for intensified, connected, or continuous processing and is seen as an important technology to help improve the productivity of biopharma manufacturing. SPTFF is a versatile application and can be coupled to other process steps for process intensification. After linking different process steps, SPTFF can be used to change the concentration or composition of feed material to enhance the proceeding step. With some steps, efficiency improves at higher concentrations or compositions.
What was the end result?
MC: To ensure that the technology really fits our needs, there was a workshop between the teams at EMD Serono and the M Lab™ Collaboration Centers. Even when a technology is relatively easy to implement, there will always be many questions about how it fits into the facility and scales up. The team at the M Lab™ Collaboration Centers tried to answer all of these questions in the workshop to help smooth implementation. Ultimately, implementation of SPTFF resulted in a cost of goods reduction, while the plant capacity required for molecule production decreased from 90 percent to 26 percent.
How did you find collaborating with the M Lab™ Collaboration Centers?
MC: Working with the M Lab™ Collaboration Centers really helped reduce the development time. If we'd done this alone, we would still have reached our goal but I think there would have been more failures along the way! It was very valuable to collaborate with experts who were very familiar with the SPTFF application and could explain to our team how it worked, what tests and experiments were necessary to identify the correct process parameters, and what the overall benefits would be.
At the start, new collaborations can be difficult. EMD Serono is an organization with its own way of doing things and established infrastructure, and we can't always make changes easily. The experts at the M Lab™ Collaboration Centers were very open and understanding about our various constraints and worked within that. They were very flexible and, ultimately, we were able to put in place something together that works really well.
How are the M Lab™ Collaboration Centers positioned to help biomanufacturers?
TB: We often talk about the M Lab™ Collaboration Centers as a physical space, but it is more than that – it is also all the people with their experience and passion to solve problems. The global network also allows us to support biomolecules when they move around the globe. Our projects often pull in the expertise of our network, with many different people contributing to solving the bioprocessing challenge. For example, this project was very "global" in nature: the feasibility and scale up experiments were done in the US and Europe at M Lab™ Collaboration Centers and at the EMD Serono site; supporting static cleaning studies were performed in the M Lab™ Collaboration Center in Singapore; and the system design, build and qualification were done in close collaboration with Matteo's team, the MSAT and application engineering teams, and the hardware group in the US and Europe.
The team at EMD Serono knew their processes, their molecule, their own limitations, and had a good idea of what they wanted to achieve. We contributed our knowledge of SPTFF and how it could be integrated into the existing environment. It is very rewarding to work collaboratively with customers and to come up with solutions that make a big difference.
Matteo Costioli is Director BPS, Early Process Development at EMD Serono, and Torsten Bisschop is Biomanufacturing Engineer Consultant at MilliporeSigma.
The Next Generation
There is industry-wide consensus that biopharma manufacturing must become more efficient and agile so that it can better react to new market demands and trends; often referred to as next generation bioprocessing. Merck recognizes that there are different paths on how exactly this can be achieved: for some biomanufacturers, next generation bioprocessing is about intensifying processes and reducing manufacturing footprints; for others, it is about connecting processes into continuous manufacturing lines or rolling out single-use facilities – or a combination of all of these approaches. Whether developing an intensified, connected or continuous bioprocess, Merck's BioContinuum™ Platform provides the building blocks to help biomanufacturers achieve their specific goals and to confidently enter the era of next generation processing by delivering increased speed, greater flexibility and enhanced quality while reducing costs and risks.
Herb Lutz, Global Principal Consultant, Manufacturing Sciences & Technology, Merck, believes that next generation bioprocessing is not necessarily about developing new technologies, but adapting the technologies already available, such as TFF. SPTFF is already seeing increasing uptake because it can help streamline efficiencies in stainless steel facilities. Genentech, for example, wanted to introduce a new molecule for manufacture at one of their plants and found that the necessary process would not fit in the tanks they had. "By employing SPTFF, they reduced the volume sufficiently to fit their existing infrastructure," says Lutz. "Inserting a SPTFF step to increase product concentration can also improve a subsequent step. People often get excited about a new resin giving a 15 or 20 percent increase in capacity, but adding a SPTFF step gives a 400 percent improvement! And there's more: given that we reduce the volume of liquid as we concentrate it, we can run the process more quickly."
Merck is combining new advances with TFF for new applications. For example, the company is running its strong anion exchanger in-line with TFF cassettes and has devised procedures for assessing the feasibility of this application with monoclonal antibodies.
Read more about the move to next generation bioprocessing and the role that SPTFF can play at: www.merckmillipore.com/SPTFF.
At the M Lab™ Collaboration Centers, we are always interested in welcoming scientists and engineers for exploring the different technologies and solutions for next generation processing. Feel free to join and collaborate!
Enjoy our FREE content!
Log in or register to gain full unlimited access to all content on the The Medicine Maker site. It's FREE and always will be!
Login
Or register now - it's free and always will be!
You will benefit from:
Unlimited access to ALL articles
News, interviews & opinions from leading industry experts
Receive print (and PDF) copies of The Medicine Maker magazine
Register
Or Login via Social Media
By clicking on any of the above social media links, you are agreeing to our Privacy Notice.
About the Authors
Torsten Bisschop
---
Matteo Costioli