Manufacture
Facilities,
Contract Manufacturing Services,
Business Practice,
Profession
Taking Sustainability to Heart
In 2021, a CDMO launched with an unusual vision: to put the planet ahead of the profit. Here, we speak with Hanns-Christian Mahler, CEO of ten23 health, to find out exactly what the company is doing to live up to its vision
Stephanie Sutton | | 11 min read | Interview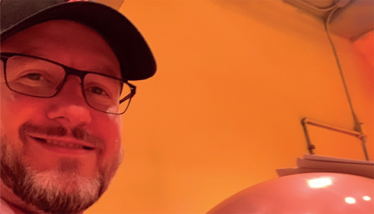 How did your interest in science begin?

My interest in science came from a very special chemistry teacher – a real character who made the experiments really fun. I thought that perhaps I should become a teacher – but I think it's for the best that I didn't…
Ultimately, I went on to study pharmacy. My mother used to work at an institute of pharmacy and she described the field as being a combination of all different life sciences. I liked the fact it was a flexible subject that would open a lot of opportunities. For a while, I wanted to be a university professor, but, after finishing my PhD, I decided that I'd prefer to explore industry. I wanted to do more applied science, so I got my first job in the industry with Merck in Germany. After that, I went on to work for Roche and Lonza.
What inspired you to start your own company?

I was always interested in building and developing organizations. Over the years, I've been blessed with many good line managers who gave me a significant degree of freedom to create. At Merck, for example, my boss gave me the freedom to create a concept for formulation, process development, and validation for an antibody for submission. At Lonza, I was creating a new business unit – it was highly rewarding.
Soon after, I started to think I would enjoy creating a company, along with fun and rewarding jobs in Switzerland. (This bucked the trend of pharmaceutical companies shutting down departments in more expensive countries, moving them to India, China, or Eastern Europe for the sake of operational costs.)
I also have an entrepreneurial spirit and vision – and probably too many crazy ideas to apply in a corporate environment – so starting up a new company intrigued me.
Why do you feel so strongly about sustainability?

Many people – including myself – have climate anxiety. Here in Switzerland, I have noted climate changes and I often wonder what this will mean for my children.
Here's a fact I have never forgotten: in 2015, the pharma sector created more than 50 megatons of carbon dioxide emissions, which, per revenue, is more than the automotive sector. Many people in pharma hide behind the fact that the industry does such important work for human health. Yes – we must prioritize and ensure patients and safety, but we also need to ask what we can do to lessen the impact of the industry on the environment.
Have any of your former roles included a focus on sustainability?

No. Until recently, it seems to me that there hasn't been much discussion on pharma about sustainability or carbon dioxide emissions. I was always surprised why it wasn't a priority. As one example, sterile drug product companies use a lot of plastics; for example, in production, you need to have single use tubing and other disposables to avoid batch-to-batch contamination. Everything has been about moving away from stainless steel – all in the name of ensuring patient safety by reducing risks for potential cross contamination as well as reducing costs.
But it's a lot of plastic – and it's only recently that the industry has started talking about this.
Given the unusually high focus on sustainability, did the ten23 health concept present any challenges?

I'm very passionate about the topic of sustainability, but when I started ten23 health, I was also nervous. When you talk with investors, the first discussion is typically financial in nature. We aren't a non-profit organization, so finances are definitely important! But I also believe in giving back. We want to create fun jobs for our employees. We want to give back to the region by creating jobs here. And we want to give back to the planet. Fortunately, our investors – 3i – highly appreciate this, and have also done their own training and webinars on the topic of sustainability.
The first thing I did was sign a contract for plastic offsetting. We had no operations. No people – but I purchased around 10 tonnes of plastic trash! The investors have been very happy with our approach. (And I'm very happy they didn't fire me!)
At ten23 health, we see an opportunity to go further than what existing legislation demands. We place a huge emphasis on being sustainable. My motivation is to leave a heart print for our employees, competitors, and customers, on how to do things. Earlier this year, I met with a customers' CEO; we talked about the demand forecast – which was a short conversation – and then told me he had two questions. Firstly, he asked, "How can we learn from you about your sustainability approach? We want to implement supplier selection based on sustainability criteria." I was really happy to share our documents and templates – these things should be totally open source. And I'm proud that someone wants to use what we have created. Secondly, he asked how we could help them transition to an organization based on holacracy and role-based work – but that's a whole other topic!
What specific actions have you taken to reduce your business's impact on the environment?

Sustainability goes into every corner of our organizational design and sites; we have a big focus on monitoring, measuring, and innovating around issues.
We measure and report on a facility basis for energy and water consumption, and use ratios to measure total consumption and total energy. For example, when we look at our production facility, we look at total energy usage divided by the number of output, such as batches that we've produced. We also look at total site usage divided by generated revenues and by the number of employees. As the years go on, the ratios should go down as energy utilization improves.
We also care deeply about sources. We use 100 percent natural energy sources, and we also consider things like choice of printing paper, toilet paper, and coffee. Many companies use Nespresso machines and people tell themselves the capsules are recyclable, but we have a Fairtrade coffee with local roasting – and the grounds go into our local composting at the site.
Our Fairstainability and Innovation teams are also looking at initiatives with bioplastics – we recently were part of a team submission for a Swiss innovation grant. We are also collaborating with an AI company to compare life cycle assessments for different manufacturing processes. For example, if we're developing a liquid formulation for our customers versus a freeze-dried formulation, what is the better choice from an energy consumption perspective both for manufacturing and the entire lifecycle? If you have a product with a two-week drying cycle and a machine that constantly runs compressors, it won't be the most sustainable from a carbon footprint perspective.
In time, I hope more people can think about product design and product development not only as an output of stability, regulatory compliance, and patient safety, but also in terms of what's best from nature's perspective. If the planet had a seat at the board, what would it say? It may sound silly, but when you look at climate change these questions start to become essential.
What are your views on offsetting?

Offsetting is a double-edged sword. It can work – but it can also serve as an excuse to avoid making changes in house. It's important for companies to do what they can – and only use offsetting for things that ultimately cannot be avoided. At ten23, we've been operating for two years and our operations are already carbon positive, but some situations are unavoidable. For instance, we are building a facility in Visp, Switzerland, that will have a footprint of around 3000 square meters. So we bought 5000 square meters of cooperative protected rainforest to overcompensate.
We do also produce some plastic waste, so we contribute to Seven Clean Seas, which is an organization that works to clean up the seas from plastics. Offsetting does not relieve us from the obligation of finding other solutions, but it allows us to give back in the meantime.
What challenges do companies face in being more sustainable?

It can be hard to change what you already have. The blessing that we have at ten23 compared with other companies is that we didn't need a huge transformational undertaking with painful step-by-step planning and prioritization. We started from scratch with sustainability being at the heart of ten23 from the very beginning.
We took over the rent of a site that was previously run by a different company in Basel. The labs were beautiful – but the hallways, restrooms, and meeting rooms were clearly never designed to be shared with the outside world. There were many opportunities during the refurbishment to replace old lamps with motion-controlled LEDs and other actions that helped to significantly reduce our energy consumption.
Where do we put the printer? Do we even buy a printer? What paper do we use for the printer? Which coffee machine do we buy? It's not as if we had 15 nespresso machines that we needed to figure out what to do with when moving to an alternative.
What simple steps can companies take to reduce their environmental footprint?

First of all, it only works if the management and the board are in alignment. Switzerland actually offers board training in the area with "SBA2030;" for all companies that want to go into sustainability, I recommend that you get your board trained. You will also need sustainability leads – but they need to be tightly connected to all parts of the organization.
I hear many people in the pharma industry say that sustainability is a "global initiative" – and it scares me. Many companies have plans that stretch up to 2030, 2040, or even 2050. Certain things, such as product life cycle assessments, will take a long time, but there are quick fixes you can make in other areas. Go into your own operations and look at the simple changes you can make. Check your energy consumption; check your light sources; turn off the heaters; consider closing your site at Christmas when only a small number of people are working. Call your energy supplier and ask questions about their sources. Get yourself switched to renewable energy sources. You'll need management on board here because the price may be higher short-term, but the industry cannot keep optimizing their margins for the sake of leaving trash behind for the next generation. There needs to be longer term thinking than just the next quarter's profits.
How have people reacted to ten23's work?

I get approached by people who want jobs because they are excited about what we do and how we do it. We've had a lot of feedback about what we do and I think it confirms we're taking the right approach. People seem really inspired by what we do. For example, we are using an app for our employees that gives them advice about reducing their carbon footprint in their private lives too. I guess we don't think there is a problem with ten23's branding towards potential employees!
There have also been some negative comments. People tell me that plastic will never go away in big pharma so we shouldn't make a big deal about it. Others tell me that everyone is interested in sustainability and ten23 isn't so special (my response to that: "How many CDMOs do you know that are doing their own composting?"). I don't take any of these comments and questions personally – and it's great to see that so many companies today are thinking about sustainability and filing sustainability reports. But we need to be wary of greenwashing. Actions need to follow the words.
Describe an ideal future for the industry…

From a sustainability perspective, I would obviously like to see circularity for pharmaceutical products and primary packaging and devices. This can be worked into product designs.
In my ideal pharma world, there would also be a strong focus on patient disease management that combines diagnostics and highly personalized therapies. I'm not sure these therapies will be cell therapies, but I do think we are definitely moving towards smaller batches of more personalized medicines.
If I ran a pharma company, I would focus primarily on drug discovery and disease treatment, and I would leverage global networks for CMC and production. I think production should be decentralized. Today, you often hear about biomanufacturing pods or containers being shipped to countries for local production. I actually made this suggestion to a company around 10 years ago, but they thought I was insane.
I would also like to see less lobbying. Too many people are thinking about making money rather than what's good for the patient…
Receive content, products, events as well as relevant industry updates from The Medicine Maker and its sponsors.