Manufacture
Bioprocessing - Single Use Systems
The Rise of Asia's Biotech Tigers
The western world could be considered king of the biotech jungle, but eager biopharma tigers from the east are hungry for a piece of the action – and they are gaining ground. Can single-use technologies help them to catch up even faster? Jinghui Xu believes so.
sponsored by GE Healthcare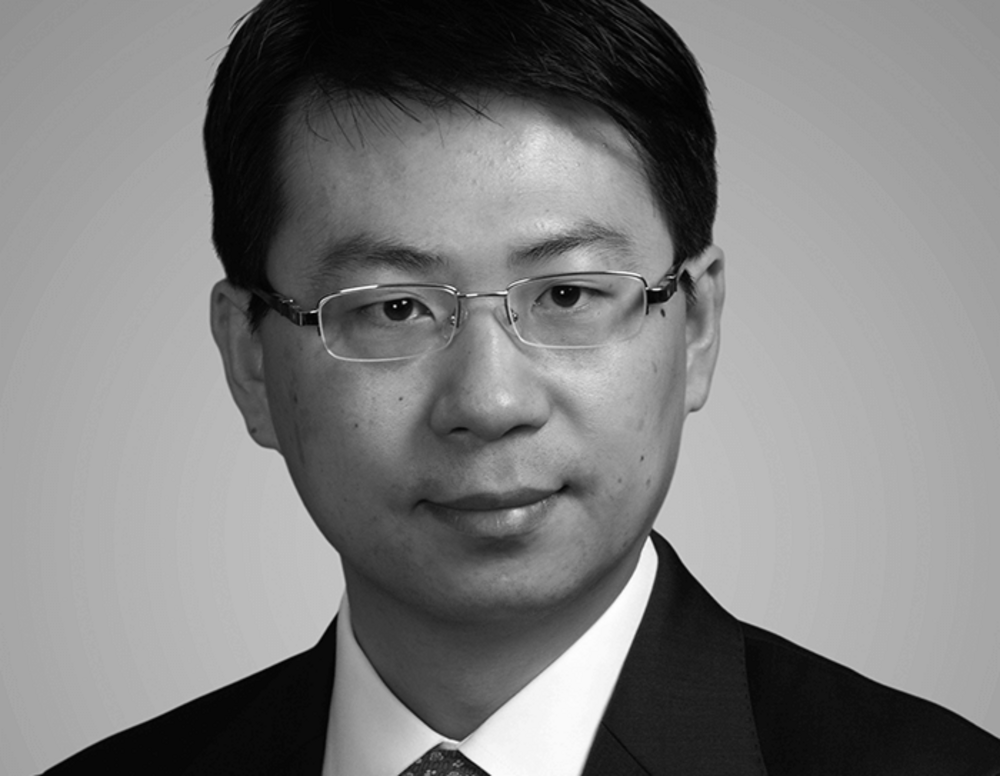 The potential for biopharmaceutical growth in Asia is no secret – and it is estimated that around 50 percent of the world's new bioprocessing facilities are being built by companies in Asia, including both local companies and international giants. Jinghui Xu's goal as GE Healthcare's product leader for single-use in Asia is to use his background in polymer science, plastics and bioprocessing to help companies truly understand the best single-use components for their products and processes.
What are the latest trends in bioprocessing in Asia?
The biopharma industry in Asia started much later than in the West, but it's catching up rapidly. A number of Asian 'biotech tigers' are emerging and growing rapidly; to name just a few, Shanghai CP Guojian and Wuxi Apptec in China, Dr. Reddy's and Cipla in India, Chugai and Takeda in Japan, and Samsung Biologics, and Celltrion in South Korea. And there are many more that are also growing rapidly. That said, western biopharma companies are not sitting by idly; 60 percent of the world's population live in Asia, representing an enormous market opportunity, and many global companies are establishing a manufacturing footprint in Asia to supply the local markets.
The main focus in Asia at the moment is on biosimilars – particularly biosimilar monoclonal antibodies (mAbs). China is a big force in this area, with over 100 mAbs being developed by various Chinese companies. Vaccines are another large area for Asia, as governments develop initiatives to immunize their populations. Not surprisingly, these companies are keen to use single-use technologies as their benefits enable them to bring biotherapeutics and vaccines to patients more efficiently. Right now, the main focus is on upstream operations, such as suspension and adherent cell culture processes, aseptic connections, and mixings, as well as in later process steps including single-use chromatography, final formulation and storage.
And what differences are you seeing between individual countries?
Although there are common trends, each country in Asia has its own specific dynamics. I tend to divide Asia into five main geographies: China, India, Japan, South Korea, and then the rest of Asia. Currently, China is probably growing the fastest thanks to a combination of governmental support and an outpouring of private investments. It is also leading the way in terms of the implementation of single-use technologies. Chinese companies seem to be well aware of the advantages of these technologies; I mentioned before that biosimilar mAbs are a focus in the country, but one problem is that many companies are focusing on the same molecules, which creates competition. This competition drives urgency in getting their products to market quickly and single-use technologies are a good way to achieve this since they are easy to deploy, flexible and eliminate the need for cleaning and cleaning validation, among other advantages.
India is currently recognized as the world's largest biosimilar producer and it also has a very well-established vaccine manufacturing industry. It has been building its biopharma industry for quite some time now and, as with the West, there are a lot of fixed stainless steel facilities. The focus now is further growth and industry upgrade. The appetite for single-use is perhaps not as strong in India as in certain other areas of Asia, but some companies are still seeking a competitive edge by choosing to upgrade aspects of their processing operations with single-use systems.
Japan is a developed country with a well-established and highly respected healthcare industry – and biotechnology is one area that the government is actively promoting. One of the drivers is that the country is considered to have the world's oldest population, with 33 percent of citizens being older than 60 years, according to data from 2014. This is a demographic challenge for the country and a catalyst for continued investments to ensure good medical supply in the future. Japan has adopted a lot of single-use technology – and is the second largest single-use market in Asia. However, the current growth rate is relatively slow compared with the country's overall biopharma market.
South Korea is reacting to biopharma the same way it reacted to the rise of the electronics industry – by making enormous investments in infrastructure and providing incentives to business willing to grow locally. I would say that the bioprocessing market is split between both stainless steel and single-use in South Korea, with investments being made in both areas. However, the emerging companies seem to prefer single-use – and a growing number of established companies are looking to implement single-use in certain operations to improve efficiencies.
As for other markets throughout the rest of Asia, there are vast differences between the developed and developing countries. In Singapore, Amgen announced a $200-million biomanufacturing facility, which uses single-use in 90 percent of the plant's operations. Indonesia, Vietnam, Malaysia and many other countries throughout Asia are also investing in local biotechnology development programs that bring biotherapeutics and vaccines closer to their populations.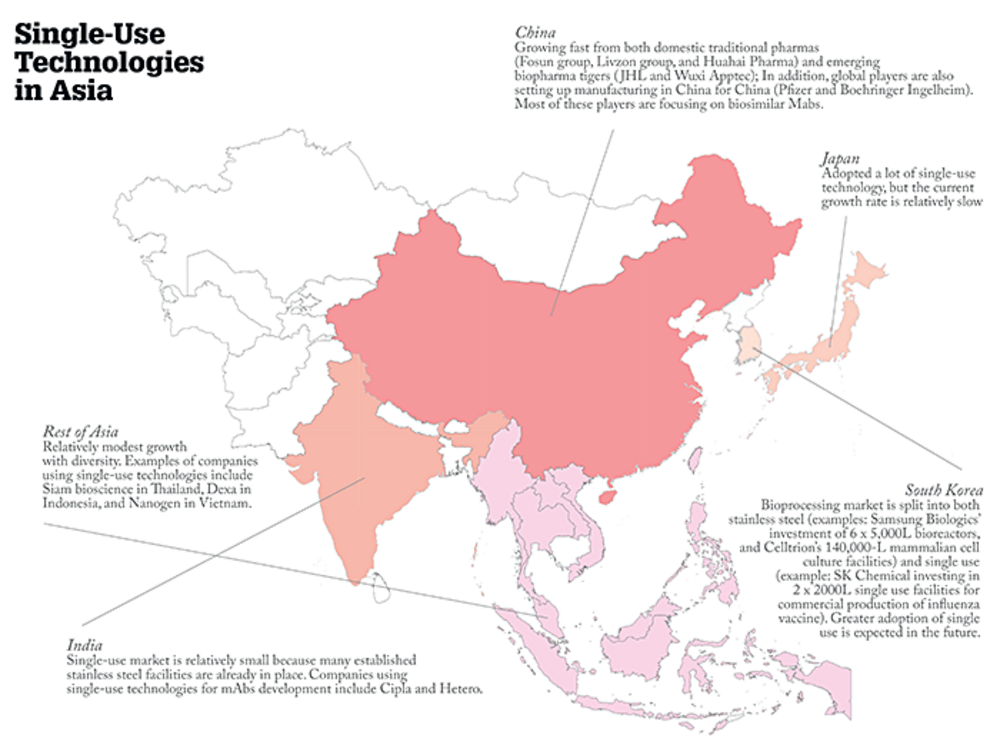 It seems single-use technologies are particularly enticing for Asian manufacturers...
Yes, Asian customers are very positive about single-use. A representative comment came from Scott Liu, CEO of Henlius Biotech, part of the Fosun Group in China, who told me, "Single-use is really changing the world of bioprocessing, and it is one great technology capable of delivering quality, speed, flexibility, and economy for us and the industry."
In Asia, a huge number of bioprocessing facilities are being built up; many of which are intending to use single-use technologies. I think this appetite for single-use is one important enabler in Asia's rapid biopharma growth. Many Asian biopharma companies are relatively new and are building their first bioprocessing plant, which means that they can select the most advanced bioprocessing technologies from the start when planning and building their facilities.
Some of the hottest discussions around single-use in Asia focus on economic comparisons between stainless steel and single-use. Cost is something that drugmakers must take into account, both in terms of establishing the facility and coping with the running costs throughout the projected life of a facility. Many studies cover this topic from various angles, looking at everything from different types of molecules to manufacturing processes, throughput, and scale – and in general they have shown that single-use has cost advantages over stainless steel. I believe that single-use is a great enabling tool to help the Asian biotech industry catch up with the developed bioprocessing plants in the western world.
What are the common demands of Asian companies?
There are three generalizations. Firstly, the supply chain in Asia wants both improved supply of single-use consumables and lower costs. Currently, most single-use consumables are made in the west. Manufacturing single-use consumables more locally for the Asian market would help resolve some of the problems – which will become more pressing as the region's demand for single-use consumables rises as commercial production increases.
Secondly, given that many Asian biopharmas are relatively new, they need more intimate support (technical, application, training, and so on) from suppliers. For example, they may need more advice than a western company in selecting the right single-use systems for their processes. Close collaboration is also important in terms of having a secure supply of consumables. For example, single-use becomes an indispensable component in continuous manufacturing processes, so both the manufacturer and the supplier need to set out a consumables forecast and mechanism to support constant manufacture.
The third point is the need for the evolution of single-use from a local regulatory perspective. The good news is that Asian regulators have started to place more emphasis on single-use and are developing regulations and guidelines. I'm seeing Asian regulators, end users and suppliers working closely together to understand single-use, in terms of how the components are designed and manufactured, and how they are used and applied in order to deliver appropriate guidelines. Currently, I am representing GE in working with the Chinese FDA on an 'International Single-Use Application Technology and Regulation Codification,' which will be published in early 2016.
Given the rapid pace of growth, do you foresee Asian biotechs potentially overtaking those in the west?
If we look at other industries, such as the automotive and electronics industries, you'll note that a lot of the big industrial leaders are now based in Asian countries (in particular, Japan and South Korea). Could the same thing happen with the biopharma industry? I think that Asia's biotech tigers have the ambition and capability to reach the same scale as western companies. But if we just look at the market in terms of single-use technology adoption, the Asian market is growing much faster than that of the western world. Western companies have existing stainless steel facilities that need to be used, and although there are opportunities for process improvements by introducing single-use in various parts of those facilities, it's much easier if you are building a new site from scratch – which is what many Asian companies are doing. They are also in the fortunate position where they can learn from the history and experience of bioprocessing in the west, selecting the most advanced bioprocessing technologies to form a really modern, cutting-edge facility. The very fast biotech growth that is currently being seen in many regions in Asia will probably slow as the markets mature, but I believe that the rapid adoption of technologies like single-use systems will allow Asian companies to reach a more level global playing field far more quickly than we as an industry have
witnessed previously.
Enjoy our FREE content!
Log in or register to gain full unlimited access to all content on the The Medicine Maker site. It's FREE and always will be!
Login
Or register now - it's free and always will be!
You will benefit from:
Unlimited access to ALL articles
News, interviews & opinions from leading industry experts
Receive print (and PDF) copies of The Medicine Maker magazine
Register
Or Login via Social Media
By clicking on any of the above social media links, you are agreeing to our Privacy Notice.