Manufacture
Formulation,
Drug Delivery
The Rise of Lipid Nanoparticles
Lipid nanoparticles (LNPs) are typically seen as a niche approach to formulation, but with more complex molecules filling company pipelines, is it time for LNPs to finally shine? Rahul Keswani and Benjamin King are formulators at Exelead specializing in early stage LNP development. We asked for their take on the current market for LNPs.
Rahul Keswani, Benjamin King |
sponsored by Exelead
Why are LNPs so compelling for certain drug molecules?
Many of today's drug molecules are small molecules and biologics, but increasingly there is a move beyond traditional biopharmaceuticals to more specialized and complex therapies. These include oligonucleotides ─ including RNA, mRNA, siRNA, and even DNA-based molecules ─ that can trigger an effect at the genetic level to combat disease. As one example, a drug molecule could include siRNA to inhibit expression from messenger RNA (mRNA) in cells to enable therapeutic activity. Drug products are also being developed that deliver mRNA to a cell to provide expression of therapeutic proteins.
LNPs are receiving increasing attention in the industry because of their ability to act as drug carriers for these complex but highly promising therapeutics. Oligonucleotides are susceptible to degradation in the body, but LNPs provide a stable matrix for the drug molecule to reside in. They can also facilitate entry into target cells.
One common misconception is that liposomes and LNPs are interchangeable terms. They are similar ─ and both can be effective for drug delivery ─ but liposomes are simpler vesicular formulations made up of a mostly aqueous interior core. Liposomes for drug delivery were developed in the 1970s. LNPs can be seen as a new generation of liposomes that have a more complex internal lipid architecture with low or minimal internal aqueous presence that is well suited to stable and efficient encapsulation of various genetic payloads.
Are companies reluctant to use LNPs?
LNPs are not the go-to formulation approach for routine pharmaceutical development; they are better suited to highly complex APIs, such as those based on oligonucleotides or products requiring unique biodistribution profiles or delivering multiple payloads. These types of therapies are appearing more frequently in drug development pipelines as companies focus more on identifying druggable targets at the genetic level. Because of this growing activity, the LNP market is set to expand significantly in the coming years. The main advantages of LNPs are improved stability and delivery efficiency for oligonucleotide APIs. Simply put, the API is much less likely to degrade before it can deliver its therapeutic effect because it is protected by the by the LNP. Moreover, the LNP can be specifically targeted using customized ligands attached to its surface.
Drug developers can be wary of LNPs because of the perceived complexity ─ and they are certainly more involved formulations than the industry is typically used to! But this is where companies like Exelead come in. We do the heavy lifting to help clients reap the benefits of LNP formulations to create effective oligonucleotide-based medicines. We find that clients are often pleasantly surprised at the flexibility these platforms can offer. For example, the library of lipid excipients that can be used in these formulations is sizeable, and it is growing rapidly with the current interest in oligonucleotide-based therapies.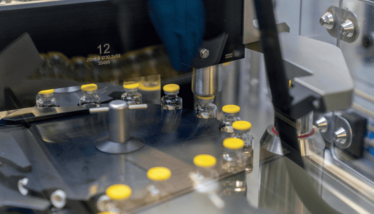 What are the main challenges of working with LNP formulations?
Synthesizing nanoparticles is a complex process, and requires a different sort of formulation expertise compared to traditional fill-finish activities for parenteral products where the API is essentially combined with a mixture of buffer and excipient ingredients. With LNPs, you need a good understanding of exactly how to mix the molecules; flow rates, temperatures, composition, and component ratios are all crucial to influence formation of the nanoparticles and efficiently encapsulate the API.
Other challenges relate to filterability and stability. LNP formulations need careful optimization of the filtration to achieve high flux and throughput while also maintaining the nanoparticulate morphology. While there is always an option to synthesize the formulation in an aseptic environment, the process becomes very challenging and expensive. Again, developing a good understanding of the design space, and how design variables impact product attributes such as encapsulation, nanoparticle diameter, and formulation stability can help set you up for success at sterile filtration as well.
It is also worth noting that LNPs demand extra attention in the supply chain in terms of getting all of the different raw materials ready at the same time – and made to cGMP standards. However, the growing interest and investment in oligonucleotides has led to significantly more research in the area – including how to make and modify LNPs. Often, just changing a few ingredients can lead to enormous benefits. The additional know-how and development to optimize these variables are well worth the effort. Oligonucleotides are becoming a go-to approach to tackling disease, and LNPs go hand in hand with them, ensuring that the best therapeutic benefit currently possible reaches the precise location where it is most effective. When these processes can be made scalable and easily transferable to many different kinds of products, it becomes clear that the technology is becoming truly relevant, and more important to the overall pharmaceutical market. And that's where we are with LNPs right now.
After years of R&D, the first siRNA-based therapy, patisiran, was approved in the US in 2018 for the treatment of a rare form of hereditary peripheral nerve disease – and it uses an LNP formulation. The drug inhibits the expression of an abnormal protein by interfering with the segment of RNA that creates it. Patisiran is just the first approved drug; many more oligonucleotides using LNPs are in pipelines and clinical trials.
What is your advice for companies interested in pursuing LNP formulations?
Our guiding principle, and advice to any company, is to always consider scalability from the very start. Clients often come to us with a product in the early stages of development that they wish to scale up, but it's clear they have not fully considered its feasibility. It is never too early in your development processto start thinking about paths to scale-up. We would even go so far as to recommend looking at developing with unit operations that are scaled down from manufacturing scales to bench scales rather than developing a bench scale process and trying to fit into manufacturing scale after-the-fact.
At Exelead, we've been working with LNPs for years, so we have the technology and expertise to improve the LNP formulation process, and develop a more scalable format. We've been able to form the same particles seen in the client's early stage process using a much more scalable method, such as in-line mixing (a simple ratio matrix mixing involving the right ingredients, pH and temperature) or, in some cases, extrusion (although the latter is not typically suitable for oligonucleotides, which tend to be shear sensitive). We can help clients with formulation development wherein we can suggest lipid choices and potential vendors based on desired pharmacological performance, develop these formulations at bench-scale volumes (<20 ml) rapidly within a short time-frame and provide a bank of potential candidate formulations for use in their screening assays. When we execute these pseudo-high-throughput approaches to development, we are able to present a panel of options to a client who can then select a candidate based on fulfillment of their desired quality attributes. We also use tangential flow filtration to remove organic solvents, which is a low-cost unit operation.
What other expertise does Exelead bring to LNP development?
Nanomedicinal formulations require careful attention to detail, comprehensive expertise and complementary teams to design and manufacture successful products. Exelead's primary expertise is in parenteral drug products focused on LNP/liposomal formulations and PEGylated (polyethylene glycol) formulations.
We have more than 150 employees from diverse backgrounds and areas of expertise, and we offer end-to-end solutions to our customers ─ from pre-clinical development through commercial supply, from project management to stability testing. We offer considerable support for nanoparticle formulation development and optimization, using lipids, polymers and other traditional ingredients.
Currently, the pharmaceutical industry is seeing an explosive growth in the oligonucleotide market, particularly with hard-to-treat diseases. Our development teams can help scale up manufacturing processes to suppor t commercial production, and our in-house analytical capabilities involve the whole spectrum of specialized assays for the lipids, particle size and surface charge, residual solvents, and APIs required to release a product.
By offering end-to-end solutions, a dedicated team with deep expertise and a robust cold chain, Exelead clients can expect to reduce supply chain risks and proceed with confidence. With our multi-decade history and proficiency with complex formulations, Exelead is uniquely poised to support clients who wish to bring exciting new treatments to the clinic and market.
Receive content, products, events as well as relevant industry updates from The Medicine Maker and its sponsors.
---