Manufacture
Facilities
Visit for a Fortnight, Stay for a Decade: Lessons Learned with Ian Lichfield
Building a business, building a career, and building buildings – here's the story of WHP before, during, and after the worst of the pandemic, as told from the inside
Ian Lichfield | | 8 min read
Since getting into the driving seat as CEO of WHP Engineering Ltd – a cleanroom design and construction company based on the banks of the Tyne in Newcastle, England – I've seen lows and soaring highs: from the stasis and crisis of Brexit and the pandemic to vaccine facilities with Oxford Biomedica and projects backed by rockstar investors. Cleanrooms might be clean, but they're rarely dull, and my story over the last few turbulent years proves it.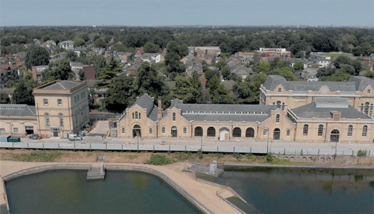 Arrival in another world

In October 2016, I joined the Weir Hall Partnership, known to most as "WHP." The eponymous David Weir was with the company from its founding 30 years ago to his retirement in 2020. Founding director Nigel Hall is still working with the company to this day.
WHP handles design and build services for cleanrooms and clean manufacturing – and it was a new world for me at the time. My background was in contracting and building products businesses although I trained as a chartered accountant. I had been brought in to handle some problems the company had, and I was expecting to be in and out within weeks. However, I appear to have stayed on for six years and counting. Why? For one thing, I find it exciting and rewarding. I work on projects in vaccine facilities and cancer research labs – projects that make a difference to people's lives, and it gives me a great deal of meaning and enjoyment. But the other reason is the people; it's a warm company – full of talented individuals.
When I entered the world of cleanrooms, I certainly had a steep learning curve to climb. It's a highly regulated environment, so a solid understanding of validation and quality control is crucial.
In my first four years with the company, trends were already underway. We were doing less around pharmaceutical traditional drugs and more around biomedical facilities. We were seeing a clear shift towards single-use technologies in cleanrooms and more flexible facilities overall. There was a growing focus on upscaling, too.
Completely modular builds aren't the cheapest solution, but they are hard to beat if speed is the biggest priority
Need for speed

I soon realized that, in the world of cleanrooms, everything moves quickly – our partnership with Oxford Biomedica being a great example. When we first linked up with them, they were a small organization, and we supported them through those early stages. Today, they are a very different beast. Helping customers through these transitions and transformations is interesting. Sometimes they come to us having never built a single thing, and then suddenly you're building a multi-million dollar facility! Orders come in quickly, and customers expect results quickly.
We recently built a large facility comprising 122 modules; completely modular builds aren't the cheapest solution, but they are hard to beat if speed is the biggest priority. First, you arrange all the components into a skid, test them in the workshop, connect them up at the site – and you're ready to manufacture.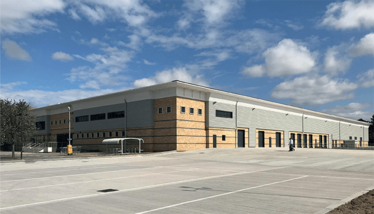 A Serendipitous Project

One year before I arrived, WHP signed a deal with Oxford Biomedica to build a viral vector manufacturing center in a repurposed postal sorting office in Oxford, UK. Design work began in 2018, and in February 2020 we handed the facility over. As you might well imagine, we were under some pressure to get everything up and running as quickly as possible in 2020 as COVID-19 began to surge.
Oxford Biomedica had accidentally hit the jackpot. Their facility is incredibly specialist – MHRA-approved, up to ISO 7 and 8 cleanroom standards, with all the necessary HVAC strategy for containment. And it could cope with the viral vectors needed for some of the COVID-19 vaccines.
For the sake of acceleration, we handed the facility over to them in stages. While they began their work, we were still finishing up some of the suites – not ideal but the best option given the unique circumstances. Oxford Biomedica have described the building as a "world class facility," and we're very proud of what we've achieved.
Lockdown on a lonely island

The emergence of COVID-19 wasn't a slow burn or a long-term trend. It arrived and changed everything in the blink of an eye. During the first lockdown, we were classed as essential workers, so our first hurdle lay not in the ability to work – but in our supply chain. Some support contractors shut down outright and the workforces of others succumbed to COVID-19 infections.
After we recovered from the initial supply chain problems, the pandemic began hitting in other ways. The disruption to international flights really hurt us because we were running numerous jobs overseas.
On top of that, we had (and still have) Brexit on our plate. EU countries no longer want UK workers and the UK has said that it doesn't want foreign workers either. So now, by necessity, WHP constructs in the UK using our own teams. If we are working to install a facility abroad, we either need to work through partners or establish entities in that country.
By mid-2020, fewer people wanted to talk to us. Not because we'd become unpopular, but because uncertainty brings caution. In this case, it was caution with cash, caution with capital, and caution with face-to-face meetings. Those are all problems for companies that work with facilities that cost millions of pounds; it's not surprising that customers generally want to look us in the eye rather than on video conference! Slowly capital projects across many industries ground to a halt. (Conversely, our partners in the food and beverage industry were so busy that they didn't have time to push their capital projects forward.) For a CEO, it was a nerve wracking time.
For months, many companies like ours had low order intake and then suddenly the orders began flooding in as companies got their plans back on track. We went through the majority of 2021 with just a handful of operational projects. By the tail end of March 2022, we had 30!
It's not surprising that customers generally want to look us in the eye rather than on video conference!
The lid flies off

Now, worldwide, pent-up demand is surging. In the conversations we're having, the question on clients' lips is, "Could you get me a facility built by the end of this year?" Clients have put other strategies on hold, and are now making very bold moves toward investing in new and existing facilities. Right now, we're focusing on projects in the UK, because they're abundant. We've gone from being very quiet to very busy – but that's not the only change we're witnessing. The nature of the projects we're taking on is changing too.
One new trend is a desire among clients to future-proof their facilities. Given the recent wave of disasters, they want to expect the unexpected. Building in a little unassigned space affords them flexibility. There are many new technologies coming through as well: mRNA platforms and new bioprocessing technologies. The atmosphere is changing really quickly.
I hasten to add that not all the changes we're seeing are ideal; some clients want to build their plants now and then find customers later. I always advise companies to find their customer first, determine the product accordingly, then build either a pilot plant or full facility. Offering advice like this is smarter in the long run. If you just take the money and build away, the problems the customer faces further down the line become your problems too. Offering good advice from the outset is mutually beneficial.

Energy is also higher on the agenda. People are zooming in on cleanroom energy consumption and environmental impact. We've been dealing with this for some time and giving clients advice, but I think the issue will move to the foreground over the next few years as energy costs continue to increase.
We are currently working in collaboration with a partner to look at ways of saving energy by using new technologies and new equipment. Essentially, we will be changing from a traditional water heating system to an 89 percent more efficient electric system.
The dos and don'ts of plant construction

My first piece of advice is certainly a little biased, so feel free to take it with a pinch of salt. Get your engineers – like us – involved as soon as possible. Do this even before you get involved with architects or advisors. We can provide advice at a fairly early stage on where to put your plant – and sometimes it's not the obvious place. Many customers assume that free land next to them will be the best place. Others want to extend an existing facility. These can be excellent choices, but some locations may have difficulties with access to markets, and not all existing facilities will have sufficient headroom. These considerations are important – and partners like us can help you take them into account. I'm sure you'll see my bias here, but I bet you see my point too!
My next tip is don't underestimate the power of repurposing – for one thing, it's often the easiest way to get planning permission. Additionally, repurposing and upgrading older buildings can produce very impressive new facilities. It may be simpler to throw up a shiny new tin shed, but "simpler" is not a synonym for "better."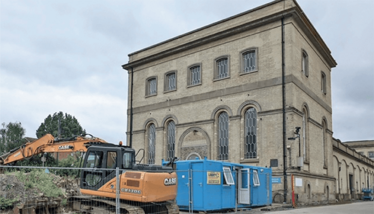 Repurposing a Pumphouse

We are upgrading and repurposing a Victorian pumphouse for a business called Touchlight, which manufactures synthetic DNA. The pumphouse is a Grade II listed building. We've completely upgraded and the building and next we'll build a GMP cleanroom facility inside. There are certain pros and cons to the approach we've taken. The pros are the buildings location in Hampton and Victorian façade (finding a location like this for a new build and getting planning consent would be virtually impossible, not to mention cost prohibitive). But of course there are challenges because you never know what you will discover that needs resolving when restoring an older property! But I believe the end result will be excellent.
There's nothing about this particular project that isn't interesting. The building is owned by Betfair co-founder Andrew Black and his new company Blackbottle. Touchlight's investors include some very famous people. It's all very rock and roll… But the rocking and rolling isn't the part of the business I handle!
Credit: Collage collated from Unsplash.com and Rawpixel.com
Receive content, products, events as well as relevant industry updates from The Medicine Maker and its sponsors.