Eric Dube
---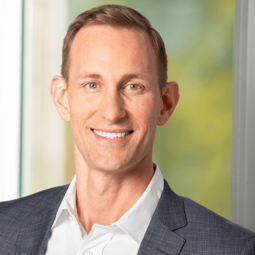 President, CEO, and Director, Travere Therapeutics
Dube has a wealth of industry experience. He served as the president and head of North America at ViiV Healthcare and spent more than 18 years working in roles of increasing leadership at GlaxoSmithKline across the US, Europe, and Japan. In his current role, Dube works to develop life-changing therapies for people living with rare diseases. He has won several awards during his career, including being named one of 100 OUTstanding LGBT+ Executives in the Financial Times.
What one thing do you think could improve the pharma industry?
A continued, relentless attention to understanding the unique experiences of all patients and bringing those perspectives into everything we do. That means incorporating the patient and caregiver voice early and often in our development process and committing to investing in programs that we believe will truly make a difference for patient communities, even if they extend beyond the scope of our own programs.
For example, at Travere, we are committed to incorporating the patient voice throughout the drug development process. The patient experience informs clinical concept, protocol development, and how we recruit and communicate with the rare disease community about our work. By including and engaging with people living with rare disease, we are better able to meet the unique needs of the patient communities we serve. In rare diseases, patients and families can wait an average of 6 years before they receive an accurate diagnosis. We can help shorten that path with better technology such as genetic testing at birth or telehealth to connect to a rare disease specialist. And the average time to diagnosis is even longer for people of color or families living in rural communities. Our efforts as an industry must take into account the barriers to diagnosis as well as potential therapies. Travere sponsors a genetic testing program to help diagnose the cause of newborn cholestasis at no cost to qualifying patients. This program has provided thousands of families with answers over the last couple of years and enabled them to seek care – typically for conditions outside of Travere's therapeutic focus.
Our dedication to people living with rare disease, caregivers, and advocates is a life-long commitment, and integral to who we are as an organization.