Business & Regulation
Profession
What's Your Job?
In this new feature, we take a close look at how people join the industry and what their job involves
Angus Stewart | | 4 min read | Interview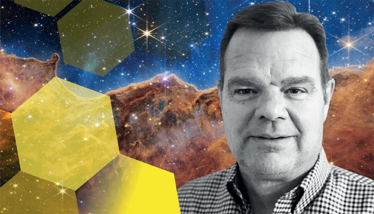 Over the last 25 years, John Lewis has worked for four different biotech companies, running their capital projects. In one of those past jobs, John hired a company named CRB to design, build, and qualify a cell culture facility. He ended up liking CRB's style so much that he joined them!
CRB specializes in engineering, architecture and construction. The company has been involved in a variety of projects both within and outside the pharma industry. One recent high-profile project was helping to upgrade part of the Deep Space Network (which made media headlines in July after NASA published new images from the James Webb Space Telescope).
Today, Lewis is a Senior Project Director with CRB. Here, we delve into his role and motivations.
How did you join the company?

I initially hired CRB to design and qualify a new commercial mammalian cell culture facility with an extremely aggressive schedule. I did not think I could deliver a facility from concept design through installation and operational qualifications in 21 months, but CRB convinced me to use their ONEsolution approach. We were able to deliver the project on time and on budget. I was so impressed with the people and the project delivery methods that I decided to join the CRB for the last few years of my career.
How have your first months in the job been?

They've been great! The company has a great culture and the sense of focus is also greater than when I worked on the "owner side." On that side of the business, executing capital projects is not the primary goal – the goal on the owner's side is to make a product, get it through regulatory inspections, and get it out the door. CRB executes its projects in a very interactive, collaborative, and professional manner.
Delivering a commercial manufacturing facility from start to finish in 21 months is never easy. Generally, the rule of thumb is that out of quality, cost, and schedule, you can pick two and only two. Ideally, we should be able to pick all three! That's what I'm aiming for at CRB.
How has the COVID-19 pandemic affected working practices?

As far as project delivery is concerned, the industry is now pretty comfortable using Zoom, Teams, and so on. Remote meetings are the norm. Earlier in my career, we'd have 50 or more people gathered into one large room for three days every week. After transitioning to Teams, we also began splitting into smaller virtual meeting rooms in which smaller groups could discuss the same topics.
I actually think a lot of companies have flourished in the pandemic by finding new ways to adjust. That said, I think many of us have realized that we are better together in person. It's great when you can lean over someone's cubicle and have an out-of-the-blue, but important meeting – something you might not be able to do via video call or instant message. But I think the industry has also learned to appreciate the importance of flexibility, with people coming into the office a few times a week and working from home the rest of the time. Looking ahead, I suspect the entire industry will embrace a much more flexible working model.
What changes would you like to see made in the field of project management?

Typically, large projects run at least 20 percent over budget and are often late! Anyone who's worked in this field knows that current contracting methods are set up in ways that often block the development of a team culture, which can prevent innovation. I think those methods need to change. Teams need to be real teams and they need to be incentivized. Open communication is key, too – everybody needs to not only have a voice, but also feel free to use it.
Has working with CRB brought any surprises?

Taking a look behind the curtain is always a little strange. When I was a client, the surface of the curtain always looked so clean and shiny. Crossing over to the other side, I found a few points in need of improvement and greater efficiency – for example, sometimes one system isn't speaking to another. The upside is that CRB had already identified those issues and set in motion the processes that will resolve them.
We've spoken before with CRB's Industry 4.0 expert, Yvonne Duckworth. Have you made use of any 4.0 tech?

I have! With CRB, I "visited" a virtual plant and was able to walk along at ground level, but also zoom up 35 feet to sixth-pallet position in the warehouse if I wished. I was even able to check for problems I couldn't have during an in-the-flesh visit.
It was a little like visiting Disney World and hopping onto one of their virtual reality rides – an airborne trip around the planet Pandora springs to mind. You can actually get a little nauseous if you fly too fast!
Receive content, products, events as well as relevant industry updates from The Medicine Maker and its sponsors.