Business & Regulation
Technology and Equipment,
Trends & Forecasts,
COVID-19,
Digital Technologies
Is There Gold in Them AI Hills?
What opportunities await pharma as it begins to redirect its focus away from the pandemic?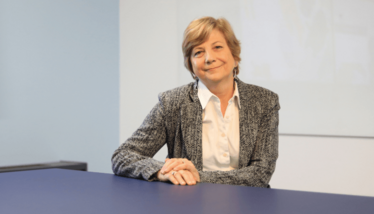 In 2020, we spoke to Peter Richardson, VP of Pharmacology at BenevolentAI, about the role the company's AI system had played in its pandemic response. Like many other companies in the industry, they put their machine learning platform to use and found that a drug owned by Eli Lilly, baricitinib, could be repurposed to treat the symptoms of COVID-19.
And although AI has played a significant role in the industry's rapid drug development program through the crisis, stakeholders in the industry are now looking ahead to determine the role it will play in a post-COVID-19 world. To examine the topic further, we caught up with Jackie Hunter, a board director at the company and a member of The Medicine Maker 2021 Power List, who shared her views on the future applications of AI in pharma with us.
How will industry conversations change in a post-pandemic environment?
Last year, the company identified baricitinib as a treatment for COVID-19, which later won FDA approval for use in hospitalized patients. Post-pandemic, we should expect industry conversations to revolve around how we use AI to improve future health systems and revolutionize the drug discovery process. Another topic that will dominate the industry post-COVID is how we improve and unblock approval processes for future therapies and vaccines. We have seen how approvals can be expedited with rolling data reviews and large data trials in the pandemic, and, as a result, we have witnessed huge scientific leaps in vaccine development.
Lastly, the unprecedented way in which data has been shared so rapidly and freely during the pandemic has raised important questions about what data is proprietary and the possibilities of pre-competitive sharing. We will need to see discussions about the standardization of data capture, how we increase diversity in data, and ensure patients have greater feedback on how their data is being used.
How can we accelerate drug development projects of the future?
BenevolentAI and other industry pioneers have demonstrated the power of AI, combined with human intelligence, to generate new hypotheses for serious diseases and identify targets faster and more cost-effectively. However, to change the drug discovery and development process worldwide, we need to see substantial organizational change and significant effort on the part of pharma companies. For example, increasing the use of remote monitoring and standardization of image analysis to reduce the number of patients needed in trials.
Industry challenges can also be solved through productive pharma-innovator partnerships, for example, we partnered with AstraZeneca to uncover novel treatments for idiopathic pulmonary fibrosis and chronic kidney disease. And that led to AstraZeneca selecting the first-ever novel AI-generated target to enter its drug portfolio. However, these types of partnerships are only truly successful if both sides are willing to learn from one another and adapt their ways of working to combine the expertise of traditional pharma with new AI and machine learning approaches. In the case of Benevolent and AstraZeneca, this led to AstraZeneca selecting their first-ever novel AI-generated target from the partnership to enter their drug portfolio.
What technologies will drive the future of pharma?
Clearly, AI and machine learning will impact every aspect of the pharma value chain, and 2020 saw the field make impressive progress on some of the world's most complex scientific challenges, such as AlphaFold (a program developed by GoogleAI offshoot Deepmind for accurate 3D predictions on protein folding) or MIT's work in antibiotic discovery. I think this closer convergence of new technologies with scientific expertise will help the industry be more successful, efficient, and cost-effective as it moves forward.
I also hope to see other exciting technologies; for example, blockchain to help patients track how their data is used and smart manufacturing technologies, such as 3D printing, to enable a more personalized approach to medicine.
Be sure to check out our 2021 Power List too.
Receive content, products, events as well as relevant industry updates from The Medicine Maker and its sponsors.