Business & Regulation
Trends & Forecasts,
Supply Chain,
COVID-19,
Dosage Forms
Constructing 2022: How Alive Are the Life Sciences?
A year of turmoil, and a year of change – just how healthy are pharma and the life sciences?
Angus Stewart | | 3 min read | Review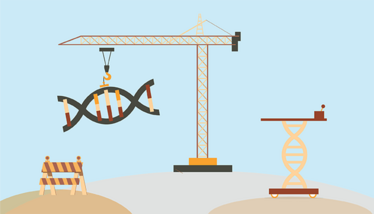 Every year, design and construction specialist CRB publishes its Life Sciences Report. However, the report hasn't always gone by that name. Its very first iteration was the Cell and Gene Therapy Horizons Report. Fast forward to today, and the scope is far broader. For a little insight on what CRB's 2022 report can tell us about the future of the pharmaceutical industry, we spoke to Peter Walters, the company's Director for Advanced Therapies.
CRB's 2021 Life Sciences Report was built around a theme of disruptive trends, such as industry 4.0. This year, they have restructured the report around a range of topics. One of these is a general overview of life sciences' status quo, while the others cover specific topics such as RNA, therapeutic proteins, and digitalization.
"Overall, this year's report shows a prevailing sense of discovery. Some of this feeling has been sustained since 2017, when the very first cell therapies received commercial approvals," says Walters.
COVID-19, for better or worse, kept that mood going at the turn of the 2020s, turning the spotlight onto mRNA. Now that mRNA modalities are entering the mainstream, many companies are working to replicate their mRNA successes in other new modes of medicine.
In fact, new modalities are a trend in themselves. In terms of production, the growth in the number of ever more complex therapy approaches is astounding, and CRB's reporting captures how this trend is leading to the construction of more "multimodal buildings." A mere decade ago, if a company produced two different modalities, they would likely handle production in two separate buildings. But, as CRB's survey shows, 91 percent of respondents indicated that they are pursuing multimodal facilities in both R&D and/or GMP manufacturing.
Another production-related trend is the increasing use of contract manufacturing. To some extent, this goes hand-in-hand with the expansion in modalities. Many companies don't have the capacity or capital to produce all the necessary materials for novel therapies – think viral vectors, plasmids, mRNA, and so on – so they turn to a contractor. Just one decade ago, CMOs tended to serve as an auxiliary to the main body of the industry; now, they're akin to its bedrock.
Riding the spiral

Much of the world is in a dire economic situation – perhaps you've noticed. CRB's report certainly did. The demon of inflation has taken its place in our collective consciousness, and thus finances have grown scarce. Despite this, Walters argued for some (albeit limited) optimism.
"We found considerable positivity around growth. For example, 96 percent of respondents said that they were planning to expand their manufacturing over the next five years. Of course, there is still caution, as seen in projections for annual growth landing between 6 to 10 percent. Pre-pandemic, we were seeing a more gung-ho attitude toward expansion projects, but now financial constraints are king once more."
Funding drought aside, there are also supply chain miseries to confront. Walters notes that although these are a persistent problem in the field, right now not only the life sciences but also other industries such as automotives and electronics are struggling or sinking in a supply chain mire. For example, there is a scarcity of microchips, and this problem hits every company that produces or relies on machines that need them. Consider, for example, a pharma manufacturing CEO trying to set up a coveted "industry 4.0" system. Without microchips, (s)he is sunk. On top of this, there are "low tech" shortages too, in raw materials, glassware, and stainless steel.
Despite these challenges, companies seem to be battling the economic crisis through careful business and expansion planning. "The innovative therapies being developed still have needs," says Walters, "and companies are continuing to usher in this age of development and industry revolution through methodical, risk-averse projects."
Receive content, products, events as well as relevant industry updates from The Medicine Maker and its sponsors.