Business & Regulation
Business Practice,
Profession,
Biosimilars
Pacesetting Leadership
Lessons Learned with Kiran Mazumdar-Shaw
Kiran Mazumdar-Shaw | | Longer Read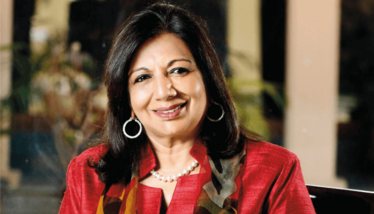 As the founder of India's largest biopharma company, Biocon, Kiran Mazumdar-Shaw's influence is far-reaching – but her professional life has taken a few surprising turns. From launching a biotech company with two retired tractor mechanics as her first employees to creating a global brand, serendipitous events and an entrepreneurial spirit have guided her along an unusual career path. Here, she shares the experiences that have shaped her 40-year career – and the lessons she has learned along the way.
Career setbacks can fuel future success
I never intended to pursue a career in biopharma. As a trained brewmaster, I wanted to earn my stripes in my chosen industry, but the professional culture at the time held me back. Women weren't particularly visible in the sector and actively choosing to pursue a career in it was unusual. Though I had the credentials to make it, no one was willing to give me the chance to prove it.
I needed employees… But who would want to work for a 25-year-old with nothing but an idea to her name?
Despite my disappointment, I sought out new opportunities. When a biochemical company in Ireland hired me as a trainee manager, I jumped at the chance to develop my knowledge in a new industry – and the experience inspired me to set up my own company at home in India. Using enzyme technology, I planned to develop products needed for alcohol production. My colleagues in Ireland supported the idea and we became business partners. But trying to create a brand-new service, product, or experience is an inherently risky process. I realized this when I first began looking for funding. Bankers would stare at me with blank expressions as I tried to explain the potential of enzyme technologies for the brewing sector. Unconvinced, they turned me away empty-handed. My lack of business experience and scant personal savings didn't help either…
The rejection was difficult to handle, but it didn't dent my determination. Without a loan, I had to scrape together the little money I had to set up my first office (which was conveniently located in my garage.) I also rented a shed to house the machinery I'd purchased, and Biocon was born. Now, I needed employees… But who would want to work for a 25-year-old with nothing but an idea to her name?
The only people brave enough to take on the challenge were two retired tractor mechanics who operated the machinery and helped get the ball rolling. To be viewed as a reputable business, though, I needed scientists and engineers who could take our operations to the next level. I made connections with academic institutions and found like-minded individuals who, excited by the prospect of this unconventional business, took the bold step to join us.
We quickly matured and began the daunting journey from lab to market. My partners in Ireland were willing to manufacture everything we developed in India so, within five years, we had developed a credible homegrown technology. Brewing companies were now approaching us to learn about our products. Knowing that my company was of value to the industry gave me a sense of satisfaction – even after my initial rejection, brewing was still an integral part of my professional life.
When we were ready to scale up our operations, I returned to the banks, hoping that Biocon's years of effort would inspire their generosity – but their skepticism remained. "We don't invest in homegrown technologies," they said. "If you want to license a technology, we can make the funds available, but loaning you money for your own technology is out of the question." This second round of rejections hit me hard. At the time, I hadn't considered any alternative forms of funding, and we couldn't reach our full potential without money.
But serendipity answered. Shortly after these disappointing encounters, I met a banker who had just started a venture fund. Our technology and ethos appealed to him and he became our first-ever investor. At the same time, Unilever acquired our Irish partners' business and went on to teach me a lot about intellectual property and what it takes to be a player on the global stage. With this newfound support, I started thinking strategically about where I wanted Biocon to go next. It occurred to me that we could expand our horizons – so we spent the next 20 years developing and diversifying our enzyme technologies to serve a range of industries before ultimately ending up in biopharma.
Address the problems that matter
I've always been socially conscious and, as a young entrepreneur, it concerned me that many of the environmental issues affecting our society were being ignored. But I realized that our growing company could be a platform for change. Our portfolio was expanding and many of our clients belonged to industries notorious for their polluting protocols. Some used acid hydrolysis to convert complex carbohydrates down to simple sugars – an efficient process, but one whose long-term consequences received little consideration.
My colleagues and I became strong advocates for enzyme hydrolysis as an alternative. By this stage, Biocon had gained enough credibility to bring difficult conversations to the table, and we were determined to make sustainable practices part of our clients' culture. Some were hesitant – enzymes were much more expensive than the chemicals they were accustomed to – but they were willing to give the idea a chance. The long-term cost savings from using environment-friendly enzyme technology convinced them to make the switch. Over the years, many of these companies have put eco-friendly practices at the heart of their social responsibility strategies. But the work is never finished; we continue to bring attention to ecological issues and explore ways to help. As a company that has worked on cleaner and greener biotechnologies based on enzymes, we have taken a novel approach to revive some of Bangalore's polluted lakes. We have implemented a three-step bioremediation process using technology which is unique and cost effective in comparison to conventional draining and cleaning processes and have succeeded in restoring the ecosystem of the dying 35-acre Hebbagodi Lake, located in the outskirts of Bengaluru. This project has won several awards including a place in the Limca Book of Records for introducing the largest artificial floating wetlands in India. Having successfully revived the dying Hebbagodi lake, we are leveraging the experience to rejuvenate the polluted Yarandahalli lake.
Although widespread poverty is a reality, it shouldn't dictate a person's quality of healthcare. As long as income-based inequality exists, my colleagues and I will fight for change.
Our move into the biopharmaceutical sector put a new perspective on the problem. India is the diabetes capital of the world and, at the time, most patients used disposable pens to administer insulin. Though convenient, their daily use generated significant amounts of medical waste. We decided to introduce reusable pen technology to the Indian market – not only addressing the environmental problem, but also giving patients across the country access to affordable recombinant human insulin.
Prior to our transition into biopharma, many diabetic patients relied on highly immunogenic animal-derived insulin because they couldn't afford alternatives. I've always believed in the importance of medical access, particularly in the developing world. Biocon has become synonymous with the development of treatments for these areas of unmet need because of our desire to level the playing field. Although widespread poverty is a reality, it shouldn't dictate a person's quality of healthcare. As long as income-based inequality exists, my colleagues and I will fight for change.
Be ready to find inspiration in unexpected places
By the early 1990s, India's pharmaceutical sector was booming. Where previously only a handful of homegrown companies had existed, many had now cemented themselves in the pharmaceutical landscape. It was encouraging to witness pharma's rapid growth, but I found inspiration elsewhere...
The world's eyes were on India in the 1990s because of its IT capabilities. The efficiency of the country's software services attracted an international client base. And that pushed me to investigate their development model and create a platform specifically for pharma. My many years in the industry had taught me the need to accelerate early-stage research and I believed that a research support service would help. I launched Syngene in 1993 and, since then, it has grown from strength to strength, supporting many R&D programs from start to fruition.
Biocon commenced its pharma journey in 1999 by leveraging its capabilities in fermentation technologies derived from its long experience in manufacturing enzymes; this was unlike other companies in India which were largely focused on generics made by chemical synthesis. Furthermore, we were amongst the early movers in developing a portfolio of fermentation-derived statins which gave us a leadership position in this segment. We simultaneously chose to expand our strategic options from small molecules like statins to recombinant proteins like insulin to address the growing healthcare challenges associated with diabetes.
Our product portfolio was not limited to generics or biosimilars; we sought opportunities to address unmet needs in these therapeutic segments through novel biologics and novel targets. These were marked by high entry barriers wherein we were required to make significant investments in a full range of R&D capabilities, spanning process and analytical development to pre-clinical and clinical research.
These investments have helped Biocon in its journey of building the science, scale and expertise needed to enhance access to essential drugs for patients on the lowest rung of the economic ladder. Through its 'Mission 10 cents,' Biocon is today offering recombinant human Insulin at less than 10 U.S. cents / day for direct procurement by governments in low- and middle-income countries, where millions of people cannot access insulin as it is unaffordable.
Biocon today has one of the largest global biosimilars portfolios spanning insulins, monoclonal antibodies and other recombinant proteins for diabetes, cancer, immunology and other therapeutic areas and is well positioned to offer lower costs and increased access to this highly innovative class of drugs.
Master the art of accepting advice
My late father was one of the most influential figures in my life. He believed that good leadership was built on giving people the freedom to discover their own capabilities. His thoughts on the subject have always resonated with me, and I've tried my best to apply them to my own companies – giving my employees the space to tackle issues using their own initiative. Though I was always there to guide them, I wanted my team to feel confident in their own decision-making skills. I'm as passionate about their continued growth, as I am about my own, and it's a privilege to watch them build the strength of character to make hard decisions when necessary.
From the arts to healthcare organizations to R&D, both at home and abroad, I seek out opportunities to help.
Another important lesson my father taught me was to always give back. He always said, "Money is not a currency to buy favors, but a means to make a difference." As my companies grew, I became able to extend a hand where there is a need. From the arts to healthcare organizations to R&D, both at home and abroad, I seek out opportunities to help. One example that I'm proud to be involved with is the grassroots effort expanding access to primary care across India. Over the years, I have helped develop new healthcare centers nationwide and we now have an army of health workers ready to treat and support patients across the country.
But charity is not about the size of the donation given or personal gain; it's about the sincerity of the action and the attention that can be brought to a meaningful cause. I'm glad that my father instilled this idea in me because it has brought, and still brings, much purpose to my life.
Biocon Today
Biocon may have initially started out in a garage, but today it's a very different story. Biocon employs over 12000 employees and brings in annual revenues over US$870 million. The company's portfolio includes small molecules, novel biologics, and biosimilars. Biocon was the first Indian company to have a biosimilar approved in the USA and in Japan, and is one of the largest producers in the world of statin and immunosuppressant APIs. It is considered to have the largest biomanufacturing capacity in all of India.
Biocon has repurposed its 'first-in-class,' humanized IgG1 monoclonal antibody Itolizumab that selectively targets CD6 cells, to help treat acute respiratory distress syndrome (ARDS) in COVID-19 patients. The Indian health regulator has approved this novel biologic therapy for restricted emergency use in India to treat moderate to severe ARDS patients hospitalized with COVID-19.
Over the years, the company has won numerous awards. Achievements in 2019 included:
Biocon was ranked 6th on the prestigious Global Biotech Employers rankings 2019 by U.S.-based Science Careers magazine
Best Biotech Patents Award 2018-19 from the Indian Drug Manufacturing Association's 58th Annual Day celebration
Awards in four categories, Women L&D Programs, Diversity Policies, Large Enterprise and Diversity Programs, for the Bowin HR team
State Level Award in Implementation of Best Safety Practices from the Department of Factories, Government of Karnataka
Annual Greentech Environment Award for Outstanding Achievements in Environment Management in the Pharmaceutical Sector for the Hyderabad API facility
Kiran Mazumdar-Shaw has also received many personal awards and honors. She recently won the EY World Entrepreneur of the Year Award 2020. She was conferred with the Order of Australia, Australia's highest civilian honor in 2020 and recognized with the Knight of the National Order of the French Legion of Honour, France's highest civilian honor, in 2016. For her outstanding contributions to the progress of science and technology, she got the AWSM Award for Excellence in 2017, the Othmer Gold Medal in 2014 and the Global Economy Prize for Business the same year. She has been conferred with the Honorary Doctorate by Deakin University, a leading Global University based in Victoria, Australia, and was elected as a member of the US National Academy of Engineering for her contributions in the development of affordable biopharmaceuticals and India's biotechnology industry. She is also a full-term member of the MIT Corporation, the board of trustees of the Massachusetts Institute of Technology (MIT), Cambridge, Massachusetts, U.S. The Indian government has recognized her achievements through two of its top civilian awards, the Padma Shri and the Padma Bhushan.
Receive content, products, events as well as relevant industry updates from The Medicine Maker and its sponsors.