Business & Regulation
Business Practice,
COVID-19
Think of the Patients
GlaxoSmithKline's Senior Vice President of US Oncology speaks with us about the pandemic and its impact on patients
Stephanie Sutton | | Interview
The pandemic has affected numerous therapeutic areas by disrupting health services, leading to fewer patients being diagnosed, referred, and treated. In oncology, for example, many countries suspended public screening programs, which was consistent with the WHO's initial recommendations to minimize non-urgent facility-based care, and redeployed healthcare staff to assist with the pandemic. In cancer, early diagnosis and intervention is important to get the best outcomes for patients, and the pandemic is already having a negative impact on cancer patients.
Even before COVID-19, GSK's Senior Vice President of US Oncology, Mike Petroutsas, was concerned about how the industry interacted with patients. We speak with him about the importance of patient centricity and what patients want (and need) from pharma companies.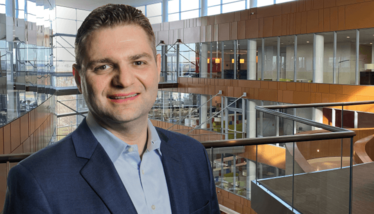 Meet Mike
Mike Petroutsas is Senior Vice President of GlaxoSmithKline US Oncology
I'm originally from Greece and that is where I grew up. In a country like Greece, the healthcare system is complex and structured in such a way that the pharmacist is really your primary point of contact – and oftentimes your only contact until you get to a physician. I loved the service element of what they did – and the compassion and the way they empathized with and helped patients. I moved to the US in 1988 and I wanted to become a pharmacist. But I also loved science and I really got into infectious diseases. I actually ended up joining Pfizer and I worked on numerous programs. As my career progressed, I went from infectious diseases to rare diseases, and then ultimately into oncology. But, in my view, most cancers can be considered rare diseases.
As well as the science, I also loved the impact the work had on patients and their families. There's a big difference between rare diseases and more commonplace diseases in terms of how we treat and engage with patients. We have to be very particular with how we support our patients suffering from rare diseases. In many cases, there is a one-size-fits-all model in terms of how the pharma industry works with patients and this has to change.
This has been a driving force for me since I joined GSK. My mission, along with my colleagues, is to bring transformative medicines to patients. But we also have a lot of programs that focus on access to our medicines through patient engagement and social media, as well as education programs that provide support for patients and their caregivers (because in many diseases, particularly cancers, the caregiver is vital throughout the patient's journey). In drug development programs, there is a very controlled environment with specific support structures for patients. But it's a very different situation in real-world settings. You need to consider the fact that some patients can really struggle with how to access particular medicines, as well as the supportive care and education they need for their journey.
What makes me proud is when I have one-on-one engagements with patients and caregivers who tell us how GSK's medicines have changed their lives; it's probably the most fulfilling and energizing thing for our team. I also enjoy developing our associates. We've built a new oncology organization at GSK and brought in some really top talent. It's been a challenge – and a pleasure – to develop these people into even better, more patient-centric leaders.
What are your views on patient centricity?
Patient centricity has been a buzzword both in and outside of the industry for a while. Of course, all of us in pharma want to get closer to patients, but in oncology, bringing that true human touch and approach is crucial. At GSK, we say that it's not about patients; patients are people first and foremost – so it's about people and individuals. There are so many barriers that pharma manufacturers need to break down when it comes to having these uncomfortable conversations about cancers, including racial, generational, and ethnic barriers. Until pharma is comfortable having these conversations, we can't become more patient centric. With cancers and other rare diseases, it's hard to apply a one-size-fits-all model.
You can speak with 10 different women who just went through chemo treatment for metastatic ovarian cancer, and are now contemplating the next stage of their disease and treatment, and they will all have a different treatment journey. Moreover, they will hail from different countries, some will have language barriers, and others may have generational challenges with children. Some of them may also encounter difficulties with accessing treatments. Each journey is unique and if you want to serve patients and truly break down the barriers they face, you have to see things through their eyes. I believe this is where pharma can have the most impact when it comes to supporting cancer patients.
What types of information do patients want from pharma companies?
I think this is one of the most misinterpreted areas in pharma. Market research and information from advocacy boards has shown that the information patients are most likely to look for is on access to particular medicines. Often, however, pharmaceutical manufacturers predominantly focus on educating about disease, and providing supportive materials and information with regards to products and how to use them.
But if we take a step back, just getting access to medicines is key, whether it's through reimbursement, co-pay support, foundational support, Medicare, Medicaid, or even commercial programs. And this is really important during the pandemic when there is less accessibility to healthcare services. At GSK, we've pivoted from not only talking about education and our products, but to talking about access to medicines during the pandemic and showcasing the programs that are available to help patients. We need to make sure people can still access cancer treatments – and that they don't stop their treatment either.
How can pharma better engage with patients?
In the US, we are fortunate in that we have more opportunities to engage with patients compared with some countries. It's not just about direct-to-patient advertising – customized engagements through advocacy groups and advisory boards are also important, as is disease awareness and education. The early symptoms of ovarian cancer in older women, for example, can mimic menopause until certain things trigger the patient to take action and seek advice, so we need to be driving awareness.
And sometimes you need to be specific. When it comes to cancer, there is a tendency for companies to promote or discuss products in a general fashion to reach as many people as possible. In breast cancer, the overall survival rate has improved significantly over the last five years. But if you look at African-American women in the US – and specifically in states like Louisiana, where you have an underserved patient population from both an education and healthcare access point of view – survival rates have gotten worse. What are the reasons for this? It could be access to medicines, but we also need to understand some of the biases that exist around treatment, and the distrust that can exist around patient care. And that's what I mean by getting away from a one-size-fits-all approach. We need to customize patient education. The education doesn't always have to come through traditional forums, like healthcare providers. In certain communities, pharma may need to reach out to local churches or affinity groups to understand how to build trust in the community. In short, we need to get a lot better at reaching different people – whether in different cities, states, or countries.
How has COVID-19 affected patients and the way pharma engages with patients?
COVID-19 has highlighted a number of discrepancies for underserved populations, including access to vaccines and to technology – and the worst outcomes for disease. At GSK, we noted a dramatic decline in wellness visits and I've been calling for people to go to these appointments. People need to take care of their health and get checked out if they are not feeling well. Surgeries in oncology have declined and diagnosis has significantly declined, which is concerning because it's really important to treat many cancers early. I think this is the first time in a very long time in our industry that we may see the five-year overall survival for many cancers actually get worse – and this will be because of delays in diagnosis. By the time people are diagnosed, they may already have progressed to a later stage of the disease, which will affect their outcomes. All of us in this industry must continue to educate and deliver the call to action to everyone we know.
We also need to consider the fact that COVID-19 has scared a lot of patients and has even brought out more mistrust. For example, there has been a great deal of misinformation about medicines for COVID-19 and vaccines. It will be important to build back trust in the healthcare system and in our medicines. Evolving R&D and clinical strategies is an important part of this. In particular, we need to bring greater diversity to our trials, which will help build trust in different communities. This isn't just about considering skin color and ethnic diversity in trial participants, but making sure the trial can accommodate different languages and accessibility needs.
At GSK, we think it is important to have diverse patient heroes and patient ambassadors that can encourage patients from different communities to take part in trials. With COVID-19, we've found that there's a lot of distrust of vaccinations amongst the African-American community because of the history that exists and previous trials that were misleading. We need to address these biases head on and make sure we are having the right conversations with different communities.
What else can the pharma industry do, in general, to address its bad reputation amongst the public?
In recent months, there has been a lot of positive attention on the industry because of the high-profile work of Pfizer, BioNTech, and Moderna on COVID-19 vaccines. And GSK is contributing to this too, through our collaboration with Sanofi.
There are many different elements associated with big pharma's bad reputation and this is something we get asked about a lot. One is the cost of care. We need to do a better job educating patients on the challenges that go into development and the high costs associated with this. There is also access. Given that so many patients ask about costs and access, it means we're not doing a good job explaining all the great programs that can help.
What developments in the oncology field are you most excited about for the future?
There are two areas. The first is mRNA. In oncology, we're used to chemo killing cancers, immune-oncology boosting response, and finding antibodies that target the right cancers. Gene therapy has shown us that we can manipulate genes and T cells to fight cancer, but with mRNA we can teach our body to fight a disease. mRNA has been used with some COVID-19 vaccines, but there's also work being done with HIV and MS – and in the future I hope we can use it in oncology too. COVID-19 has accelerated the move to mRNA therapies by giving us proof of concept.
The second thing I am excited about is the work we are doing at GSK around synthetic lethality and immuno-oncology – and some really interesting combinations. I'm really proud of the work my team has done. I've been at GSK for two and a half years, and since then we've launched four new indications fulfilling unmet needs in ovarian cancer, endometrial cancer, and multiple myeloma. When I joined, we had one oncology product in early development and today we have 14. We're all so proud as an organization to return to the oncology field.
Receive content, products, events as well as relevant industry updates from The Medicine Maker and its sponsors.