Business & Regulation
Profession,
Trends & Forecasts,
Advanced Medicine
Cell and Gene EuroZingers
More than a few pearls of wisdom were dropped just outside Hyde Park, and we were there to pick up some of the best
Angus Stewart | | 7 min read | Discussion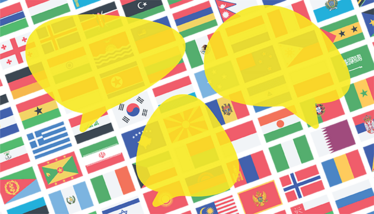 Cell and gene players from across the globe recently converged in the conference floors of the Royal Lancaster Hotel on the north side of London's Hyde Park. Just 15 minutes walk away on the park's east side lies Speaker's Corner, a site for free speech, debate, and discussion ever since the UK's Sunday Trading Bill Riots of 1855. There were no riots at Phacilitate's Advanced Therapies Europe 2022 conference, but there was certainly spirited debate, hot takes, witty remarks, and passionate implorations. Here, I've picked out some of the best.
David Allison, Chief Executive, TREAT-NMD
I find the voice of the patient to be extremely powerful. It is common for organizations developing drugs to become so focused on what success looks like from their perspective that they forget to think through what "success" means for the patient and their family. Patients involved in one clinical trial are often excluded from all other trials. Therefore, trials in which the desired outcome can only be of marginal benefit are not a particularly compelling proposition to the patients – but organizations often forget this simple fact.
Speaking at Improving Patient Experience Through the Drug Development Pathway Using the TREAT-NMD Network
Bryan Poltilove, Operating Partner, Broadoak Partners
Here are three things I hear way too often.
I have a huge addressable market
I have the industry's KOLs as my strategic advisors
I have a clear path to an exit
These are great things if they are substantiated, but usually I hear a lot of boasting and not much substantiation.
Nobody would complain about a huge addressable market, but what I don't want to hear is that you have a monster addressable but only the tiny fraction of share necessary for substantive revenue. I would rather you have a much more defined share in a mid-size market. That way, I can see you are serious.
If you say that Carl June is your strategic advisor, I'll agree that he is a brilliant scientist, but I'll question how much time and effort he has devoted to you. Are you his pet project or did he give you an hour of his time and some polite feedback? If it's the latter, I'd rather you had a full set of less exciting, competent technical and strategic advisors.
Regarding a clear path to exit, I would just say that it's way too easy to invent and publish fancy numbers about big acquisitions.
Speaking at Securing Funding & Commercial Structuring for Successful Early-stage Biotech
Angela Justice, Chief People Officer, TCR2 Therapeutics
Emotional intelligence is a competency at TCR2. You may wonder why a high science company focused on clinical development would talk about emotional intelligence, self awareness, feedback, receptivity, and so on. But how many of you have worked with a brilliant jerk before? Anyone?
(a murmur of agreement runs through the crowd)
Yeah, it happens in science, right? It slows us down, it gets in the way, and frankly it causes good people to leave. I work to make sure that we bring in people who have at least some proficiency and aptitude for emotional intelligence. We've turned away some otherwise stellar candidates who simply don't display those behaviors. On the flip side we've also brought in amazing candidates who may lack some of the ideal technical skills for the role but who possess the emotional intelligence to learn and develop.
Speaking at Creating a Scalable Culture to Attract and Retain Talent
Francesca Kinsella, Consultant Haematologist (Stem Cell Transplantation), University Hospital Birmingham
I'm acutely aware of the fact that there are thousands of trials across not only CAR T, but also all other cell and gene products for malignant and non-malignant indications. And that scares me, because I know the size of my team, and I know the size of our unit. I know what's coming. I can talk myself blue before people will realize our levels of infrastructural difficulty.
In the UK, getting people to understand this and actually plan for it with changes in capacity and training is hugely challenging right now. Beyond resources and infrastructure, we will need more staff. As in industry, the NHS is seeing increased turnover. There must be a focus on training and retention of staff, and therefore meeting the needs of that staff is going to be hugely important.
Speaking at Building from the Bottom-Up: Future Team Development

Namir Hassan, CEO, Zelluna
Having worked in the field for about 20 years, it is incredibly exciting to see the recent wave of TCR data emerging from clinical development. This year has been a formative one for the field. We've seen the first ever TCR-based therapy approved, KIMMTRAK – a TCR bispecific. We will likely see – very soon – the first ever TCR T therapy approved, from Adaptimmune. And so we're starting to witness emerging TCR-based therapies that are penetrating solid tumors and being approved for the treatment of these cancers. We believe that our novel platform builds on the validity of targeting solid tumors with TCRs and takes the concept further by linking these targeting scaffolds with natural killer cells in our TCR-NK platform.
Speaking at TCR-NK: a Novel Paradigm for the Treatment of Solid Cancers
Nicola Redfern, formerly of bluebird bio
I think it's very disappointing, from a patient perspective, that we haven't been able to bring a thalassemia gene therapy to market [...] I think all of the different stakeholders who were working with us in the NHS and NICE also felt that pain. It was definitely one of my worst career moments when I had to phone up the clinicians and the patient groups, and tell them that there was no way that this was going to move forward in the foreseeable future.
Speaking at Market Access & Reimbursement: Real-World Evidence and Value Definition
Stephan Grupp, Medical Director of Cell & Gene Therapy Lab, Children's Hospital of Philadelphia
I wanted to use this opportunity to talk about a case study that really has driven – and I say this with no modesty whatsoever – the entire field of CAR T-cell therapy. The father of the patient is sitting in the audience, and the patient– maybe this will give you a sense of how well the young lady is doing – is off shopping with her mom, and heading out for high tea!
Speaking about treating "star" patient Emily Whitehead at Use of CTL019 in Paediatric ALL: a 17-Year-Old with Refractory ALL Completes 10 Years of CAR-T Follow up
Melanie Calvert, Professor Outcomes Methodology, University of Birmingham
Why assess Patient Reported Outcomes in the advanced therapy setting? I think they can provide really valuable information on the risks and benefits of treatments. They can inform future patient choice and consent around different therapies [...] and they can inform regulatory submissions, labeling claims, and health policy as well.
Speaking at Patient-Reported Outcome Assessment and Education Needs in Advanced Therapy Trials
David Wolton, Engineering Technology Lead, Takeda
By 2026, we want to prototype the "lights out" quality control monitor. What we're talking about here is a quality control system that can run overnight, using purely robotics. The next step from where we are now would be a facility where humans walk around and make sure everything is working, but in which all of the movement and reloading is fully automated. By 2029, we're aiming to run a "lights out" cell therapy facility, run by humans during the day but running solo overnight. Each of these are milestones on the way to a fully automatic cell therapy facility.
Speaking at The Future of Cell and Gene Therapy
Bryan Kobel, CEO, TC Biopharm
My company went public on NASDAQ on February 1 this year, making us one of the last IPOs before the market froze up. You may call that brave. I think a large chunk of bravery can be stupidity. We learned a number of lessons, one of which is that you have to throw a much wider net in the public markets these days. You have to touch a lot more people – people who connect to capital.
Speaking at Harnessing the Power of Alternative Biotech Funding Sources for Expedited Access to European Investment
Receive content, products, events as well as relevant industry updates from The Medicine Maker and its sponsors.