Business & Regulation
Profession,
Vaccines
South–South (Korea) Vaccination Collaboration
The International Vaccine Institute is working to make a difference for vaccine manufacture in the world's less wealthy regions
Angus Stewart | | 3 min read | Learning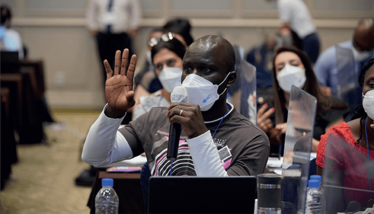 In the summer of 2022 in Seoul, 32 South Koreans and 106 people from low- and middle-income countries (LMICs) gathered at the International Vaccine Institute (IVI) to take part in a biomanufacturing training course set up to strengthen vaccine and biologic medicine production in the world's less wealthy countries. These goals are the means to two very important ends: bolstering preparations for future pandemics and helping level out global disparities in vaccine production and access.
In much of the world – and especially in Africa – the COVID-19 pandemic shone a harsh spotlight on this form of economic inequality. IVI's Business Development Director, Alice Lee, feels strongly about this. "The pandemic clearly – and tragically – called the global society to action to support vaccine self-sufficiency in LMICs and eventually realize vaccine equity," she says. "The challenge was achieving these targets over a short period of time. However, the reality is that the next pandemic will not wait to strike until LMICs are fully prepared – so we must build capabilities, infrastructure, and cooperation now."
Not many private commercial biomanufacturers are committed to a global public health agenda and willing to provide their IP rights, even partially.
Through the course – the first in the Global Training Hub for Biomanufacturing (GTH-B) program established by the Korean Ministry of Health and Welfare (MOHW) – participants picked up skills and knowledge key to the full pipeline of vaccine development, manufacture, and commercialization. The South Korean participant contingent was composed of pharma company employees and graduate students, whereas the larger LMIC cohort hailed from member countries benefiting from the World Health Organization's mRNA technology transfer hub and from LMICs already in possession of vaccine production facilities. It's no coincidence that Seoul played host to the course, because it is also the home of IVI – established in 1997 as the first-ever international organization hosted by South Korea.
With the support of MOHW and the WHO, IVI organized this course to help fill a gap in conventional vaccine training courses, which, as Lee explains, tend not to meet the needs of LMIC manufacturers. "There is often a misunderstanding that biomanufacturing workforce training is for technicians in the production line," she explains. "For one product to receive marketing authorization, a company hires a wide variety of experts. This was typically the hurdle for small bio ventures. LMIC manufacturers face a similar hurdle in hiring subject matter experts or building local talent pools."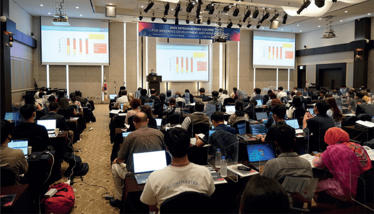 Questions around intellectual property are another problem for LMIC manufacturers. First, there is the purely educational task of acquiring the relevant technical knowhow, but then there is also the problem of access to IP. Lee puts it simply: "Although LMIC manufacturers are eager to accept new technology, not many private commercial biomanufacturers are committed to a global public health agenda and willing to provide their IP rights, even partially."
Following the first Introduction to Biomanufacturing course in the summer, the GTH-B training program went on to offer a 3-week course on standard practice, covering the skills essential to operating according to good standards across clinical work, manufacturing, laboratory practice, and biosafety. Nearly 200 participants hailing from 34 countries completed the course, and some lecture materials are now available online, at no cost. IVI will continue to lead offline and online courses in 2023, and also plans to offer hands-on courses in manufacturing facilities in South Korea, alongside public partners.
Receive content, products, events as well as relevant industry updates from The Medicine Maker and its sponsors.