Trials of a Medicine Maker
Brought to you by Cytiva in partnership with The Medicine Maker
Many publications offer a light-hearted comic strip – and why should biopharma miss out? The Medicine Maker is delighted to partner with Cytiva to bring you a monthly cartoon featuring the (mis)adventures of Gene and Eva in their bioprocessing lab.
If you have any ideas you'd like to see in future comic strips about bioprocessing then get in touch with us at [email protected]
All Aboard for Modeling and Miniaturization!
Gene is very excited about the hot new trend in process development...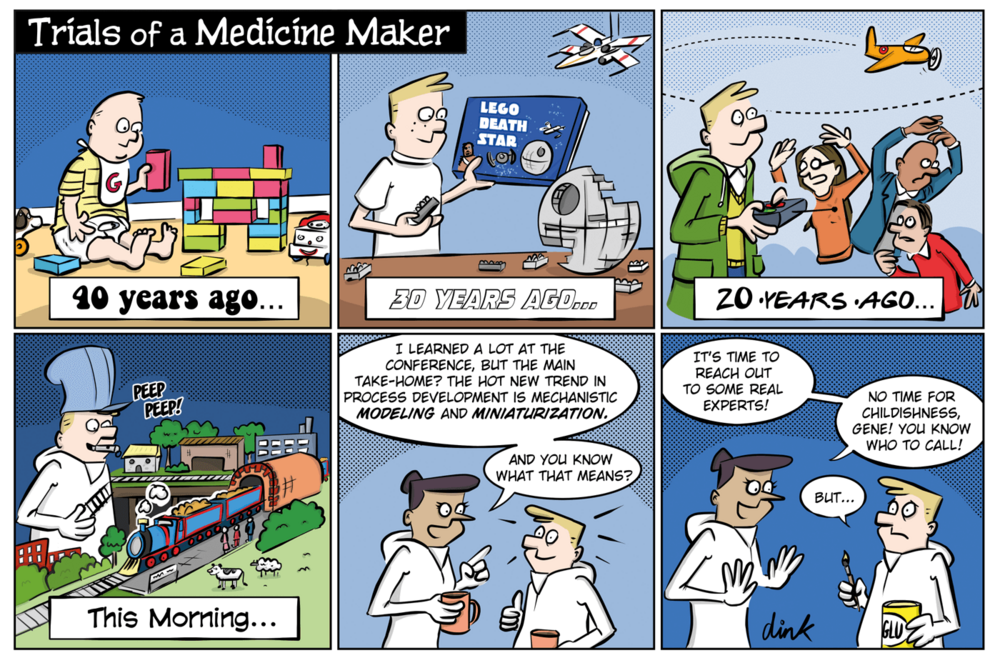 ---
Taking Off An Unpleasant Load
Gene's ingenuity catches Eva off guard, but is all as it seems?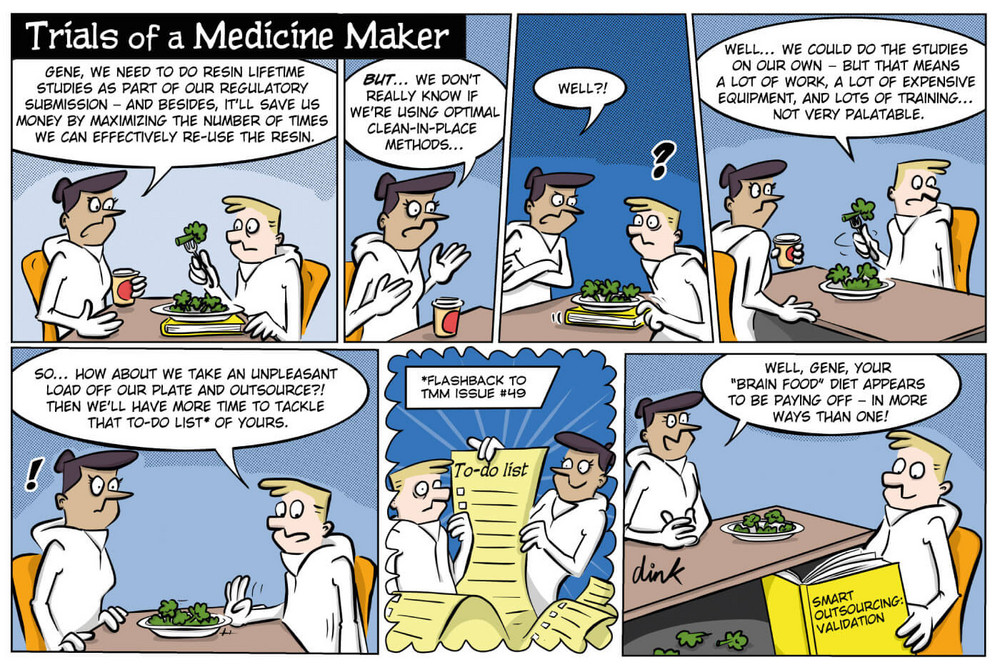 ---
Cell therapy manufacturing? It's time to scale out!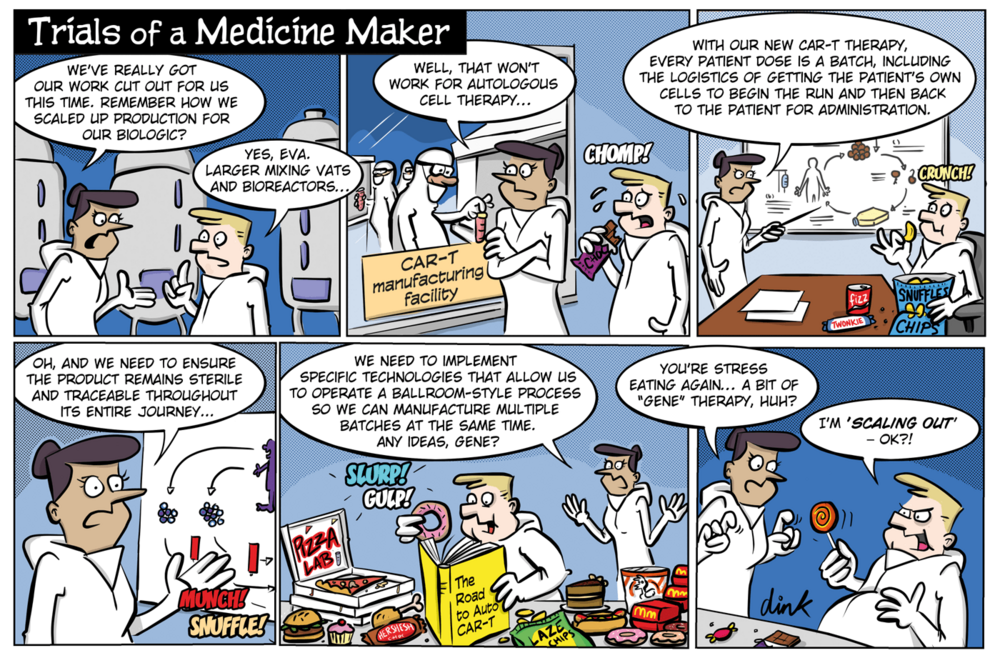 ---
Will Gene's Supplier Exchange Program and eData skills get him what he wants?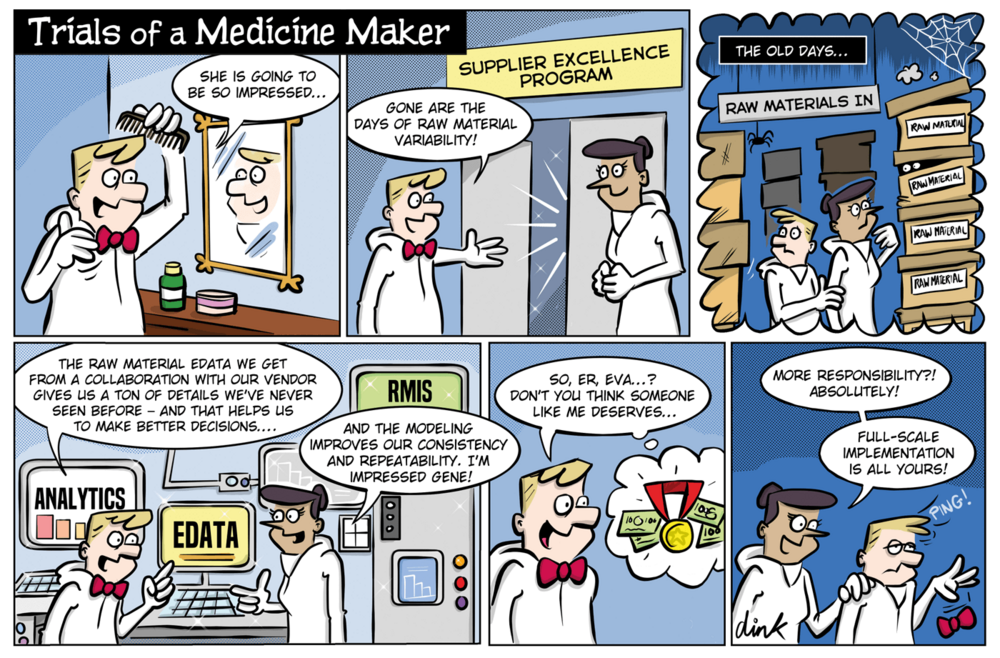 ---
Fail to Prepare? Prepare to Fail…
"Er, Eva? Do we have a preventative maintenance strategy?"
Click here to learn more about preventative maintenance strategies
---
The Nightmare Before the Viral Vectors
The demands of viral vectors give Gene a restless night.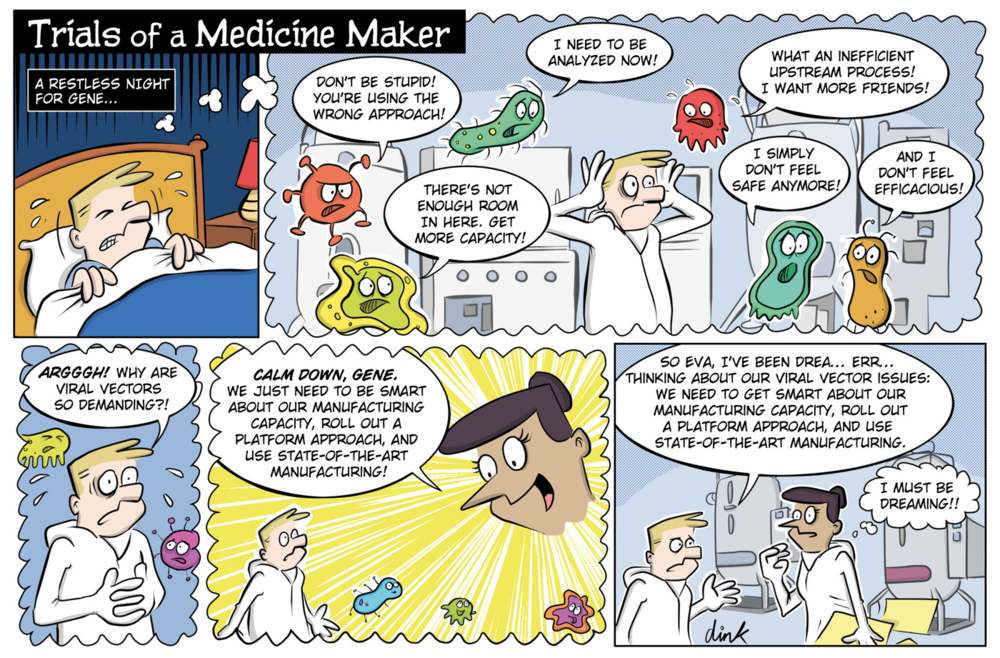 Click here to learn more about viral vectors
---
Advanced analytics, VR and holidays on the beach
The rewards of Industry 4.0 are many after Gene and Eva do a terrific job (for once!)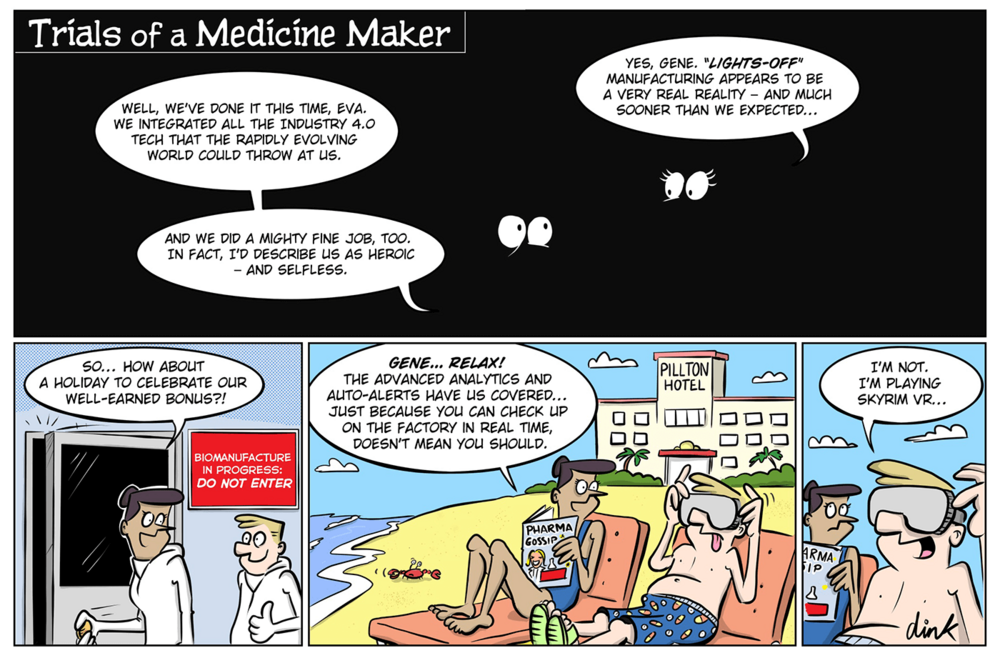 Click here to learn more about integrating automation into your biomanufacturing environment
---
Well, That'll Do It
Gene's new policy will be sure to retain staff... permanently.
Click here to learn more about Fast Trak training and education
---
All Aboard the Seed Train?
Gene is in charge of seed train duty! But the reality doesn't quite live up to his expectations…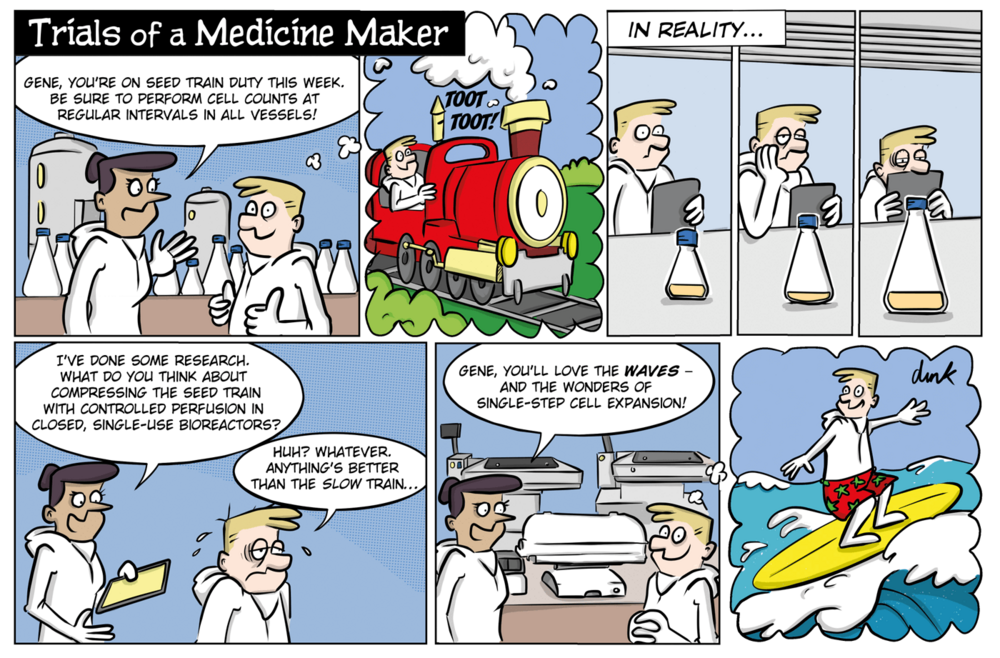 To find out more on simplifying cell culture expansion, click here
---
New Year; New Therapies
Gene holds onto his job, but things are about to get a lot more complicated..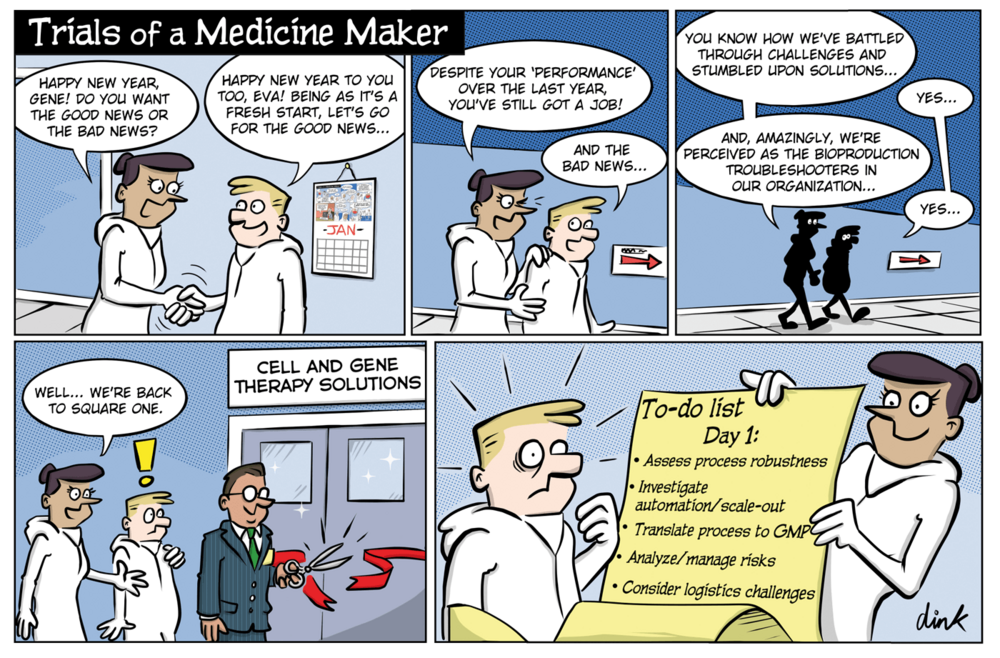 Click to find out more on cell therapy
---
It happened again... bioprocess variability!
But fear not, detectives Gene and Eva are on the case!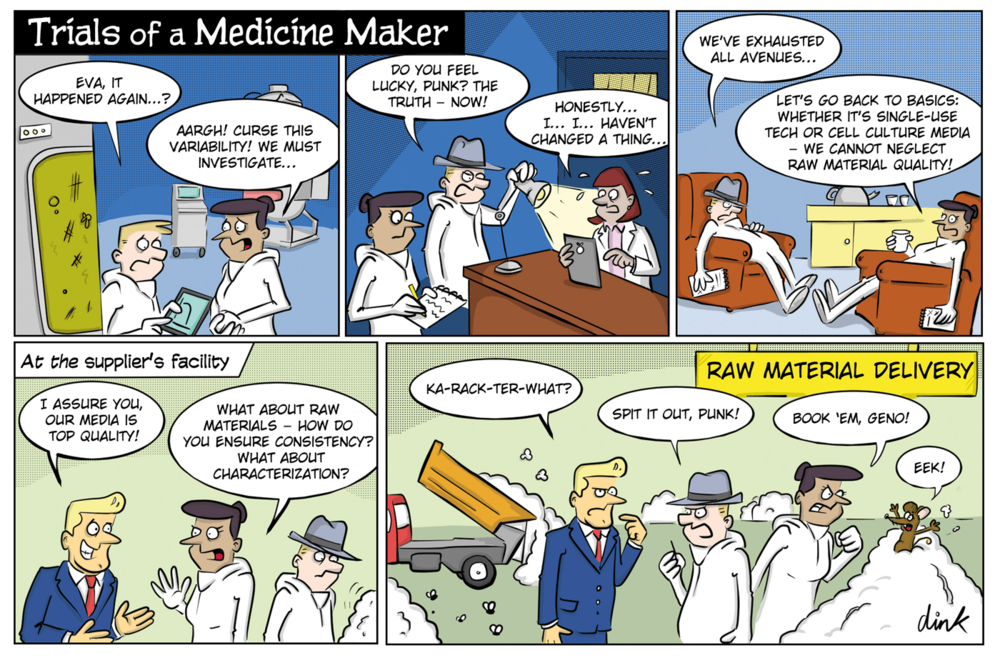 Click here to find out how to achieve optimal performance in biomanufacturing
---
Outsourcing Buffer Management is Smart Thinking
Eva discovers that Gene's project management skills leave a lot to be desired...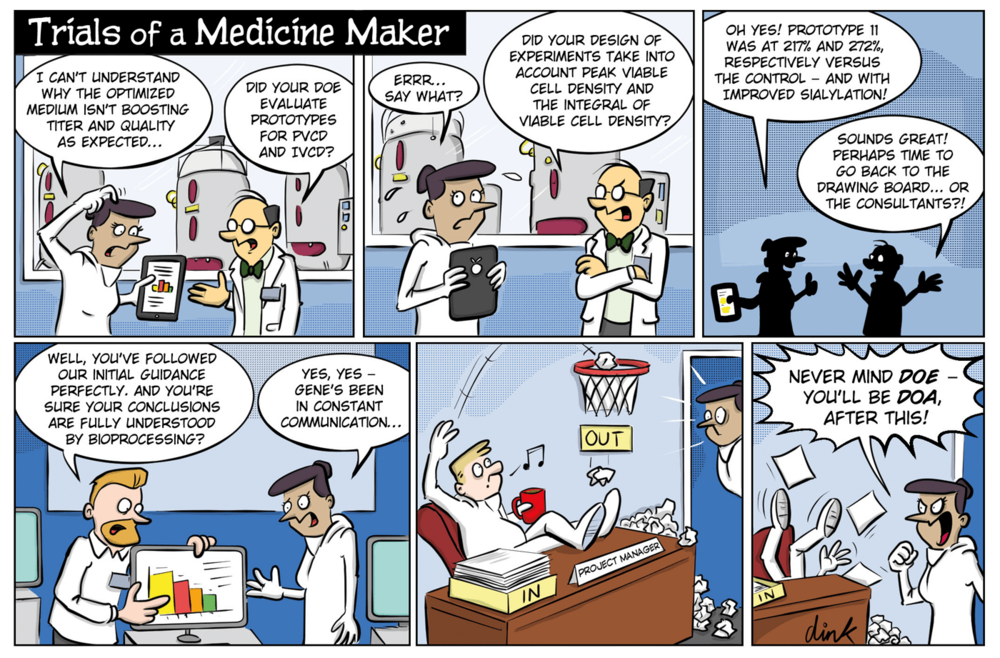 ---
Revenge of the Bioburden
Eva fears the facility's bioburden issues may be getting out of hand and suggests they make some changes...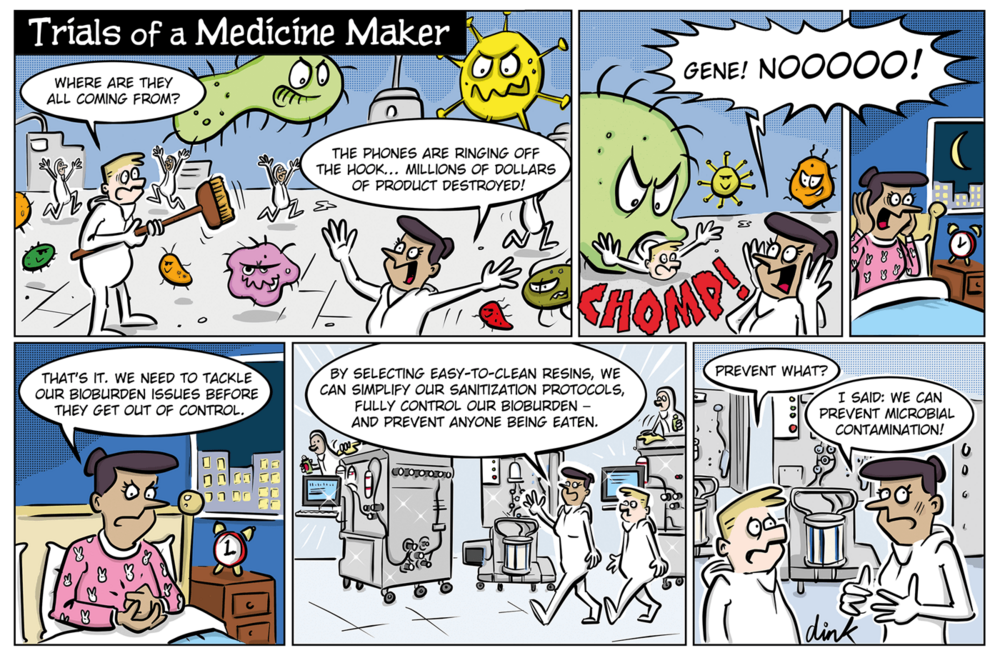 ---
The Secret to Tech transfer Success is…
… good communication , robust record keeping and not forgetting your homework.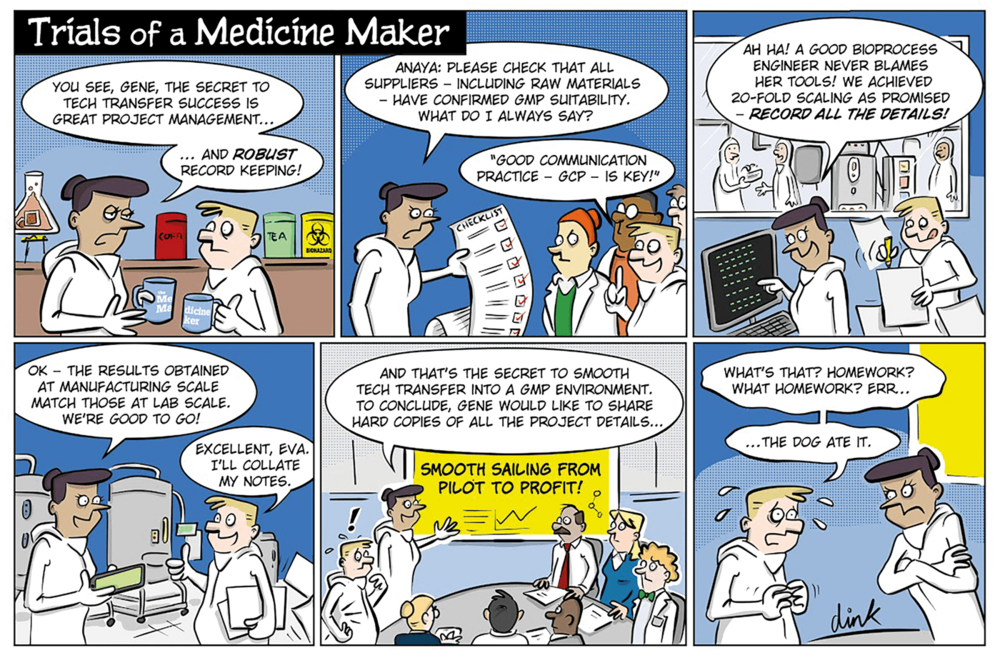 Click here to learn about the best practices for scaling up mAB processes.

---
Captain Column to the Rescue?
Gene's mastery of column packing leaves much to be desired. Is training the right answer?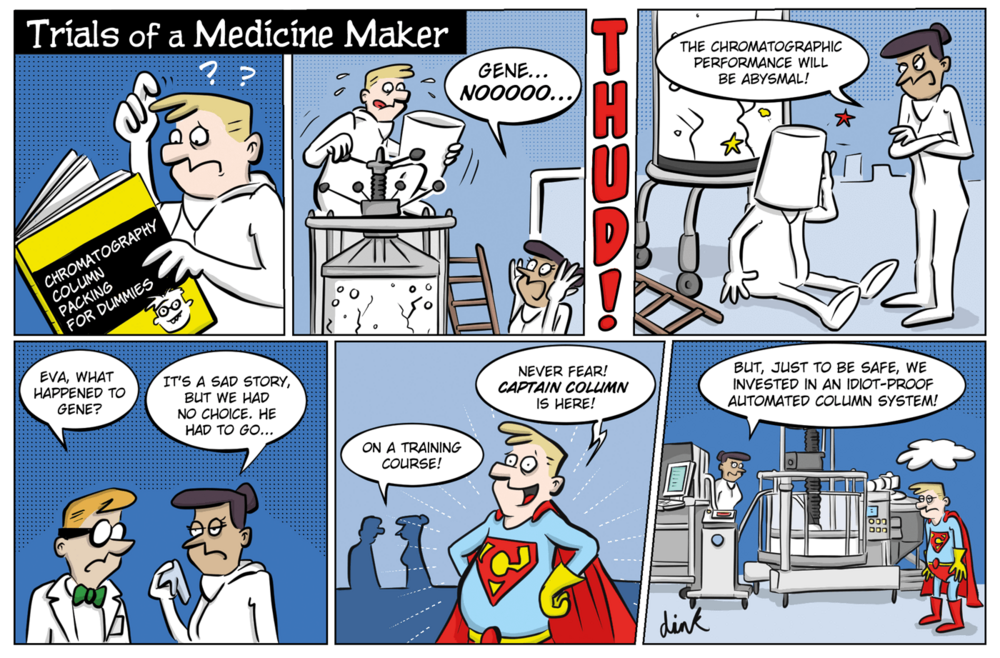 Click here and here to learn more about column packing
---
Outsourcing Buffer Management is Smart Thinking
Eva would love a holiday, but buffer management is tough! Hopefully SmartSource can help with her workload.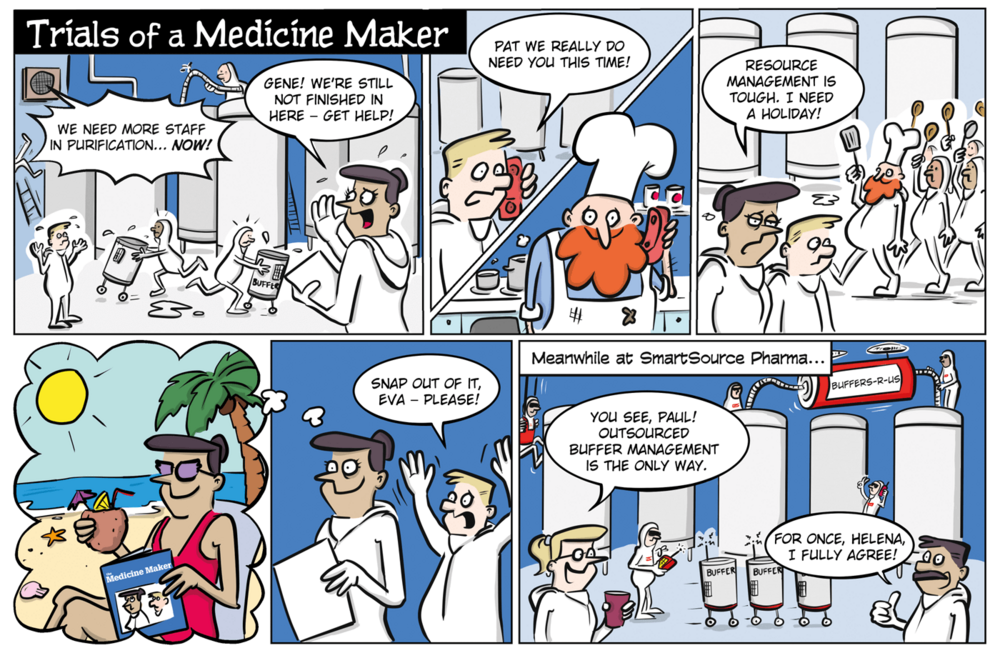 Click here to learn more about large-scale bioprocess buffer management
---
Chief Technology Office
Chief Technology Office
The challenge of convincing senior staff to invest in continuous bioprocessing.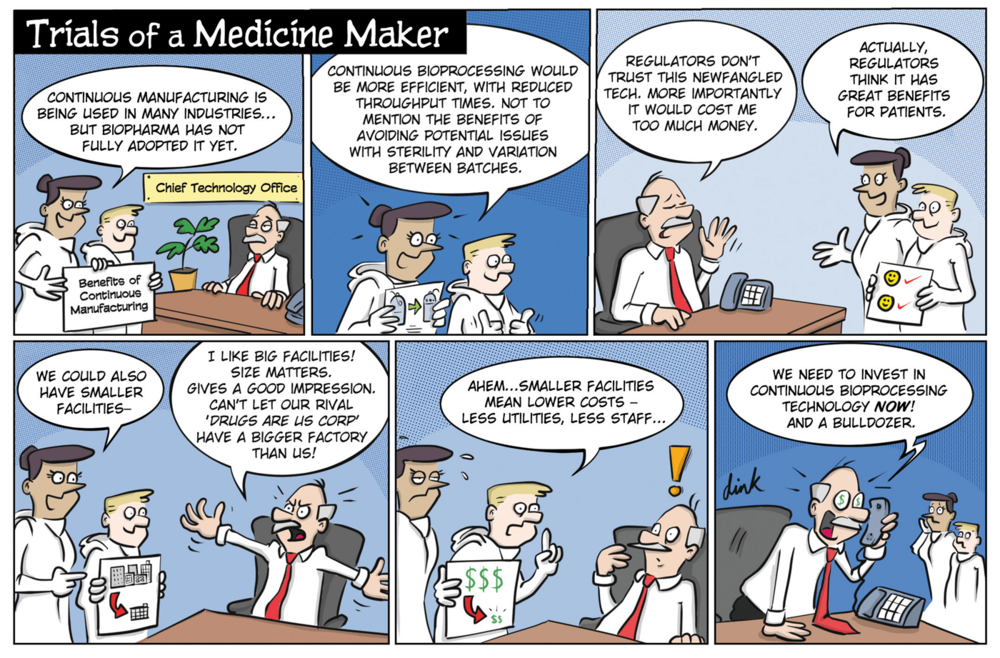 ---
Asking the Right Questions
Eva likes to ensure her new suppliers are all on the ball (rather than relying on a dubious crystal ball).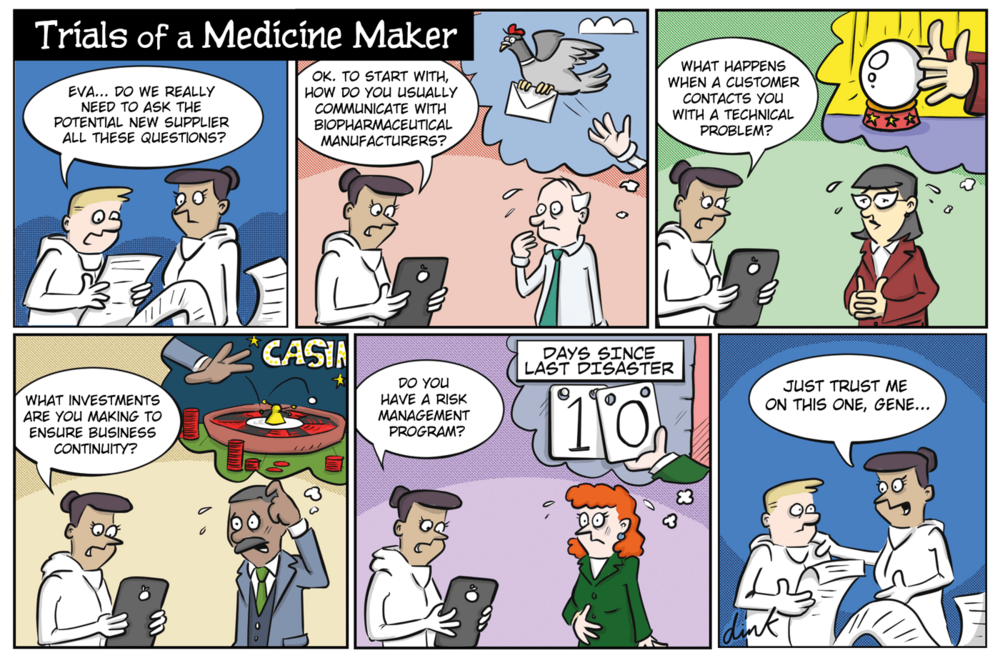 Click here to learn more about best practices for security of supply
---
Modular Manufacturing = Child's Play?
Gene and Eva marvel at the wonders of modular manufacturing for building new facilities in new locations.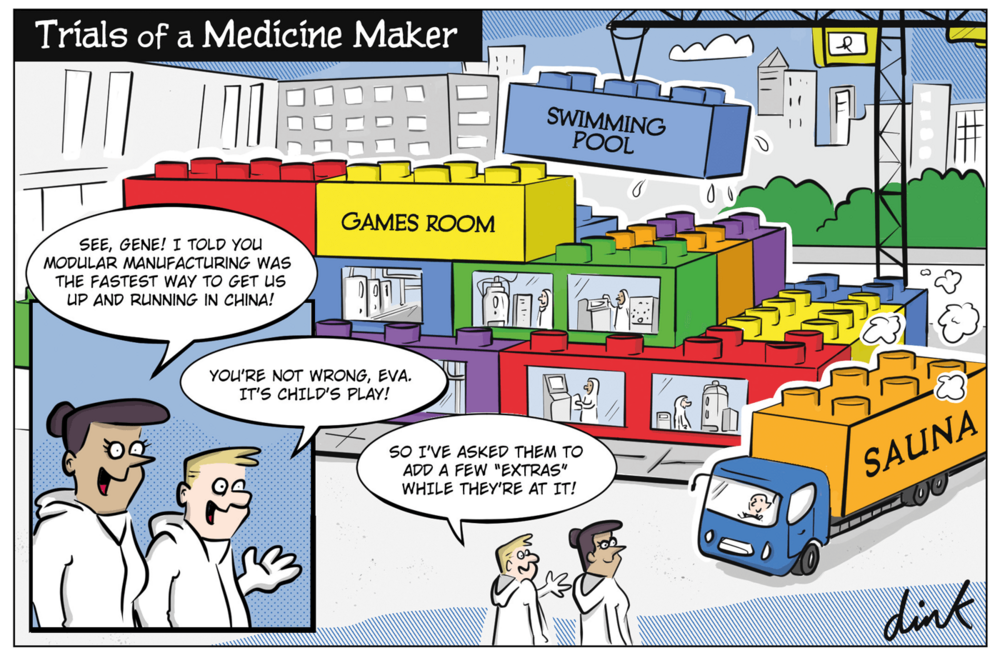 Click here to learn more about modular manufacturing facilities
---
Why embracing single use could help you hedge your bets
Eva has some bad news for Gene.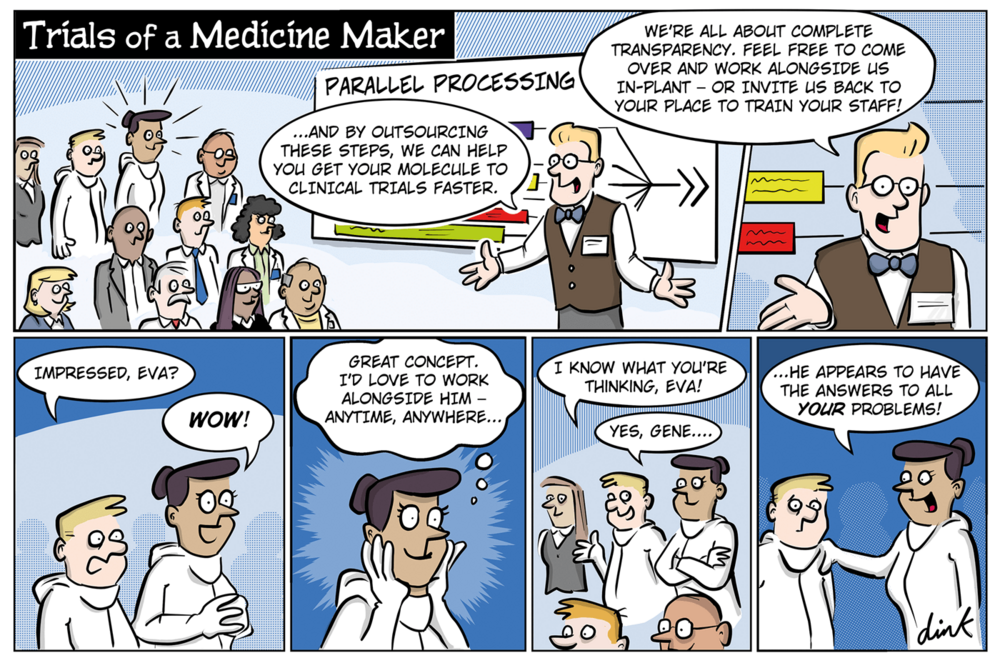 ---
Single Use or Stainless Steel?
The clinical trial results are positive so far, but is stainless steel really the best option? Eva isn't so sure…
---
Which PAT is the Best Pat for a Cleanroom?
PAT can bring many benefits, but only if implemented correctly…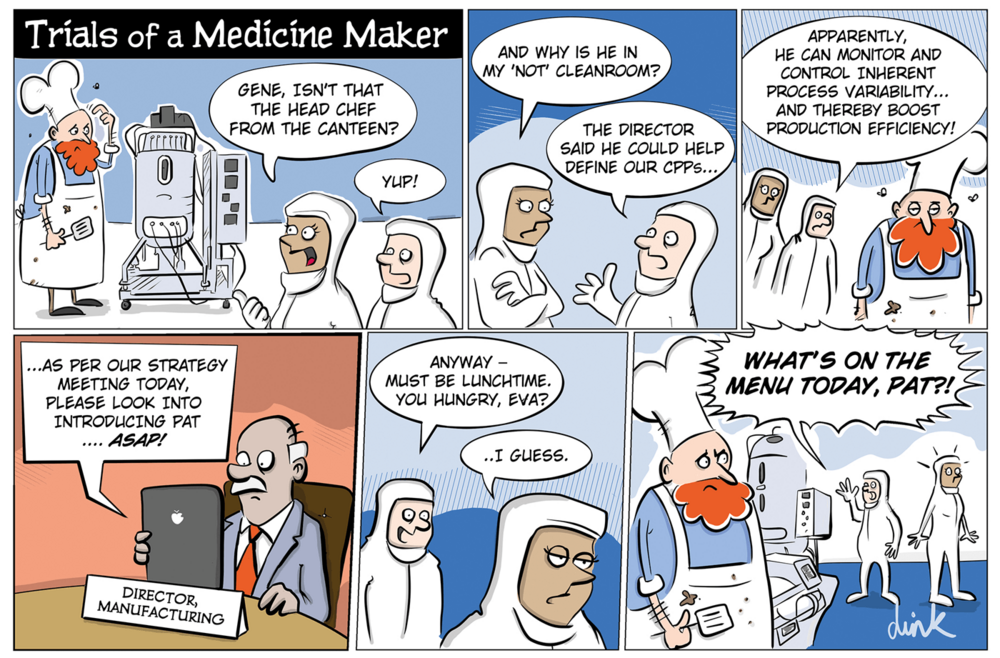 Click here to learn more about process optimization and PAT
---
Subscribe to The Medicine Maker Newsletters