Discovery & Development
Packaging,
Dosage Forms
Beyond Keeping Up Appearances
You have the perfect drug and the right packaging to protect it. All is well until the medication reaches the patient, who habitually pops the tablets into another container for easy storage or leaves them exposed to the atmosphere. Film coatings are more than just a pretty face.
Charlotte Miller |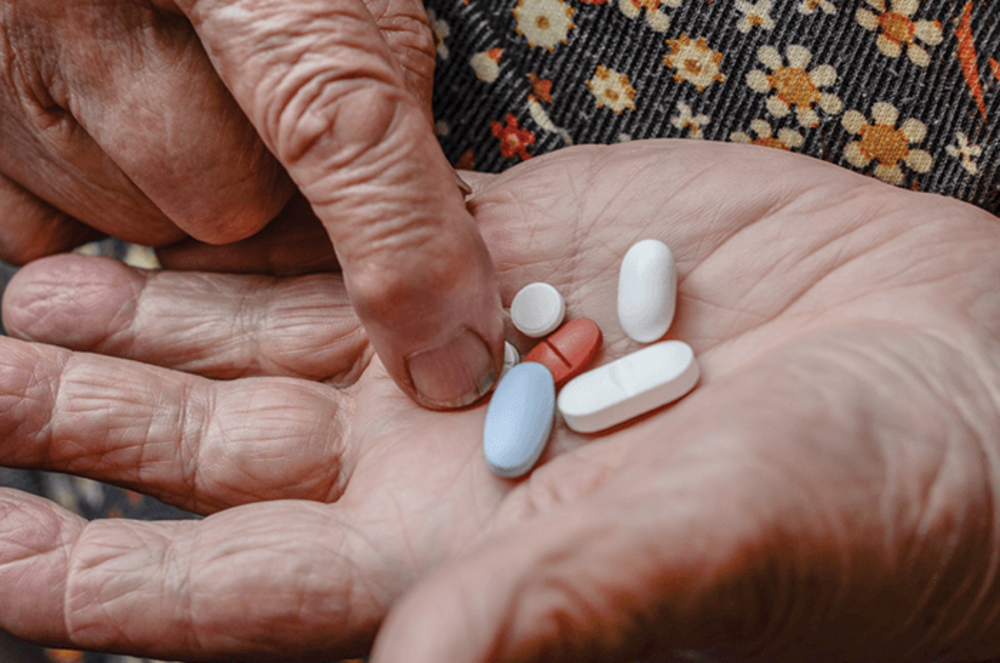 Film coating is a well-established technique in the pharma industry for solid oral dosage forms, like tablets and multiparticulates, but its usage varies. Most tablet manufacturers choose to film coat every product, whereas others will only apply a coating if they feel that it is essential. The most popular reason for applying a film coating is to enhance and protect the dosage form, provide branding or modify the drug release profile. For example, enteric coatings can be used to protect a tablet from dissolution in the stomach, or extended release coatings can (as the name suggests) provide drug release over an extended period of time.
The film coating process is a proven and well-used practice, whether using a company's own equipment or through a contract manufacturer. A variety of different coatings are available and, generally speaking, most coatings work in the majority of standard coating machines; so once you've invested in the process for one product it's easy enough to use it to coat another. However, if you have a drug in a solid dosage form that does not require a specialized coating then an obvious question is, should you coat or not?
Creating the perfect finish …
It seems reasonable to assume that choosing not to film coat a tablet will save money, but I believe this is a misconception when the multiple benefits of coating are considered, alongside the fact that the cost per tablet is tiny. An uncoated tablet can still be therapeutically effective – but only if the patient takes it.
Tablet design is becoming an increasingly important issue for manufacturers, especially given that polypharmacy, the practice of prescribing multiple medications to the same patient, is becoming more common among the elderly population. Good design can be used to provide product differentiation, avoid medication mix-ups and deter counterfeiting (1). It can also affect patient compliance. When looking at a tablet, you need to ask if patients will want to take it.
The FDA, in particular, has been paying a lot of attention to tablet design – and has just recently (April 2016) issued guidance on Safety Considerations for Product Design to Minimize Medication Errors (2), in addition to earlier draft guidance on Size, Shape, and Other Physical Attributes of Generic Tablets and Capsules (2014). One good reason to add a coating to a previously uncoated tablet would be to improve patient compliance through brand identification and to bring the tablet into line with the FDA's current recommendations.
The FDA, in particular, has been paying a lot of attention to tablet design...
Purely from an aesthetic point of view, uncoated tablets are uninspiring. In addition, an especially rough-looking tablet can appear as poor quality; it's human nature to question the condition of something with a poor appearance, especially a medicine. Some uncoated tablets also have a surprisingly bad odor. Any negative aspect of a medicine can affect patient compliance – if the patient has a poor impression of their medicine the moment they take it out of the packaging, it could be destined for failure simply because the patient doesn't take it as prescribed. Moreover, if patients do get beyond the aesthetics and the smell, they often find that uncoated tablets are more difficult to swallow. They can be chalky or gritty, and may stick in the throat because they start to disintegrate the moment they are exposed to moisture. A film coating gives the tablet a smoother, more finished appearance and helps maintain the tablet integrity. As human beings, we tend to perceive glossier things as being more slippery and therefore easier to swallow – and adding a coating is known to enhance swallowability and aid oesophageal transit; in contrast, uncoated tablets and even capsules are more likely to become stuck (3,4).
And though there are a few approaches that can be used to make an uncoated tablet more palatable (for example, adding color, taste masking ingredients or changing the shape to make swallowing a little easier), generally speaking, your options are more limited compared to simply adding a film coating. Film coatings give you access to not only a wide range of colors, but also to other useful functionalities. Most coatings offer some sort of taste- and odor-masking ability, but some are better than others. A particularly pungent odor may start to come through the coating with time, in which case a coating that has been specifically designed to conceal odor may be needed.
Myth Busting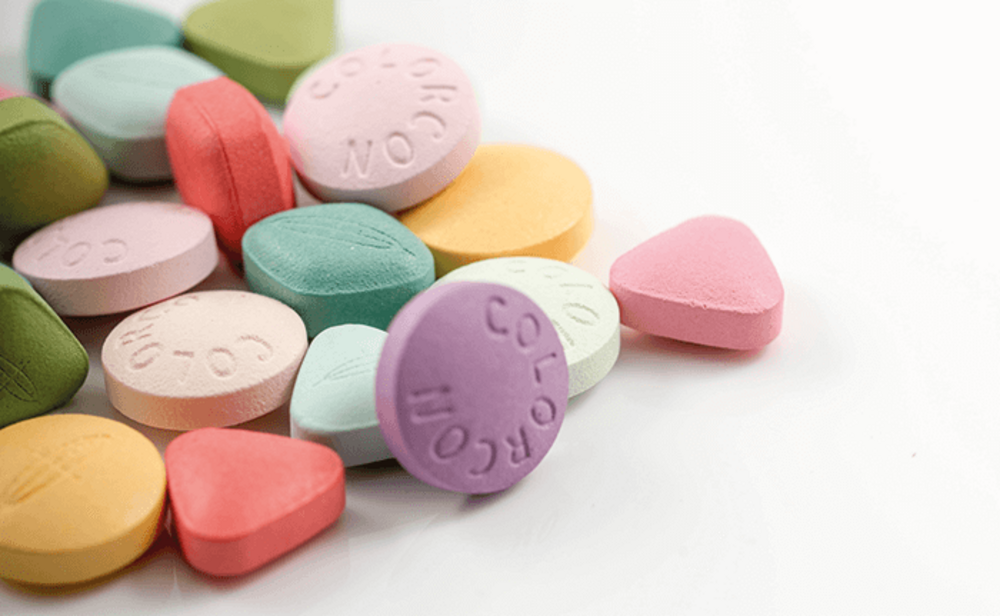 "A coating will impact my drug release profile."
Immediate release coatings do not impact drug release; there are specific coatings formulated to extend or delay drug release and coatings can also be applied to multiparticulate dosage forms.
"A coating might not work with my equipment."
Optimization of the process is key, as the best coatings will work across a range of equipment and coating specialists work closely with machine manufacturers. After all, it's pointless to develop a coating that only works on one machine. If there are mechanical problems, they can usually be resolved easily.
"I don't want to use organic solvents."
There are two types of coating – aqueous and organic, the latter involves use of volatile solvents, and historically, many tablets were coated using organic solvent, due to their sensitivity to water. But coatings have advanced so much that aqueous is now the preferred – and most common – coating method around the world. Many companies that previously used solvent coating are transitioning the same products to aqueous coatings.
"I'm concerned that pigmented coatings will lead to regulatory issues."
Yes, there are regulations for ingredients that mean certain pigments may not be approved for use in all markets, and there may be aversions to some colors in certain markets. Nevertheless, there are palettes of colors that are acceptable for use in the major international markets – and expert coating suppliers should be able to advise on these.
"My product cannot be coated."
Great! Because coating specialists love a challenge! And most have some special skills up their sleeves to demonstrate that the seemingly "impossible to coat" can indeed be coated. Even tablets that are highly sensitive to water can be coated (it's even possible to coat orally dispersible tablets that disintegrate in seconds). Some tricky products may be more testing to coat and the biggest challenge would be an API that is sensitive to both temperature and water.
Contingency coating
Aside from maintaining appearances, film coatings offer protection, helping to prevent tablet breakage and acting as a barrier against moisture and other environmental conditions. The protective aspect is a well-known benefit – but is it needed if you are planning on high-quality packaging? A common reason cited by manufacturers not to film coat their tablets is a belief that packaging alone will suffice. After all, if you are using individual blister packs, then why go the extra mile (or spend the associated extra costs) by coating individual tablets?
The truth is, once a package is in the hands of a patient, anything can happen! Many patients, especially those taking multiple medications, decant their tablets into tablet boxes or bottles, and others may just take a tablet out of the blister pack as a reminder and leave it on their bedside table all day. Most people assume that a given drug will do its job 100 percent of the time – and give less thought to the storage conditions of medicines than they do to food. It's surprising how many people keep medicines in a nice moist bathroom cupboard; although it may not directly affect the safety of the medication, it could reduce its efficacy.
Coat of Regulations
By Kevin Hughes, Regulatory Affairs Manager, Colorcon

Back in the 1950s and 1960s, before the advent of film coatings, sugar coatings were widely used on pharmaceuticals. A small number of companies still use sugar coating, but for the most part film coating is the most widely used process today. Film coatings continue to advance, so even if a tablet could not previously be coated, it does not mean that it cannot be coated today. In addition, there is potential for improving tablets that currently use an older technology coating. Some companies have concerns about changing a coating due to the regulatory impact. But from a regulatory standpoint, changing a cosmetic coat is relatively simple since it's not expected to impact drug release. For example, changing a white coated tablet to a red color coated tablet is seen as a Type 1A variation in Europe. This is a minor change; drug companies make these changes all the time and can even bundle up all of their Type 1A and 1B changes together in one submission.
Some uncoated tablets have been on the market for a long time, and I've seen companies add a coating to a previously uncoated tablet to improve the product's position in the market and present a stronger brand identity. This is a bigger regulatory change than changing a coated tablet, because you are adding a new component rather than changing one component to another. There needs to be some stability work, which any company would want to do anyway, and you will need to assess the impact on drug release both in vitro and, in rare cases, in vivo. However, you may encounter more hurdles for BCS Class 2 and 4 drugs due to their poor solubility and permeability (the BCS classification system categorizes drugs based upon their solubility and intestinal permeability, i.e., how easy it is for them to be absorbed by the body) and you may require a Type 2 variation, which will involve bioequivalence work. Companies usually try to avoid this due to the work involved, but for some drug substances there are options you can explore to keep the changes as 1B. For example, you may be able to achieve a bio-waiver for BCS class 1 and 3 drug substances, if you can justify that demonstrating bioequivalence is unnecessary. In general, regulators like to see changes that improve product quality and patient compliance.
There will always be a workload and a cost to making a variation – but isn't that what regulatory departments are for?
Safety at work
We've examined the impact that coated tablets have on patients – and that is typically the first consideration that springs to mind. But from the manufacturer's perspective, a key consideration for film coating is safety. Once a tablet is coated, it's safer for anyone else who might handle it. Nurses and healthcare workers often handle bulk or unpackaged tablets and although they are supposed to wear gloves, it's not guaranteed. Absorption of active ingredients, through the skin can cause rashes or other problems. Extreme cases are rare, but if the tablet was coated, then the risk is diminished. Of course, you could also make uncoated tablets safer by educating people about proper storage and handling of medicines (no easy task), but the health hazards of uncoated tablets also apply to pharma workers, particularly those on the packing lines.
If you've ever worked on (or visited) a packing line with uncoated tablets then you'll know it's a challenging environment. Cleaning is a significant part of pharmaceutical manufacturing to prevent cross-contamination. In the case of uncoated tablets, dust is generated as the tablets move through the manufacturing lines, which necessitates extensive cleaning.
Coating a tablet adds minimal cost, and the financials are offset by savings that can be attributed to the coating benefits throughout the production line. Coated tablets reduce dust, so your cleaning burden will be lower and workers better protected.
Another side benefit is that glossy, coated tablets also tend to run faster through packaging lines because they are more slippery than uncoated tablets. And reject rates can also be down because the tablets are less likely to break (5).
There are a number of approved tablets on the market that are currently uncoated because of limitations during the time they were approved.
Is it possible to be uncoated
I've focused on all of the reasons why I think it makes sense to coat. Are there any reasons not to coat your tablet? I hear a few common reasons (see sidebar: Myth Busting), but I'm always interested in new ones! It's fair to say that genuine reasons not to coat are rare. All coatings, regardless of functionality, will improve the tablet appearance at the very least. And good tablet design is no longer simply 'nice to have'. The FDA's recently published guidance continues to drive manufacturers to pay more attention to tablet design and differentiation.
We now see most new tablets being film coated; virtually all NDAs are coated. But you don't need to stop at new tablets – there are a huge number of approved tablets on the market that are currently uncoated because of limitations during the time they were approved. Most companies don't like to make changes to already-approved medicines because of regulations, but it's not as difficult as you might think (see Coat of Regulations). Giving an old tablet a fresh coat can grant it a new lease of life and, more importantly, it can improve patient compliance as well as add brand value. And patient safety should always be at the top of the agenda.
Charlotte Miller is a Tablet Design Technologist, BEST – Unique Tablet Design Service – at Colorcon,
Dartford, UK.

Enjoy our FREE content!
Log in or register to gain full unlimited access to all content on the The Medicine Maker site. It's FREE and always will be!
Login
Or register now - it's free and always will be!
You will benefit from:
Unlimited access to ALL articles
News, interviews & opinions from leading industry experts
Receive print (and PDF) copies of The Medicine Maker magazine
Register
Or Login via Social Media
By clicking on any of the above social media links, you are agreeing to our Privacy Notice.
C. Miller, "Dare to be Different," The Medicine Maker (February, 2015).
FDA Guidance for Industry, "Safety Considerations for Product Design to Minimize Medication Errors," (April, 2016). 1.usa.gov/1SMyvSN
C. Wilson et al., "Opadry II / Opadry / Opaglos 2", poster presented at AAPS, Salt Lake City (23- 26 October 2003).
The Patients Association, "Survey of Medicines Related Care of Residents with Dysphagia in Care Homes," (October, 2015). bit.ly/1N8nyOQ
Colorcon, Application Data, "Investigation into the Flow Properties of Coated and Uncoated Tablets and Its Relevance to Blister Packing Efficiency," (2009). bit.ly/25ZGhCv
About the Author
Charlotte Miller