Discovery & Development
Drug Delivery
Food for Thought
How a Russian culinary staple inspired a new approach to drug delivery
Maryam Mahdi | | Quick Read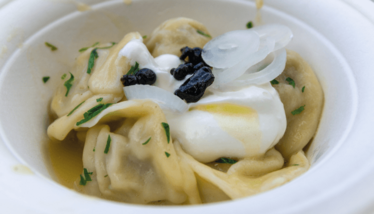 Proving that inspiration can come from the most unlikely of sources, researchers at Skolkovo Institute of Science and Technology (Skoltech) in Moscow, Russia, have developed microcapsules inspired by pelmeni – a type of Russian dumpling. The team found that the unconventional shapes of their biodegradable pills were more effective for targeted drug delivery than traditional capsules (1).
Gleb Sukhorukov, Professor at Skoltech's Center for Neurobiology and Brain Restoration and lead author of the study, explains that he drew on his cooking experience to design the microcapsules. He says, " I remember helping my grandmother make pelmeni. You need a sieve large enough to accommodate one pelmen, similar to each microwell on the template surface. Each layer of pasta used is like a hydrophobic thin film, and the meat, a protein or bioactive."
The approach led the team to develop microcapsules with pyramidal or rectangular shapes that could encapsulate a variety of substances, including small, water-soluble molecules. Sukhorukov explains that this was important because the capsules retained the loaded molecules for several days – proving their capacity for controlled release. "Many drugs fail because they are unable to effectively deliver the right dose over long periods. Our approach may help solve this problem," he says.
Sukhorukov and his colleagues now plan to apply the technology to various polymers used shell components and assess their behaviors in vivo.
Receive content, products, events as well as relevant industry updates from The Medicine Maker and its sponsors.
GB Sukhorukov et al, Materials and Design, 202, 109527 (2021). DOI: 10.1016/j.matdes.2021.109527.