Manufacture
Facilities,
COVID-19,
Bioprocessing - Single Use Systems,
Contract Manufacturing Services,
Advanced Medicine
Giving It All We've Got: Lessons Learned from Operation Warp Speed
A planned facility suddenly had to be up and running much faster than expected as it became part of Operation Warp Speed. Here's how it was done.
Jarrod Wrampe, Charles Heffernan | | Longer Read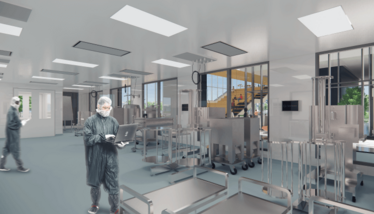 In March 2020, our team set about designing and building what our client wanted to be "the largest scale-out cell culture manufacturing facility in the US." Two months later, the US government announced Operation Warp Speed (OWS) – a partnership amongst various components of the Department of Health and Human Services with the goal of delivering 300 million COVID-19 vaccine doses by January 2021. In July 2020, our half-finished project became part of the endeavor.
Building a facility in time to manufacture COVID-19 vaccine candidates was a massively ambitious project. It was also a sobering responsibility that came with the most aggressive timelines we'd ever encountered in our careers. By the time the facility started GMP manufacturing in the fall of 2020, the Army Corp of Engineers indicated the project achieved the highest labour density possible with 100,000 labor hours in 4 months all injury-free.
Starting with a warm shell, grey space was converted into GMP clean room space in just four months. Eight bioreactor trains and associated purification equipment were installed. One hundred new pieces of equipment were purchased and qualified. To make all of this happen at warp speed, we used an integrated project delivery approach. Nevertheless, warp speed stretched us to our limits as we navigated uncharted territory. Here's what we learned along the way – and how we'll be taking those lessons into our next projects.
Locking down decisions
At the beginning of any project, it's essential to define the ultimate goal. Then comes the real work – not getting distracted from it! For our team to have a solid foundation for design decision making, we held multiple workshops to nail down user requirements prior to starting the design process. By the end of the kickoff discussions, it was clear the client needed a single-use, multimodal, multi-product facility to support viral vector, viral vaccine, and therapeutic protein process types using suspension culture. They required high segregation, high containment, and unidirectional flow to support their projected high throughput. In short, this client wanted ultimate flexibility.
With those details set in stone, attention turned to conducting contamination prevention and process closure risk assessments. We needed to ensure all risks of crossover, carryover, and adventitious agent contamination were mitigated and that the process was completely closed. This crucial step allowed us to get things right the first time, which would prove crucial to meeting ultra tight timelines.
But knowing what the client needed and how much risk it could involve was not enough to make good decisions; projects under tight timelines also require a meeting of minds. We connected our subject matter experts with the design manager and project director for collaboration with the client that enabled informed decision making. We also brought trade partners into the process much earlier than usual so that we could use their knowledge to further expedite the decision-making process. Together, these individuals could see the big picture and identify how a small decision or adjustment might throw off the budget or timeline. By having decision-makers tightly integrated across the project, it was much easier to address potential disruptions immediately.
Needs versus wants
Once we had made the big decisions, the next struggle was keeping them locked. Warp speed or not, most projects are susceptible to "scope creep" as new ideas are introduced once the project is underway. A piping change here; an additional valve there… It can all add up to increasing timeline, budgets, and complications.
An essential aspect of delivering a facility on-time is focusing on non-negotiable constraints: building code, safety, and regulatory compliance. When changes were requested in this OWS project, we asked: "Does it affect safety, code, or regulatory?" If the answer was yes, the team leapt into action. If not, we ended the discussion and moved on to the next issue.
There should never be shortcuts in the areas of safety, code, and regulatory issues. In fact, the speed of the project merited increased scrutiny in these aspects. With pandemic fervor all around and incredible pressure to keep the project moving forward, managers needed to check and recheck that they weren't rushing past any red flags. Even a small issue in one of these categories could become a critical factor in later stages, so close attention was required throughout the whole project.
As legitimate needs came along, it was important to avoid making assumptions about how best to meet them. For example, the need for speed in meeting clean room regulatory requirements seemed to make a modularized system an obvious choice. But, in fact, modular construction was a non-starter for two reasons: the required height of the bioreactors and the slower delivery time. Instead, we opted for a panelized construction method, allowing for clean construction and fast build times. The lesson? Identify a facility's unique needs – and don't be afraid to try unconventional solutions. No two projects are the same so there are no one-size-fits-all solutions as you sift through the needs and wants.
The lesson? Identify a facility's unique needs – and don't be afraid to try unconventional solutions.
Whose line is it anyway?
We've all heard the story of everybody, somebody, anybody, and nobody. The cautionary tale concludes: "It ended up that Everybody blamed Somebody when Nobody did what Anybody could have." This story has the potential to play out on any project, but when there's a pandemic in the mix there is simply no time for indecision or passing the buck. Decisions need to be made right away, but by whom? Defining responsibility early was key to getting this vaccine line up and running.
To enable rapid decisions, it helps to include the facility owner in the team from the first day. The results can be likened to the "IKEA effect" – we tend to value something more when we've invested our own effort into its creation. Bringing the facility owner in from the beginning to take part in the decision-making process made it much easier to talk through requested changes later on in the project – and quickly settle on a path forward.
At the same time, we also think it's beneficial to encourage facility owners to identify one or two people in each area of expertise with decision-making authority to keep the project moving forward. Rehashing decisions or making decisions-by-committee just doesn't cut it when you have such tight timelines. You need informed decisiveness to keep a facility moving forward, regardless of obstacles. Therefore, final decisions – as well as the rationale behind them – should be shared with the entire group of stakeholders.
This OWS project emphasized that decisions tend to have a domino effect. For example, an unforeseen budgetary issue can threaten any project if left unchecked. Therefore, key decision owners are needed with an overall view of a project to understand the consequences of even the smallest decision. When a roadblock springs up, someone needs to either approve a solution and remove any roadblocks or ask for a better one – all within a single day!
Teamwork makes the dream work
Forget weekly management calls – this project required at least one management call per day. During OWS, every team member needed to be in lockstep as changes were implemented. Whether it was a financial concern or a regulatory red flag, no moss could be allowed to grow on any aspect of the project. But how could we do that when travel restrictions shut down out-of-state travel and our team was spread across multiple states and time zones?
Communication has always been a key element of any project's success, but it definitely reached new levels during this particular project. To keep things moving, we talked multiple times per day with both our colleagues and our client. We had already set the tone by bringing our client in as a full team member, so when the project accelerated to warp speed, we already had the lines of communication open.
One way we kept up the grueling pace was by optimizing our use of available communication technology. Prior to the pandemic, our team sometimes used Teams, Zoom, or other video conferencing software. But once social distancing came into play, we replaced many face-to-face interactions with video calls via smartphone or tablet. The team also used Bluebeam for project documents, so everyone could comment or write on the drawings and sets simultaneously – and we made in-progress drawings available for early review. At the same time, the design, engineering and architecture teams leveraged various building design and building information modeling programs to coordinate closely with trade partners and installation crews. And that allowed construction to begin much sooner than by using traditional delivery methods.
The pandemic eliminated the luxury of time. It was no longer logical to wait for every conceivable piece of information to be in our hands before taking a single step forward. All of the various project components, from design, engineering, construction, and vendor coordination, as well as all of the owner's concerns, had to move forward in a concert. By staying in daily contact and fully leveraging online tools, we were able to coordinate and manage activities as they happened and prevent pileups. The main takeaway? The speed at which a facility can be built depends on how fast everyone can make decisions (and stick to them!)
Anything is possible (with enough budget)
All project managers know the saying, "You can have it fast, you can have it good, you can have it cheap: pick two." Warp speed demanded good and fast, so it didn't come cheap.
Significantly shortening the duration of this project meant adding personnel and paying a premium to run construction around the clock, adding significantly to the labor bill. Working faster – while maintaining quality – will always cost more. In these cases, you need to be especially strict about distinguishing needs versus wants.
When addressing each budgetary concern, we asked: "Is this absolutely essential to code, safety, or regulatory issues? Is it so important that it must be addressed – even if it costs a lot more?" In the case of infection control measures – for example, PPE and hand-washing stations – it was a no-brainer to open the purse strings and spend whatever was needed. At the same time, we also needed to spend big bucks in response to significant supply chain disruptions and a dearth of building material.
You also need to bear in mind that getting things done faster is not simply a matter of doing the same thing as always, just faster. A sped-up version of the status quo will simply hike up costs and burn out a team. This is where an integrated approach is essential – and actually can bring a project much closer to the ultimate dream of good, fast, and cheap.
By integrating our design and construction team and creating constant engagement between them, we avoided costly errors. Other essentials in tackling concerns ahead of time – before they become budgetary nightmares – included lean construction documents, integrated document management, pull planned design milestones, and integrated scheduling.
The COVID-19 pandemic put all of us in a unique situation, and also poured accelerant on projects via public awareness and government funding. It would be nearly impossible to replicate the exact circumstances in another project, but there are many other urgencies in the industry. For example, many of our ATMP manufacturing clients use slogans on their construction sites, such as: "Save a day, save a life," to underscore the urgency of getting the project across the finish line. They may not have the same funding as COVID-19 projects, but the pandemic has shown us that we can move fast. In terms of getting facilities up and running, in our view, the pandemic has highlighted the absolute importance of thorough scope definition, decisiveness, laser focus, team work, and excellent communication. Applied correctly, the lessons we learned could help the industry deliver quality products to patients faster, while optimizing cost.
Onward!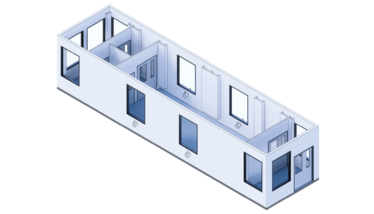 Engaging Warp Speed
In May 2020, the Trump administration announced Operation Warp Speed (OWS) to help accelerate and coordinate the development of COVID-19 vaccines. OWS was a partnership between the Departments of Health and Human Services (including the Centers for Disease Control and Prevention, the FDA, the National Institutes of Health, and the Biomedical Advanced Research and Development Authority) and the Department of Defense. Other federal agencies were also involved.
A number of companies working on COVID-19 vaccines benefited from OWS funding, including Moderna, J&J, Novavax, Pfizer/BioNTech, AstraZeneca, Merck, Sanofi, and GlaxoSmithKline. Contracts were also awarded for ancillary COVID-19 vaccine supplies. For example, Corning Pharmaceutical Technologies received around $204 million in funding for the expansion of manufacturing capacity to produce millions of additional glass vials per year, if needed.
However, the initiative was considered more controversial when it came to vaccine rollout, with states only being told how many doses they would receive on a week by week basis, making it difficult to plan vaccination programs. The quantities available every week also varied.
In February 2021, responsibilities for Operation Warp Speed were transferred to the White House COVID-19 team.
Receive content, products, events as well as relevant industry updates from The Medicine Maker and its sponsors.
---