Discovery & Development
Drug Discovery,
Technology and Equipment
Maps for Drug Discovery
Are we at a tipping point for AI answers to big biological questions? Time to ascend!
Stephanie Sutton | | 3 min read | News
Artificial intelligence (AI) expert BenchSci has introduced a new technology called ASCEND, which the company claims can help reduce trial-and-error experimentation in pharmaceutical research. The tool uses natural language processing and image machine learning to decode experiments conducted across all disease areas – and it is being explored by big pharma companies, including Amgen.
"A key challenge in drug discovery is better navigating the complexity of biology. There is so much information out there, and AI can and should play a big role in helping solve this," says Liran Belenzon, co-founder and CEO. "Most uses of AI in drug discovery are in chemistry and drug design, but we are looking to use AI to navigate and decode research at scale. Many pieces of the disease picture are collected in searchable documents, such as journal publications or internal lab notebooks, but there has never been a holistic way to connect all of the evidence to see how the pieces fit together."
The new tool can connect research to read and interpret millions of data sources in the same way that a PhD scientist would – creating what Belenzon refers to as a "map" for the biology of diseases. Ultimately, the aim is to map out biological connections to help researchers understand the underlying mechanisms that cause disease, which may then provide insights to help cure them.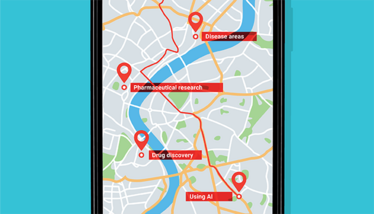 Belenzon explains, "Maps help people find where they are going. Without a map, you'd be wandering around aimlessly hoping to come across your destination. Maybe you know the general direction, but, without smart tools, it's incredibly challenging and inefficient to get there. ASCEND is the map that shows scientists some of the best paths forward to help guide their research. Along the way they may adjust their destination due to other discoveries they encounter, or abandon a path altogether because it's at a dead end."
AI is attracting increasing attention in the pharma industry and today there are a wide range of different solutions on the market. However, Belenzon argues that it's important not to adopt AI for the sake of it – equally, developers working on AI solutions need to make sure their product has purpose.
"AI solutions must be able to solve real problems in a scalable way, otherwise it's just emerging technology that is still in the early stage. No pharma company is looking to deploy AI, they are looking to solve problems," says Belenzon.
In the future, Belenzon believes that every single drug discovery program will be backed by AI in some way. "Just as chatGPT is demonstrating how it can disrupt much of the arts, humanities, and internet search areas with large language models, we believe that novel machine learning approaches have the power to transform the entire drug discovery process. Our tool can actually understand what people did, how they did it, and what the result was. This isn't just surfacing where to look, but also how to get there and the likelihood of it working. This technology allows for a completely different approach to how a pharmaceutical company can operate based on high-evidence resolution. It works on objectivity versus subjectivity. With that better evidence foundation, one can imagine a future pharmaceutical company being much more reliant on AI-driven solutions, which will ultimately expedite better medicine, more safely and more economically to patients."
Receive content, products, events as well as relevant industry updates from The Medicine Maker and its sponsors.