Discovery & Development
Drug Discovery,
Business Practice,
Profession
How We Came to Start the Open Synthesis Network
Nothing happens in a vacuum – and especially not collaborative, open science
Ben Perry | | 4 min read | Historical
This article is part of our DNDi: Medicine Makers Without Borders series. Read the entire feature on our website or tune in to the accompanying podcast for more.
Prior to joining DNDi, I'd spent a lot of time working in and thinking about the strengths and weaknesses of regional academic drug discovery ecosystems. I'd noticed how the lack of early engagement with chemists resulted in a lack of high quality innovations meriting further investment and, in turn, successful spin out companies. I'd imagined a somewhat utopian situation in which academic drug discovery projects, often led by biology and medical faculty, could somehow formally tap into the wealth of talent and resources found in academic chemistry labs and teaching facilities to give their projects a head start. In return, the students, PhD candidates, and postdocs in these institutions would get the chance to expand their scientific knowledge and horizons by engaging with colleagues in other scientific disciplines. I knew that if I'd had such a chance as a chemistry PhD student, I'd have jumped at the chance.
A couple of months after joining DNDi, I happened to bring this idea up during a coffee break with Rob Don, the then Discovery Director. It turned out that not only had Rob had the exact same idea, but that he'd followed it through further than I had; DNDi had the missing piece of the puzzle to make this idea a reality. This missing piece was a recognition of the fact that not-for-profit neglected tropical disease research does not have to depend on the IP, patents, and complex revenue sharing agreements which are so often a sticking point when it comes to drug discovery collaboration with a commercial potential. Furthermore, DNDi had engaged an MBA student in the UK to write a dissertation on the concept, interviewing chemistry faculty from across the UK for feedback. I read this report with interest, and was amazed to see that so many high profile professors from my field of synthetic chemistry not only approved of the concept, but seemed more than eager to engage. With the support of Rob, I decided to try to make the concept a reality.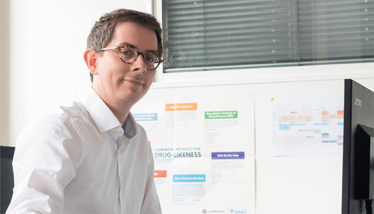 We approached a handful of "reliable" partner universities in the UK, US, and India whom we knew would be either enthusiastic about the idea, or guaranteed to be capable of executing it, or both. Every one of them agreed to participate in a trial run of what we were now terming the Open Synthesis Network. We would effectively crowdsource chemistry students' lab efforts to make molecules for an ongoing DNDi drug discovery project. We selected a project that was both useful to DNDi and had no major urgency: a project attempting to find a "back-up molecule" to a recently nominated candidate for visceral leishmaniasis. We knew the synthetic routes relatively well, we knew how to design interesting new molecules, and we had stocks of chemicals already in house. We designed a list of compounds and asked the teaching staff and professors at the institutions how to integrate the synthesis of these compounds into the students' lab classes. We literally sold it as "instead of 30 students all making aspirin which ends up straight in the incinerator after the lab session, how about those 30 students each make one entirely new, never-before-seen molecule, which we'll test and then share the data into the public domain, along with acknowledgement of the students' effort."
The project took off, with each university incorporating the challenge differently in their curriculum; some as small projects for budding Master's students, others as projects for large, intensive end-of-year practical undergrad labs, and others as part time challenges for their PhDs and postdocs.
Within two years we had over 100 new molecules made, and some of these clearly outclassed the original candidate molecule in terms of anti-parasitic potency. Furthermore, every single university reported a significant uptick in student engagement and satisfaction, and the professors thanked us for taking some of their workload off their plate. It was effectively a win-win-win situation, which I've since learned is the key to building collaborations in the DNDi virtual pharma space – approach every collaboration and problem solving opportunity with your thoughts focused on how to make the interaction a "win" for everyone concerned.
Receive content, products, events as well as relevant industry updates from The Medicine Maker and its sponsors.