Discovery & Development
Drug Discovery,
Small Molecules
Join the Resistance | The Medicine Maker Social
Sharing the best of our online community
Maryam Mahdi | | Interview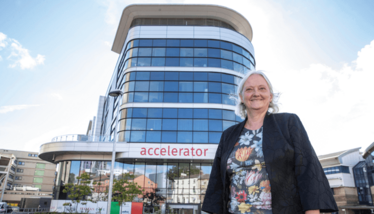 Decisive action against antimicrobial resistance (AMR) is needed now. The problem isn't a looming threat but a challenge that impacts and has impacted lives globally for decades. The situation is now coming to a head, with OECD predictions stating that 9.5 million people could die each year if current resistance rates increase by 40 percent (1). And in a world where travel and global interactions are common, such an increase is not out of the question.

As the clock ticks down and the issues associated with AMR further manifest, what role will pharma play in the fight against the spread of infectious diseases? As I looked for opinions on the issue, I came across iiCON (Infection Innovation Consortium). iiCON brings together industry, academia, and the NHS in a £174 million collaborative infectious disease R&D programme to accelerate the discovery, development and deployment of new antimicrobial treatments and products. Led by Liverpool School of Tropical Medicine (LSTM), its partners are Unilever, Evotec, Liverpool University Hospitals Foundation Trust, The University of Liverpool, and Infex Therapeutics.

I asked Professor Janet Hemingway, founding Director of iiCON, to outline the scale of the problem and why collaboration is a key factor in reducing the effects of AMR.
What challenges does pharma face as antibiotic resistance grows?

The most pressing challenge the industry faces is that the innovation pipeline for new antibiotic compounds has slowed. This unfortunate hurdle is rooted in the fact that we have turned everything from pills to vaccines to diagnostics into commodities. Though the commodification of these interventions has meant that large numbers of people have been able to access them at low prices, profit margins have taken a downturn for the companies developing them.

Pharma companies are, at the end of the day, businesses. So, increasingly we've seen large-scale companies move out of this area and into more lucrative markets, such as oncology. The mass exodus means the development of new, pertinent treatments has all but ground to a halt, and resistance to available drugs and antibiotics is building.
What consequences does this have for patients?

From the patient's perspective, COVID-19 has highlighted how quickly an infectious disease, if inappropriately managed – can spread. With this being said, the general assumption among the public is that we have safe antibiotics available that will stop infections as they occur. The reality is that as a global community we're starting to get to the point where first-line treatments are fast becoming last-hope interventions.

For patients, the situation manifests in their inability to recover from infectious diseases anywhere near as quickly as they would have in the past. In the most severe cases, the lack of appropriate treatments can result in sepsis – which is notoriously difficult to treat – and death. If the trend continues, it will become harder to treat infections.

Though we haven't reached this level of severity in countries like the UK, diseases don't carry passports or respect international borders. In low-income countries like Malawi, we've been tracking AMR in the nation's healthcare system. The problem continues to grow and many antibiotics aren't working. We want to help by getting the right products into the right hands to stop the problem.

It won't be an easy problem to rectify but solving it will have global benefits. In the long run, it should help protect populations from experiencing extreme public health threats from AMR and mitigate serious risks to communities worldwide.
Why did you launch iiCON?

In 2005, I launched a product development partnership to develop new antibiotics. It struck me that there was a need for a similar collaborative group consisting of experts from academia, industry, and healthcare partners to address the broader challenges of developing new drugs, vaccines, and diagnostics. I wanted to explore how we could accelerate the R&D process in a cost-effective way.

We launched iiCON in 2020. Our newly formed team has received funding both from pharma companies and organizations like The Bill & Melinda Gates Foundation – players who really understand the process of drug development from an industrial perspective. We've not been around long, but we've already helped bring eight products to market. And we have a very healthy pipeline of further products – from very early-stage development all the way through to new products that are almost ready for commercialization. Momentum is building and that's very exciting.
What lessons have been learned since launch?

The COVID-19 pandemic has really been a turning point for us all. With development times drastically truncated, we've seen products reach patients in record times. A major contributor to the accelerated R&D lifecycle was effective communication. iiCON has been around for just over a year and we've helped get 2.5 billion units of new treatments out to patients. It shows how great the demand is for pertinent therapeutic interventions and how consistent communication with our partners helped get things moving.

We hope that the positive legacy of COVID-19 will help in pushing through new treatments to address other infectious diseases we're interested in, especially as we're currently in talks with the governments of the UK, US, and Canada. These authorities have played a massive role in getting vaccinations to patients throughout the pandemic. If they can maintain the same attitude towards other diseases, we should be able to make significant progress in their management.
Do you think the momentum gained with COVID-19 will last?

People have short-term memories and politicians often work on five-year timescales. Though I am not naive enough to believe that the forward trajectory we've experienced as a result of the pandemic will last forever, I think it will take a long time for the impact of COVID-19 to truly dissipate when it comes to R&D.

Conversations about a post-pandemic society are already happening, but we're still living through it. If we can take advantage of our current experiences, we could see long-term benefits for a broad spectrum of infectious disease programs as well as in the fight against AMR.
How will low- and middle-income countries be able to contribute to the development of new antibiotics?

For any country to effectively contribute to antibiotic R&D, they need to ensure that they have the workforce with the right expertise ready to respond to emerging and existing issues. But this can only happen with appropriate resources. As an international community, we have a responsibility to help.

There's a lot of activity embedded within Liverpool's School of Tropical Medicine, which is designed to encourage training as well as the development of policies and practices within the UK's Ministry of Health as well as overseas governments. These programs aim to help community healthcare systems by equipping local populations with skills and knowledge to address the multifaceted problems presented by communicable diseases.

There's also a lot more online activity happening now than ever before. It's helping us to connect with international players and allowing for increased information exchange. Practitioners and scientists on the ground in low- and middle-income countries need accurate information to be shared securely and rapidly to respond to developing challenges. The newer, digital approach to communication will help keep us all stay connected as a global community and ensure that professionals in less developed countries have a voice in the fight against AMR.
What more can pharma do to resolve problems related to infectious disease and AMR?

The onus isn't only on pharma when it comes to addressing AMR. We all need to work in partnership to develop the medicines, technologies, and techniques that will benefit patients worldwide. Collaboration will also help upskill the pharmaceutical workforce.

However, I would advise the pharma companies who haven't been involved in infectious disease drug manufacture or who left the field to test the waters. For those who have stayed involved, it's important that they increase their activities so that the broad spectrum of infectious illnesses that exists today can be addressed. Crucially, this scale-up must happen cooperatively. A problem shared is a problem halved. The more information sharing and support we can provide for each other, the better we can address patient needs.

Want to share important breakthroughs with us? Follow on Twitter, LinkedIn, and Facebook.

Follow iiCON for more information – www.infectioninnovation.com
Image Credit: LSTM
Receive content, products, events as well as relevant industry updates from The Medicine Maker and its sponsors.
OECD, "Antimicrobial Resistance: Policy Insights," (2016). Available at: https://bit.ly/305h93S