Discovery & Development
Advanced Medicine,
Facilities
Between the Gut and the Stars
The clinical benefits of modulating the microbiome are leading to new medical products and inspiring a behavioral shift in gut health. Here, CEO and Founder of EnteroBiotix James McIlroy shares the wonders of manipulating our microbial passengers.
Rob Coker | | 4 min read | Interview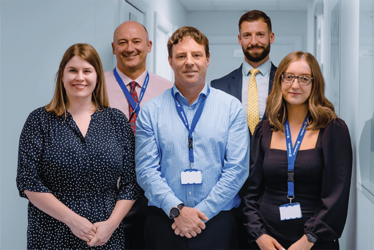 Why are microbiome products so promising as medicines?

The human body is complex and contains an amazing variety of microbes. People have been working on ways to transfer microbes safely between people since before the Roman Empire, but microbiome products are now becoming what I like to call the "medicines of the moment", with several factors aligning to enable them to take the spotlight. Firstly, the first randomized clinical trials showing a benefit of enhancing the microbiome through intestinal microbiota transfer (IMT) happened in 2013, with staggeringly positive results. It typically takes a decade for innovation to diffuse into the mainstream, and here we are, a decade later, talking to you about the promise of microbiome products as medicines. On clinicaltrials.gov, there are currently more than 400 clinical trials investigating IMT for a range of diseases.
Secondly, the analytical methods that enable us to explore microbes and rapidly profile what's present in a highly diverse microbial ecosystem have massively advanced. Thirdly, people are talking about gut health these days, which is a fundamental shift in behavior. People have grown concerned about the wider impact of certain existing approaches, such as using antibiotics, and are actively seeking better approaches. Microbiome enhancing medicines have the potential to transform the world for the better.
We believe that we are developing a better way to treat disease. More fundamentally, I believe that gut health is health and that everyone can benefit from microbiome modulation.
What challenges lie ahead for the field?

As in any medical field, there are "Eureka!" moments – times when you know you're absolutely on the right track to something amazing – but there will also be setbacks. One challenge will be positioning microbiome enhancing medicines against other more "heavy-handed" approaches such as, for example, using antibiotics to wipe out all microbes in the digestive tract. Other not insignificant challenges relate to dose selection, manufacturing, achieving compositional consistency, and indication selection.
What specific ailments is EnteroBiotix targeting?

We are looking at diseases that involve the liver-gut-brain axis, which are wide ranging, but we are also particularly interested in oncology and immuno-oncology. As we pioneer this approach, we are finding that some elements of what we're doing are new – or at least haven't been done at scale elsewhere. There's no well-trodden path for us to follow, so challenges are inherent within the journey.
How are regulators reacting to microbiome medicines?

In our experience, very positively! There is growing recognition that modulating the microbiome has the potential to cure previously intractable diseases. We have a close relationship with the UK's MHRA, which inspected our bespoke facilities and granted GMP certification. In the US, an FDA Advisory Committee recently voted in favor of approving the first microbiome therapeutic, RBX2660, developed by Rebiotix.
Tell us about your new manufacturing facility.

The facility is located at Scotland's Strathclyde Business Park. We've put huge effort into building and securing regulatory approval for what I expect will be Europe's most advanced manufacturing facility for microbiome enhancing medicines. The facility was purpose-built to enable scalable manufacturing of microbiome-enhancing medicines, with state-of-the-art infrastructure enabling GMP manufacture under anaerobic conditions. The facility also includes an in-house QC hub with an advanced analytical toolkit. When taken collectively, the facility allows EnteroBiotix to control the supply chain from start to finish.
Additionally, we have a sophisticated platform technology, AMPLA, which enables the rapid drying of microbial suspensions without losses in viability and diversity. This capability is embedded within our MHRA licensed manufacturing facility and I believe it will provide us with a significant competitive advantage. We're now working towards our next milestone: Phase II clinical trials of our lead asset, EBX-102, for patients with liver cirrhosis. Notably, the data generated through our clinical studies will help validate the proof of principal generated through traditional IMT studies.
Receive content, products, events as well as relevant industry updates from The Medicine Maker and its sponsors.