Discovery & Development
Drug Discovery,
Trends & Forecasts,
Small Molecules
Slowing the Alzheimer's Decline | The Medicine Maker Social
Sharing the very best of our online community
Maryam Mahdi | | Interview
We all know how debilitating Alzheimer's disease (AD) can be for patients and their caretakers. At The Medicine Maker, we've spoken to many experts who shared their thoughts on the current treatment landscape and the challenges the industry faces as it continues to innovate. In our pursuit for fresh perspectives on these issues, we stumbled across the work of Grace Gregory, a research assistant at The Alzheimer's Research UK Oxford Drug Discovery Institute (ODDI), on Twitter. Along with her colleagues, Gregory is exploring how the NLRP3 inflammasome can be exploited to slow the decline associated with AD. The protein, expressed by microglia, can trigger inflammation and is implicated in a broad spectrum of diseases. Gregory and her team hope that small molecules could prevent the characteristic neuroinflammation AD patients experience. Here, she shares how their screening results could help shape the future treatment landscape.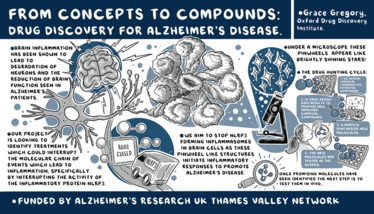 What role does the NLRP3 inflammasome play in AD onset and progression?
Inflammatory cascades in the brain's resident macrophages, known as microglial cells, are thought to promote AD pathogenesis. In healthy aging, microglia are our allies. They readily phagocytose and degrade debris, pathogens, and potentially harmful protein aggregates.
Unfortunately, there's a catch; these microglia can become traitorous. Overly activated microglia can polarize toward a proinflammatory state in individuals with AD. Inside these activated microglia, there is an increase in the expression levels of proinflammatory proteins such as NLRP3.
Activated NLRP3 proteins form a pinwheel-like structure called an inflammasome that promotes caspase-1 proteins to induce cytokine release, pyroptotic cell death, and neuronal damage in patients. However, NLRP3 presents itself as an interesting therapeutic target for AD, because its inhibition has been shown to improve cognitive function in in vivo models of the disease.
Because the mechanisms underlying AD may be driven by neuroinflammation, NLRP3 inflammasome inhibitors could provide an effective disease-modifying therapy.
What treatment options exist today to manage these symptoms?
Small molecules have been developed as promising NLRP3 inhibitors but none are yet available in the clinic for the treatment of any disease. MCC950 is a small molecule that directly binds to and inhibits NLRP3 with good potency but, unfortunately, shows poor penetration of the blood-brain-barrier – an essential property for any compound we design. Furthermore, we must be very conscious of off-target effects outside the brain, so a good safety profile is essential for any drug we make. Presently, there is a paucity of effective disease-modifying therapeutics for AD available to doctors; however, novel small molecule NLRP3 inhibitors may represent an effective therapeutic strategy and could contribute to a successful treatment regimen for people living with dementia.
At the ODDI, we are hunting for CNS-penetrant compounds that target the NLRP3 cascade to prevent assembly of the inflammasome and halt the expression and release of cytokines in the brain. This would dampen inflammation and, hopefully, reduce the pathogenic cascade seen in the brains of AD patients.
What did your research achieve?
To investigate potential NLRP3 inhibitors, we conduct cell-based phenotypic screening of promising compound libraries using mouse macrophages with high-throughput robotics and high-resolution imaging. We even have our own friendly resident robot arm affectionately named "Robi-1 Kenoby" to handle our screening plates over the weekend.
At the subcellular level, the NLRP3 inflammasome is primed with lipopolysaccharide and subsequently activated through potassium efflux. When fluorescently labeled, these NLRP3 inflammasomes appear as bright, quantifiable specks inside the cells' cytoplasms. We can determine the IC50s of the novel compounds based on a reduction in the number of NLRP3 inflammasome specks.
Details on this process have recently been published. We hope that this pipeline can increase high-throughput small molecule drug discovery for NLRP3 inhibitors to drive the field forward in AD therapeutics.
What's next?
Following a given compound's initial success in the phenotypic screening assay, compound structures are run through an AI drug discovery pipeline in collaboration with Exscientia, a pharmatech company, to predict small changes to the chemical structure that will improve compound potency and properties. Selected new compounds are then synthesized by medicinal chemists at the ODDI for evaluation in the phenotypic screen. Seeing the potency of our lead compounds move into the nanomolar range is a hugely exciting aspect of our drug discovery work.
After potency adjustment, we investigate each compound's selectivity and mechanism of action. This involves cell-based assays to determine NLRP3 selectivity over other types of inflammasomes. We run these assays first in mouse macrophages and then in more physiologically relevant human iPSC-derived microglia. From there, we measure the ADME properties of molecules and identify those best suited for testing for in vivo activity in specific mouse models of disease.
Most importantly, in collaboration with Exscientia, our overarching goal is to produce clinical candidate molecules that inhibit NLRP3 activation both in vitro and in vivo and that are suitable for progression into clinical trials for AD.
How will NLRP3 inhibitors influence treatment management?
Our hope is that such a therapy might impede cognitive decline, support the homeostatic balance between microglia and neurons, and reduce tissue degradation. Outcomes such as these would hopefully improve the quality of life of individuals with AD and their families.
Follow The Medicine Maker, Grace Gregory, and Jack Brougham on Twitter for more.
@GraceGregory_
@ARUK_ODDI
@CmdOxford
@JackBrougham
Receive content, products, events as well as relevant industry updates from The Medicine Maker and its sponsors.