Discovery & Development
Drug Discovery,
Advanced Medicine
The Cell Reprogrammer
We sit down to interview Louise Modis, Chief Scientific Officer at Mogrify, UK, about her career and role at the company.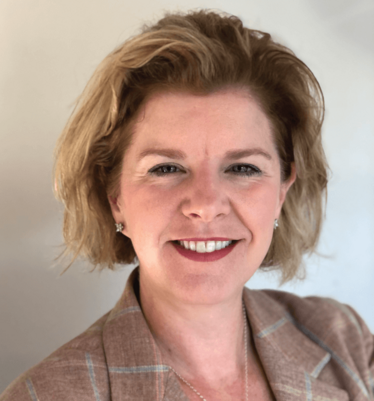 What did you want to be when you were younger?

Many things! A ballerina (!), a doctor, a marine biologist… But when the time came for me to choose my university course, I decided that I wanted to be a biomedical scientist.
And what drew you to biotechnology and pharma – and immunology in particular?

My aunt was diagnosed with lymphoma when I was a teenager, and I was struck by the lack of understanding of her disease and the toxicity she experienced with chemotherapy. So, I decided that I would like to better understand the biology of disease and use that knowledge to make better medicines. I was lucky to have discovered and joined the inaugural biotechnology degree class at the National University of Ireland in Galway where my course directors, Denis Headon and Pat Morgan, focused my attention on the applications of science on human health via translational biotech, with a specific focus on immunology. I was thrilled to realize that we couldn't rely on textbooks for our understanding; it was necessary to evolve based on ongoing research. And that's still a daily motivator for me!
Who has inspired you the most over your career?

I have been inspired by so many people in different ways. Some by their vision, intellect, creativity, and tenacity – others by their will to impart knowledge and leadership.
I had an outstanding scientific environment at the European Molecular Biology Laboratory in Heidelberg during my PhD, and at Harvard University during my postdoc, where I established lifelong friendships with incredible scientists who continue to inspire me. Over the last 20 years in pharma, I have worked with many inspirational leaders and colleagues; when I'm stumped, I often think about them and ask myself "What would they do?"
What have been your biggest achievements?

I've worked with great teams on many exciting projects over the years. One highlight was leading a team to take an antibody into the clinic for the treatment of pain in osteoarthritis. The project represented everything I enjoy about making new therapies – scientific inspiration from our academic collaborators, deep scientific follow-up by our pharma biology team, outstanding teamwork from a diverse group of scientists, clinicians, and operational experts. And not least, the courage shown by GlaxoSmithKline to test an entirely novel approach for such an important problem for patients.
Why did you join Mogrify?

As a scientific and medical community, we have yet to identify a systematic means to replace cells lost as a result of disease or drive cellular function, and therefore, solve complex medical problems such as blindness (loss of photoreceptors) and the treatment of cancer (patients' immune cells not functioning properly). In addition to the many different approaches being employed across cell and gene therapy, cellular reprogramming provides a unique opportunity to target these problems at the source, generating clinically desirable cell types for transplant or directly inside the human body to treat disease. This concept is very attractive and exciting for the development of novel therapeutics, and I am delighted to bring my experience to the team and explore its application!
Mogrify is deploying cell reprogramming platforms to address the most immediate challenges of developing cost-effective ex vivo cell therapies, as well as pioneer the development of novel therapeutic modalities. I am particularly enthused by the company's development of a novel in vivo reprogramming approach and the opportunity to progress a number of these therapies rapidly through development into the clinic. For example, we have a fascinating project to drive reprogramming of ocular cells directly in situ, potentially restoring vision for patients where treatment options are limited. Similarly, we have a number of other projects exploring the potential to drive a desired phenotype or to better mimic primary cell function in stem cell-derived cell types compared with what has been achieved to date.
What are the biggest challenges currently facing cell therapies?

Cell therapy typically relies on donor material – at least with the first-generation autologous cell therapy approaches that have shown us the clinical benefits; however, next-generation products need to have simplified manufacturing processes to improve access, reduce costs, and increase reliability. We will need to generate mature, functional, persistent cell therapies from allogeneic sources, such as from induced pluripotent stem cells (iPSCs), which in turn will be enabled by an understanding of the factors and conditions driving cellular identity. To date, the field has relied upon experimental trial and error to identify such factors, often attempting to recapitulate complex biological pathways to produce a specific cell type.
At Mogrify, we employ a systematic bioinformatics-led approach to determine the optimal transcription factors and culture conditions to drive a natural healthy cell state. The platforms can be used to enhance existing stem-cell forward reprogramming methods or can bypass development pathways altogether, affecting a direct trans-differentiation from a mature cell type to another mature cell type.
The next big challenge, and opportunity, is to directly reprogram the required cells in vivo, akin to gene therapy. This could represent the ultimate expression of cell reprogramming's potential in the conversion of cells for therapeutic effect directly in patients.
Cell reprogramming approaches build on what we understand about diseases – and how standard antibody or small molecule approaches work (or don't work) – to help design and generate functional cells to treat disease while limiting unwanted side effects. Disease knowledge, bioinformatics data, and computational approaches are now at a level where we can start to evaluate this concept. In my view, this represents an entirely new frontier in therapeutic development.
Receive content, products, events as well as relevant industry updates from The Medicine Maker and its sponsors.