Discovery & Development
Formulation,
Digital Technologies,
Small Molecules
The Digital Future of Formulation
Next-gen drugs can be slow and costly to develop. To help medicines reach patients faster, businesses should consider how digital tools can help solve formulation challenges.
Ferdinand-Paul Brandl |
sponsored by BASF
Whether producing generics or innovative pharmaceutical products, all formulators face a unique dilemma. Drug development is, by its very nature, a trial and error process, which results in slow operations – but developers are always under pressure to produce drugs quickly and cost-efficiently. Though high-quality formulations are the result of many experiments, companies (and their formulators) must juggle the various aspects of lab and manufacturing processes with their business needs for faster, cheaper R&D. But finding a happy medium isn't easy.
And there's another key challenge too: the small pool of talent companies have to draw on. Skilled formulators are a rare commodity. Although well-established businesses may have in-house expertise, smaller companies and startups can find it difficult to attract and retain the professional talent necessary for formulation development and manufacture. Businesses need to think about how they can tackle these hurdles.
Digital platforms are proving that they can be useful tools in helping formulators select the right active ingredients and excipients for drug products. Though they cannot replace the skill set of trained formulators, they can help companies make better decisions in a time-efficient, resource-effective manner – and help formulators push drugs through the development cycle more quickly.
At BASF Pharma Solutions, we have one purpose: inspiring medicines for better lives. We understand that not all companies are set up for developing robust drug formulations; it's our duty to help them develop superior quality drugs in shorter time frames. ZoomLab™, our virtual formulation assistant, provides companies with a variety of interactive tools to solve formulation challenges. With free access to excipient and active ingredient data, companies need not worry about characterizing molecules in the lab; they can find the excipients most likely to work with their active ingredients with a few clicks – saving time and money.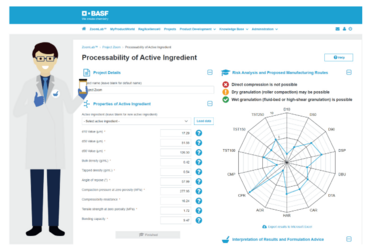 Listening and responding
Digital tools for formulation are still a relatively new concept. Though they have much to offer formulators, some experts are still sceptical about their use. We have found that customers in emerging markets like Africa, Turkey, and Russia tend to be more receptive towards new technologies and are eager to explore the benefits, while those in more established pharma markets, like Europe and North America, are typically more apprehensive. Their concerns often pertain to confidentiality – an understandable reservation. To access excipient and active ingredient data, formulators must share details about themselves and their projects, which could, theoretically, make them vulnerable. Companies have a right to and want to know what happens to their data when using digital systems. But, in our experience, once they have seen what digital tools can offer (and how their data can be protected), they show the same levels of openness as other international businesses.
We value data protection and are carefully listening to our customers to ensure that our tools meet their needs. We've also simplified the ZoomLab™ interface so that formulators can easily find answers to their questions. Our digital technical service team is also there to address concerns around the clock.
Continuous improvement
For developers to have smoother formulation journeys, the digital platforms they rely on must be easy to use.
For developers to have smoother formulation journeys, the digital platforms they rely on must be easy to use. Our databases have been designed to guide formulators through every aspect of their drug development process – quickly directing them to the right information for their needs. As an educational tool, it can also help fill in knowledge gaps for companies with less experience in the formulation process.
Most importantly, we understand that as the pharmaceutical industry continues to make advances, ZoomLab™ will have to evolve to keep pace with change. In 2019, when we launched our platform, we focused solely on direct compression data. But our customers' needs are far-reaching. Since then, we have developed tools for film coating and poorly soluble drugs, and we're now exploring how the platform can be expanded to provide support for the development of topical formulations, such as creams and ointments, which typically require extensive expertise to produce under conventional circumstances. This evolution will certainly help businesses who often have challenges in hiring and retaining experienced formulation professionals. The guidance they would normally receive from such individuals can be supplemented through our platform.
Although these additional tools and resources have improved our customers' formulation journeys, we always aim to expand our offering of service – incorporating customer feedback into our platform wherever possible. Therefore, we'll also be introducing a chatbot that can assist our customers with troubleshooting. The AI optimized system will direct them to the information and tools related to their queries – allowing them to address problems as soon as they are encountered. For example, if a developer has an issue during tableting they can instantly find support from our chatbot.
To make the most of the system, we realize that training will be necessary, so our new learning center will offer users access to case studies and tutorials in both video and PDF formats – helping to foster a positive learning environment within our community.
The full package
Though formulation is a key part of any drug's success story, we recognize that companies need guidance and support at all stages of development. Alongside ZoomLab™, our other virtual assistants, RegXcellence® and MyProductWorld can help developers as they push candidates from the bench to the bedside.
At the start of their R&D journeys, companies can access MyProductWorld and browse through our product catalog for pharma-grade samples of active ingredients and excipients. As companies draw closer to commercialization, they can turn to RegXcellence®, which can help cut down on quality assurance and regulatory paperwork. The platform allows users to download statements and audit information, and access advice from global regulatory experts for faster approvals. All of our virtual assistants are linked so when customers are ready to progress their products through development, they can access the right information for their next step quickly.
Can digital tools replace the formulator? This is absolutely not the intention! Rather, our tools are there to iron out kinks in development. And we challenge those companies who are still hesitant about the use of digital tools to give them a try! We're open to your ideas and are ready to listen to your concerns; the dynamic nature of the platform means that we can quickly integrate them.
As an excipient and active ingredient provider with one of the broadest portfolios on the market, we've always been open to learning about the needs of our customers. We understand that listening to and responding to your challenges helps ensure that best-in-class medicines find their way to patients. So we're always ready to talk.
Learn more about our Virtual Pharma Assistants here: info-mypharma.basf.com
Receive content, products, events as well as relevant industry updates from The Medicine Maker and its sponsors.