Discovery & Development
Drug Discovery,
Business Practice,
Small Molecules
The Microbiome Miner
Water is the giver of life, but could it be a giver of untold medicines too? Biosortia CEO Ross Youngs believes so
Angus Stewart | | 9 min read | Interview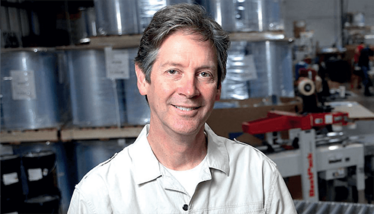 "Nature loves to hide" – a maxim attributed to Heraclitus (arguably Greece's strangest philosopher and a man adored by modern mystics), but do those four words have any bearing on the world of nature as studied by 21st century scientists? For Biosortia founder Ross Youngs, the answer is a resounding, "yes." Nature is full of secrets – and many are locked away in the microbiome. But now, argues Youngs, we have the means to more fully unlock the microbiome and apply the resulting knowledge to new medicines.
What led you to the world of pharma?

It's a long and convoluted story, so I'll give you the short version. After studying environmental science and industrial engineering in college, I ended up getting into the medical imaging field – a fast-growing, high-tech field at the time. It granted me a great deal of exposure to process technologies.
In 1988, I started my own company focused on making products for the optical disk industry, and it was a success – we ended up hitting the Inc. 500 five years in a row. As we explored bioplastics, we quickly realized there wasn't a lot of waste biomass that could be turned into plastics efficiently. To meet that gap in demand, we turned our attention to sourcing a form of biomass that would be cheap and environmentally friendly, which led us to algae. While working on algae, we came up with technologies that received millions of dollars in funding from various branches of the US military.
Though we had begun looking at algae as a means for producing biofuels, we were soon sure that the technology we had patented would have much further flung applications – including drug discovery!
How does algae connect with drug discovery?

The most important small molecules on the planet are found in microbes, but less than one percent of the microbes on the planet can be grown in a culture. From this less-than-one percent, mankind has derived half of the drugs that sit on shelves today – be it directly, indirectly, or through inspiration. Virtually all of today's research is focused on indirect access. Some readers may remember the days of combinatorial chemistry – and they'll remember that it failed pretty miserably.
Our technology has the potential to break through this deadlock by grabbing microorganisms on a massive scale from where they live in nature, without the need to culture anything. In the context of lab benchtop work, 100 milliliters would be considered a large sample size. Biosortia starts with sample sizes 200 million times larger than that. Our approach is to open up direct access to the most important hidden chemistry on the planet.
The water of your nearest lake overlaps with your metabolic pathways and gut microbiome's genes by more than 73 percent
Why focus on nature's microbiome rather than the human microbiome?

It's true that there are tens of thousands of unknown small molecules in our bodies. Take a look at the human metabolome database and you'll see that fewer than 140 of the microbial small molecules in our blood have ever been identified. So, you may rightly ask – why does the natural microbiome matter? Well, believe it or not, the water of your nearest lake overlaps with your metabolic pathways and gut microbiome's genes by more than 73 percent. So that water is as about as valid a source as you are – and I'm sure you'll agree that extracting water at scale is preferable to extracting anything from you at scale!
What's your ideal source – river, pond, lake, or swamp?

The beauty of the natural world is that it is as diverse as we humans are. You might think that two lakes in Alabama, sitting side by side and used for exactly the same thing, would have identical or at least very similar microbiomes… But you'd be wrong. Upon testing, every aquatic environment shows up as unique. Temperature, pressure, sunlight, nutrients, pH, and oxygen content – all these variables shape the nature of the microbiome.
Few people realize that, for the last 4.2 billion years, microbiomes have dominated the Earth. Right now, the weight of all living microbes outweighs that of all other living organisms, if we exclude woody biomass.
In other words, we are in such early days that there could be 100 companies like ours mining the microbiome, and we would all be discovering new small molecules that are relevant to the signaling in our cells. We could be at the North Pole or the ocean floor, and we would still find microbiomes. There is no real need to be picky!
When stacked against the full volume of a bay or a lake, eight Olympic swimming pools of water adds up to not much at all
That said, I would point to the tropical and subtropical environments of our country's southeast as especially interesting cases. There is a lot of water with a lot of diversity in salt and nutrient content, aerobic and anaerobic respiration, photosynthesis… The kind of variables that could keep a company like mine busy for a lifetime.
How do you find and then "mine" water?

We use a lot of collaborators – many of them from universities – to tell us about appropriate aquatic environments. From these sites, we are specifically looking for places that have not been extensively studied. When you can easily discern peaks of unknown molecules in your sample, you know there is a good chance that the microbiome in question may be of interest. The Biosortia Microbiomics approach is to start with a minimum of 100,000 grams of the dry-weight, high-quality microbiome and separate the desired molecules using extractions and fractionations. The goal is to amplify the hidden chemistry so it can be read by analytical equipment (LC/MS) at higher quantities than two parts per billion. Once we have found an optimal site, we scale up the harvest to large samples of around 20 liters. On these samples, we carry out an initial genomic analysis and then move on to what we call "scouting," which uses equipment that can easily process 10,000 liters in one day, allowing us to collect enough biomass to explore a living, active microbiome. Why genomic and not metabolomic? Because genomics, metabolic pathways, and gene clusters provide valuable relationship information. Metabolomics is also used to understand the actual molecules present, and direct analysis and indirect genomics lead to a greater understanding. If the larger sample also shows promise, we escalate once more to our full-scale unit, which can process over 20 million liters of the source – enough to capture the entire microbiome.
If that figure scares you, then let me put you at ease. The kind of harvest we typically carry out sits at around 20 million liters, which is equivalent to eight Olympic swimming pools. Though that may seem like a lot of water, when stacked against the full volume of a bay or a lake, eight Olympic swimming pools of water adds up to not much at all. I can also assure you that we work with and gain approval from the relevant state, local, and federal authorities who manage these water sources. After we finish conducting our prospecting, the microbiome will completely recover in less than one day.
We typically collect 1 million grams of the dry-weight microbiome from 20 million liters of the aquatic microbiome source, and that biomass is stored at a maximum of -20°C. Based on our initial analysis of the small molecules and references to data sets, we arrive at a greater understanding of the chemical novelty. Typically we find tens of thousands of addressable (i.e. obtainable) novel small molecules.
How exactly do you find those new and interesting small molecules?

Deep analytical data is collected on the fractions of the small molecules, including LC-MS/MS and other computational or analytical data.
This 2D data provides insight for projecting opportunities when coupled with training sets on known small molecules and activities for AI prioritization. For example, we may use a training set for antiviral activities, and artificial intelligence analysis may then help us to uncover new antiviral opportunities from the unknown small molecules of the microbiome. Just as the human microbiome holds a wealth of novelty in inflammation and neuromodulation, we can see that the microbiome has the potential to be the greatest untapped source for antiviral activity, once we take into consideration the wealth of microbes and viruses (or phages) that outnumber the microbes 10 to 1.
Though it's true that you cannot patent a natural molecule, you can patent its activity. Discover that activity and the patent can be yours.
Additionally, we're developing several scanning strategies (some in-house and some with partners) to assess the potential of the many new small molecules we retrieve in every single harvest. Artificial intelligence (AI) is quite interesting in this context. When using machine learning for drug discovery, AI can work with either real or predicted data. Predicted data is easier to come by but when you are working with computations upon computations, errors can amplify. In short, using real data produces better output; we can see this in the application of machine learning on approved drugs to discover new ones.
In our approach, we can apply the power of AI to tens of thousands of unknown and untested small molecules to pinpoint potential opportunities, helping us prioritize our next steps for testing those molecules. Antivirals, immunology, and oncology are great places to start because the existing scientific literature has shown that the gut microbiome is key in modulating the immune systems of humans.
And what will you do with the promising molecules?

Our goal is to execute at full scale and be able to provide these molecules to partners; for example, private biotechs, pharmaceutical companies, or academic institutions. To enable those handovers, we plan to build a library of molecules, understand them, prioritize them, and curate them. We want to focus on the molecules as intellectual property, and let experts outside our company handle the medicine-making procedures. Though it's true that you cannot patent a natural molecule, you can patent its activity. Discover that activity and the patent can be yours.
What impact do you hope this work will have in the future?

I believe our work is a revolution in the making. I would say that ten years after we have begun executing at scale, you will hardly find an academic institution or an industrial company involved in life sciences that isn't directly mining microbiomes for what I'm not afraid to describe as "the hidden secrets of life".
In fact, I'll go further and say that this technique is so productive that in ten years, the vast majority of life science products will derive from it. If one percent of the world's microbes have given us half of our existing medicines, think about what the full 100 percent could do. Nature has had billions of years to create the cell signaling chemistry that runs through biology, and this shift could open it all up to us.
Receive content, products, events as well as relevant industry updates from The Medicine Maker and its sponsors.