Discovery & Development
Clinical Trials,
Translational Science,
Small Molecules
We are the Resensitizers
Scientists have found that the cell cycle can be used to shut down cancer's survival mechanisms – but what does it take to turn that knowledge into a medicine?
Angus Stewart | | 8 min read | Interview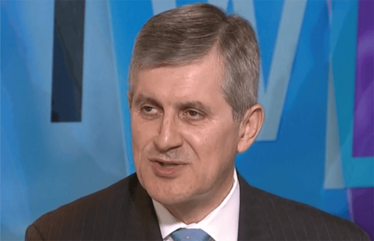 Cyclacel CEO Spiro Rombotis has been connected to the business of healthcare since birth. Growing up under a father who ran a small medical equipment company, Rombotis followed in those paternal footsteps by choosing during postgraduate study at Northwestern University to work in cancer research. The huge challenges and slim odds put many off the field but, for Rombotis, they were the motors that drove him through a three-and-a-half-decade career. We sat down to speak to this highly motivated man about his company and the cyclin-based cancer treatments it is working to bring to the patients who need them.
How did Cyclacel begin?

Our founder, David Lane, is a world-renowned biochemist credited with the discovery of "the Guardian of the Genome" – p53, a tumor suppressor involved in about two-thirds of human cancers. Now, Lane is interested in cyclin-dependent kinases (CDKs), in particular CDK2 and CDK9. CDKs are a family of enzymes that can modify various proteins involved in cancer resistance.
Following that interest, Lane founded Cyclacel to go after CDK2/9 inhibitor medicines – such as the company's lead drug fadraciclib – as a strategy to overcome treatment-resistant cancers. He and his seed investors recruited me as the company's first CEO. Shortly after the company launched, the Nobel Prize for Medicine was jointly awarded to Leland Hartwell, Tim Hunt, and Paul Nurse for discovering CDKs and their cyclin protein partners and elucidating their role in controlling the cell cycle checkpoint control mechanism.
We seek to jump-start the body's own anti-cancer mechanism to push those cancerous cells into apoptosis – programmed cell death.
The discovery of a second Cyclacel drug was influenced by the work of another distinguished scientist, David Glover, a world-renowned geneticist who discovered fundamental mechanisms in mitosis (the last stage of the cell cycle, in which one cell divides into two daughter cells). For a decade, Glover served as Cyclacel's Chief Scientist. He also discovered several enzymes, called polo-like kinases (PLK), that play a role in mitosis. His insights are reflected in the target profile of CYC140, Cyclacel's PLK inhibitor.
What unmet needs is Cyclacel hoping to address and with what treatment?

After receiving first-line treatment for cancer, patients who at first do well and achieve stability, or even cancer shrinkage, will often relapse. This happens because cancer cells adapt to treatment by finding ways to evade destruction and become resistant – often by expressing high levels of proteins that block the body's ability to eliminate dangerous cells. Cyclacel's strategy is to use its CDK or PLK inhibitors to suppress these blocking proteins and restore cancer cells' sensitivity to treatment. In other words, we seek to jump-start the body's own anti-cancer mechanism to push those cancerous cells into apoptosis – programmed cell death.
Our oral CDK2/9 dual inhibitor, called fadraciclib or "fadra" for short, is the first ever CDK2/9 inhibitor to show durable anti-cancer activity in patients without major toxicity. Data collected in 15 patients suggest that this molecule may have activity across a range of solid tumors and lymphomas, including women's cancers such as endometrial cancer and certain lymphomas.
Our anti-mitotic program candidate, CYC140, is an oral inhibitor of PLK1, an important master regulator of cell division. This molecule is also currently under clinical investigation in both solid tumors and hematological malignancies. It has shown promise in disease models in various cancers, including colorectal, esophageal, and ovarian – as well as certain leukemias and lymphomas.
What is the science behind fadra?

By targeting CDK2, we aim to lower levels of cyclin proteins, including cyclin E. By targeting CDK9, we try to lower levels of other apoptosis-blocking proteins, including MCL1 and MYC. In other words, because targeting these proteins is very difficult, we are going after their CDK enzyme chaperones to bring about cancer cell death.
Elevated cyclin E levels are commonly found in pretreated patients with women's cancers, such as breast, cervical, endometrial, ovarian, and uterine. MCL1 and MYC are even more widespread and are thought to account for resistance in many solid cancers, such as colorectal, liver and bile, pancreatic, both types of lymphoma (T and B cell), and several types of acute and chronic leukemia.
Cancer cells that are sensitive to CDK9 inhibition may also increase levels of cyclins as an escape mechanism. For this reason, we believe that dual inhibition of CDK2 and CDK9 may be a superior strategy to eliminate all possible escape routes and force cancer cells to undergo apoptosis. This idea of a dual-hit strategy is critically important to avoiding cancer cell progression and therapy resistance. We have now observed this mechanism of action in preclinical and clinical trials with fadraciclib. Fadra is unique in this regard, and it is exciting to see activity in patients with cancers that have not been previously reported to be sensitive to this class of drug.
We use the same therapeutic strategy for PLK inhibitors as with CDKs. Here again, we aim to induce cancer cells to commit "suicide" through apoptosis. Suppression of PLK enzymes is tolerated by normal cells but pushes cancer cells straight into the apoptosis process. We hope that this difference may also result in CYC140 being well-tolerated by patients, just as fadra has been shown to be.
What form are the clinical trials taking?

We are using a phase I/II study design in our trials of both drugs. We start with a phase I dose escalation stage, in which increasing doses of the drug are given over multiple days per week. The study can progress to phase II, the proof-of-concept stage, once we determine the optimal dosing schedule to use in subsequent studies – one that will sit just below the toxicity threshold. Phase II will deal with seven histologically defined cohorts thought to be sensitive to the drug's mechanism. These cohorts will cover breast, colorectal, endometrial/uterine, hepatobiliary, and ovarian cancers, as well as lymphomas. The study also includes an eighth basket cohort that will enroll patients regardless of histology with biomarkers relevant to the drug's mechanism, including MCL1 or MYC, that may or may not be cyclin E amplified.
In so many ways, it is validating to have other teams of people come to the same conclusion that has driven us for so long.
We have rapidly enrolled 15 patients from four global clinical centers, who have been given fadra alone across five escalating dose levels. So far, the drug has been well-tolerated. At dose level five, it is given twice a day for five days over four weeks. Although we do not expect to see much activity in these heavily pretreated phase I patients until later on in phase II, we are gratified to see response and stable disease in patients with T cell lymphomas and endometrial and pancreatic cancers.
Has the work required any serious problem-solving? Do you see further challenges on the horizon?

There remain many issues to be addressed, including delivering drug supplies to patients in a timely manner, collecting patient specimens for laboratory evaluation, and complying with good clinical practice requirements. I am tremendously proud of our small Cyclacel team, who work long hours to ensure it all goes ahead without a hitch.
Perhaps the harder problem is how to assure our early-stage clinical investigators that Cyclacel's drugs offer a strong benefit/risk proposition for their patients! Let us not forget that those investigators have the unenviable task of convincing people to sign up for a clinical trial in the first place. Such patients have often undergone several lines of treatment without success. They are fatigued and often suffer from other ailments on top of a dire cancer diagnosis. We are enormously grateful for their altruism. We should never forget that their opting in helps the next generation of patients access the next generation of treatments.
Let us also mention Cyclacel's stockholders, who made the leap of faith to support us because of our drugs' promise. They play a critical role in the work of Cyclacel and the hundreds of other public biopharma companies striving to find new, alternative treatments for a range of diseases.
Does hitting your milestones in parallel with other companies diminish the feeling of achievement?

No! The Cyclacel team has tirelessly chased and built on the insights of our academic leaders to pursue these innovative treatments, and it's gratifying – not disappointing – to see more and more companies, large and small, piling onto the bandwagon to compete with us. In so many ways, it is validating to have other teams come to the same conclusion that has driven us for so long.
All drug classes have winners and losers. Being first or second in such a race, as fadra and CYC140 are, can generate substantial pharmaceutical value. Despite the high chance of failure in cancer research, we have persisted with our idea that harnessing the cell cycle could be valuable in several types of cancer. Seeing that idea become a reality – for us and for other companies – is incredibly fulfilling.
Receive content, products, events as well as relevant industry updates from The Medicine Maker and its sponsors.