Manufacture
Advanced Medicine
At the Immuno-Oncology Frontier
The use of the body's own immune system to fight cancer – immuno-oncology – has seen great progress over the last decade, with a number of big pharma companies working to further advance the field in the next ten years. Here, we learn more from Bryan (Bo) Barnhart, Senior Director of Immuno-Oncology at Bristol-Myers Squibb.
Bryan (Bo) Barnhart |
How is the immuno-oncology field changing – and what new research is emerging?
It's not even been ten years since the first approvals emerged for immuno-oncology drugs, but the impact has been remarkable. Over the next ten years, the industry will uncover new research and hopefully increase the number of patients that are able to respond to treatment.
Right now, there is a lot of fascinating science emerging from microbiome research, both in academia and industry. This is an area that has largely been untapped for oncology, but our understanding has expanded significantly over the last few years. In a short space of time, we've learned not only how the microbiome affects the immune system with regards to cancer, but also how it can have a potent effect on other aspects of health. I am really interested in how the microbiome interacts and enhances immune responses. There is likely scope to better understand an individual's microbiome and take advantage of its interaction with the immune system; indeed, BMS is driving some excellent collaborations in this area, with a view to enhancing immune response to cancer.
Another emerging area that has large potential is increasing our understanding of how innate immunity affects anticancer responses. New research is looking at turning on the immune system in places where it is not very active, or enhancing it where it's suboptimal for anticancer therapy.
When developing these therapies, what are the challenges with side effects?
There can be side effects if the immune system is hyper activated – this is something we look at very carefully. There are many really smart people dedicated to understanding how the immune system responds, as well as the similarities between autoimmune disease and immuno-oncology (although obviously they are going in two different directions). There are important, and sometimes subtle, nuances and differences between those effects, and turning off one pathway in autoimmunity is not equivalent to turning it on for cancer therapy. At BMS, we spend a great deal of time trying to understand how things differ and how we can walk the line of activating what we want to and where we want, without triggering an overactive response elsewhere. We also put a lot of effort into identifying targets that are as tumor-specific as possible.
We are now seeing fantastic scientific data and clinical success, but certainly not every patient or cancer type is responsive. It will be a significant challenge to reach the point where we really understand – on a molecular and cellular level – what is happening within an individual patient's tumor; how is the tumor avoiding destruction by the immune system? Why does the tumor continue to grow in the face of what should be a fairly effective response? Picking apart tumor resistance mechanisms will allow us to combine the right approaches to get the best possible responses in each patient.
"A decade ago, melanoma had very different treatment paradigms and response rates than it does today."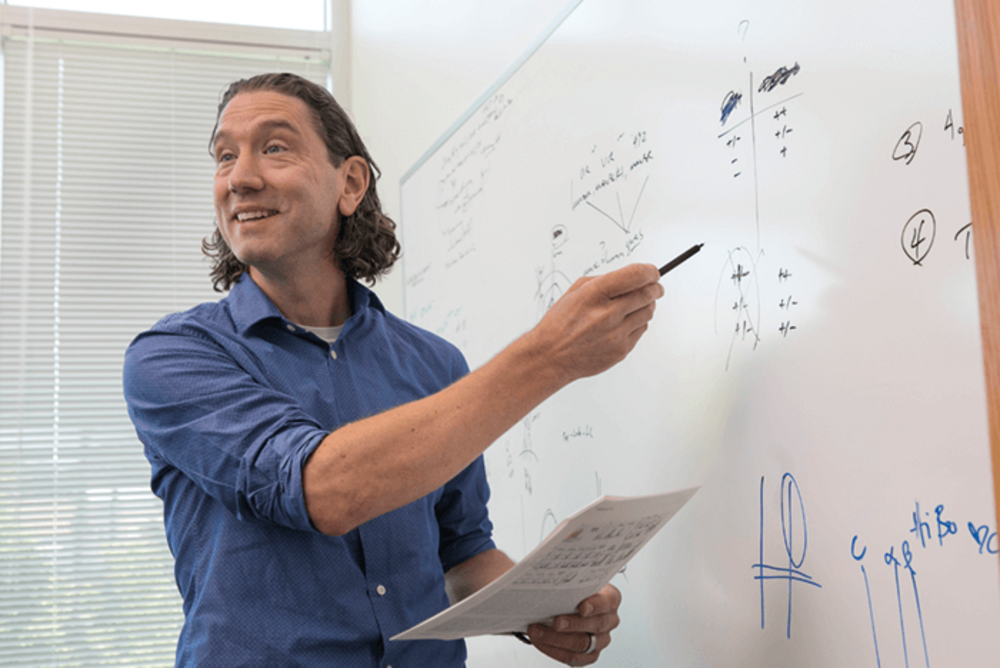 Meet Bo Barnhart
You studied English literature and biology; why combine the two?
Some have told me that it seems an unusual combination, but it made sense to me. I'd always had an interest in literature, but I had an aptitude for science. The decision turned out to be a very good one because the ability to use language and communicate effectively is incredibly important in science. These skills can often be overlooked and don't always come naturally to scientists. Combining science and English means that I can think and write in different ways – analytically and in terms of language.
Being able to communicate well is a crucial foundation for effective collaboration. The first professor I ever had for immunology once told my class that immunology is, in many ways, a language first; before you can move on and grasp the most complex ideas and concepts, you have to be able to work within the language of immunology. She was right – it really is a separate language, with different types of cells, different processes, and other aspects that accumulate to build the immune system. Throughout my career, whether mentoring or working with collaborators, I've found that it is important to use common but engaging language.
How did you get started in industry?
Following graduation from Rutgers University, I stayed on at a laboratory where I'd worked as an undergraduate, which gave me an opportunity to really build a foundation for research. I did a lot of work with basic immunology and I was also given the opportunity to lead work and have projects of my own, which isn't very common for a new graduate!
I went on to do a PhD in immunology in Chicago and then moved on to a cancer biology laboratory in Philadelphia at the University of Pennsylvania. In time, I had the opportunity to apply to the oncology department at BMS. I was really keen to move into industry to get involved with real drug development and I was so impressed by the oncologists there during the interview. I worked for a number of years in BMS's oncology group in Princeton, New Jersey. As the years went on, immuno-oncology really started to arise as an exciting new way to treat cancer. We had some collaborations in place at the time, but the field was so new that most companies didn't have specialized immuno-oncology departments. BMS eventually acquired Medarex, led by Nils Lonberg and Alan Korman, pioneers in immuno-oncology research. I worked very closely with them and then after six years in Princeton, I moved to Northern California where the immuno-oncology group was centered. I've worked here ever since. Immuno-oncology was a really good fit with my background, having done research both in immunology and cancer biology.
Working with Nils and Alan was an absolutely incredible opportunity. These two scientists were very senior people within the organization, but they really understood – in extraordinary detail – the fundamental science that leads to complex immune interactions and responses. It really encouraged and energized me to spend a lot of time working on more effectively understanding the biology behind what we work on. And it was wonderful to see that such senior members of an organization can still be very tapped into science and research. Alan and Nils' extreme perseverance and persistence in following good science was another valuable and broadly applicable lesson. Science can be a very frustrating field at times and you need to work to have your ideas accepted. They talked about the history of the field and how, not even ten years ago, many experts believed that immunotherapy would never be effective. Today, we know that it holds significant potential.
What is BMS focusing on?
We have a large focus on understanding the mechanisms behind how the immune system attacks a tumor and how best to turn on the immune system in a productive way. The immune system has many layers of regulation so there are several potential ways that we can activate the immune system by removing certain suppressive effects. Right now, there is much attention on what combinations most effectively enhance the immune response. Many companies, academic groups and clinical studies are showing that hitting multiple pathways in combination can enhance responses in many cases. I think that makes a lot of sense immunologically.
We're also spending a lot of time looking at the tumor itself as well as its environment. It is very well recognized that the tumor itself is a very suppressive and stressful environment. A tumor can establish its own extreme suppression of the immune system and we're learning year over year that the number of ways that the tumor can do this is extraordinary. Different tumors appear to use different mechanisms, so we're putting a lot of time into understanding how the tumor sets up a suppressive environment – whether it be the tumor cells themselves, other cells that the tumor recruits, or the way the tumor sets up its blockade to prevent immune cells from even getting to and recognizing the tumor.
Another very important area that we are looking at is a better understanding of particular patient populations, including indication-specific resistance mechanisms or mechanisms to enhance immune responses within particular types of cancer.
Central to all of our work is collaboration – both internally (across different sites) and externally. Collaboration is essential for good science as different perspectives can bring new ways of tackling problems.
What have been the most exciting or rewarding moments of your work?
When I transitioned from New Jersey to California, I was involved in screening antibodies. It's pretty dry work, but one of the antibodies had a bit of an odd profile so we decided to follow that up. Interestingly, it had a truly unique biological feature. It was one of those "aha" moments! When you are doing labwork and screening, it is very methodical, so this moment really stood out. I remember the moment we saw the activity. There were a lot of exciting discussions in the lab. I also still have the old data figure showing these kind of odd, first observations. Ultimately it not only became a therapeutic that we could pursue, but also a unique biology.
Another rewarding aspect is the fact that we are working for patients. BMS actually does a really good job bringing us into contact with patients and we have frequent visits from patients who have benefited from our medicines, whether it be oncology, autoimmune disease or any of the other therapeutic areas that we're working in. Every time we see or hear from a patient, whether they're in the room with us or by video feed, I think it really does bring the importance of what we do home. We can spend a lot of time in a sterile lab environment and it is rewarding to think about the impact that each of your experiments can have on patient lives. One very personal example stands out: my father died last year, and at his memorial service, one of the people who stopped by specifically came up and thanked me for the work that BMS did on Opdivo (nivolumab). He was a patient. Such moments really help me realize just how important our work is.
What would you do to change the field?
We are at a remarkable point. I think we'll one day look back on immuno-oncology's genesis in the last decade as a turning point for the way we think about and treat cancer, and the way patients respond when they have a diagnosis. We're not there yet, but we're definitely moving in the right direction.
One area where we can perhaps do better as a field is in educating the public. Immuno-oncology is a new field and I quite frequently see surveys that show how few people even know what immunotherapy is. We have to acknowledge the fact that this field is not terribly accessible. If we can better educate people then it will go a long way towards helping patients understand what treatment opportunities are out there.
With our growing understanding of immuno-oncology, I really hope we will see more cancer types begin to respond. A decade ago, melanoma had very different treatment paradigms and response rates than it does today. Immuno-oncology has transformed treatment for patients – but only some patients. I mentioned my father earlier. He died seven and a half months after being diagnosed with pancreatic cancer. It was a very rapid decline and his quality of life was poor from his diagnosis onwards. It is very difficult to treat resistant forms of cancer. Even with immunotherapies, we simply don't have enough good, long-lasting treatments for many tumor types. I believe we will increase response rates in the future. And we have to, if we are to say that we have truly been successful in this field.
Enjoy our FREE content!
Log in or register to gain full unlimited access to all content on the The Medicine Maker site. It's FREE and always will be!
Login
Or register now - it's free and always will be!
You will benefit from:
Unlimited access to ALL articles
News, interviews & opinions from leading industry experts
Receive print (and PDF) copies of The Medicine Maker magazine
Register
Or Login via Social Media
By clicking on any of the above social media links, you are agreeing to our Privacy Notice.
About the Author
Bryan (Bo) Barnhart