Manufacture
Advanced Medicine,
Drug Discovery,
Vaccines
Can mRNA Make a Difference in the Fight Against Malaria?
Evelina Angov, Chief, Laboratory of Molecular Parasitology, Walter Reed Army Institute of Research, believes mRNA vaccines could play an important role in the treatment of other infectious diseases – especially malaria, a disease that affects up to 200 million lives each year. Here, we ask Angov about her thoughts on mRNA-based therapies – and how the Institute is helping in the global goal of eradicating malaria by 2050.
Maryam Mahdi | | Interview
What role can mRNA vaccines play in treating malaria?
A highly effective malaria vaccine would go a long way toward the goal of malaria eradication. mRNA vaccines' advantage over traditional approaches is the rapid transition from target discovery to manufacture. Similarly, this approach can be used to deliver more complex, multi-antigen vaccines by combining sequence variants and targets, which would broaden immunity.
What is the Walter Reed Army Institute of Research working on?
Recent successes of mRNA vaccine delivery for SARS-CoV-2 have propelled the long-neglected platform to the forefront of infectious disease research. In our recently published paper (see, https://go.nature.com/37Vex9x), we selected the immunodominant coat protein of the invasive stage of the malaria parasite, circumsporozoite protein (PfCSP), as the target to evaluate for the protective potential of mRNA malaria vaccines in mice. LNP encapsulation was used to protect and deliver the mRNA to the cell translation machinery and to supply adjuvant activity. We explored the effect of several factors, such as formulation, dose, number, and interval of immunizations, in two mouse strains, and showed the protective potential of a PfCSP mRNA-LNP against lethal, rodent-malaria transgenic parasites.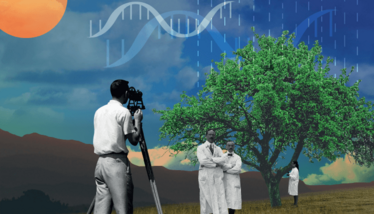 As people living in low- and middle- income countries are most vulnerable to malaria, what considerations will have to be made when developing suitable mRNA therapeutics?
Firstly, safety is paramount for any target population. But the product profile of a successful mRNA vaccine in these areas will potentially need to address narrower cold chain and storage capabilities, as well as a price-point compatible with fiscal sustainability. The advantages of mRNA are that the transcript (coding) sequences can be optimized rapidly to adjust for variants, mutations, or other modifications, formulations are fairly stable and fieldable under conventional deployable conditions, and manufacturing is rapid, and more cost-effective by comparison with small molecules or recombinant protein technologies.
What's next?
Though we are enthusiastic with the findings that we reported, we want to explore improvements to the malaria coding sequence (transcript) to see if we can enhance immune responses, prior to moving into a more representative animal model, such as the non-human primate. Outside of the improvements to the PfCSP mRNA transcript sequence, we are also evaluating mRNA as a viable immunoprophylactic modality to limit infection and disease. This is an area of research and product development that can greatly benefit from overcoming the traditional challenges and development costs of recombinant antibody-based products.
What is your outlook on the future of vaccines?
I have been a scientist in this field for 26 years, and really feel that we are living in an exciting time for malaria vaccines and vaccines in general. Despite numerous challenges, there is great progress toward the development of protective vaccines against pre-erythrocytic malaria infection. There are new vaccine platforms and technologies that have never been so available or accessible. Though we can easily advance to preclinical animal studies, the stable and reliable resources and funding to advance malaria vaccine candidates into the clinic and beyond phase I remains elusive, and we will need this type of support if we are to capitalize on our current advantage and ultimately push through to a victory against malaria.
Receive content, products, events as well as relevant industry updates from The Medicine Maker and its sponsors.