Manufacture
Small Molecules,
Ingredients,
Drug Discovery
Celebrating the Small Molecule Space: Download Our eBook
Our eBook features drug development stories, a drive for novel excipients, new technologies, and more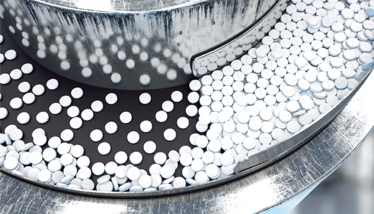 Biopharmaceuticals and cell & gene therapies occupy a lot of the spotlight in the pharmaceutical industry – but the majority of new drug approvals and dispensed prescriptions are still for small molecules. In 2021, the FDA approved 50 novel therapeutics – 28 of which were small molecules (1).

In this special eBook, we celebrate the small molecules space. How are new technologies driving a renaissance in small molecules? Find out in the article from Marcelo Bigal from Ventus Therapeutics. He says: "Many protein targets are, in fact, druggable with small molecules. New technologies that combine advanced protein dynamics and computational chemistry analyses are driving massive data iterations that identify binding pockets by shining a light on areas of the protein that were previously beyond the sight of conventional tools."

We also get the story behind the new hepatitis C drug, ravidasvir, developed through a collaboration that aims to get more medicines to countries that need them in South East Asia by using a drug development model specifically centered around affordability and public health priorities. And Isabelle Racamier, CEO of EsoCap, talks us through the challenges of delivering drugs to the esophagus. We also cover how small molecules can help the fight against antimicrobial resistance, and catch up with prizewinning pillmaster Alberto Berardi from DFE Pharma.

If you prefer to watch rather than read, you can take a look at our video discussions covering novel excipients (featuring experts from IPEC-Americas) and an interview with Roche's Global Head and SVP of Neuroscience and Rare Diseases Clinical Development, Paulo Fontoura, who talks about Roche's Evrsydi, which received the British Pharmacological Society's Drug Discovery of the Year Award.
Click here to download the eBook
If you'd like to write your own article celebrating the small molecule space then get in touch at [email protected]
Receive content, products, events as well as relevant industry updates from The Medicine Maker and its sponsors.
CCDC, "Small molecules make up over half of the 50 novel drugs approved by the FDA in 2021," (2022). Available at https://www.ccdc.cam.ac.uk/Community/blog/small-molecules-make-up-over-half-of-novel-drugs-approved-by-the-FDA-in-2021/