Manufacture
Advanced Medicine
Cell Therapy 2.0
The first CAR T approvals were a major turning point for the cell therapy field. Now, companies are shifting their focus to the next wave: off-the-shelf (allogeneic) approaches, CAR T and TCR therapy for solid tumors, and combinations with immune checkpoint modulators.
Pippa Gledhill | | Longer Read
Back in 2012, a young girl named Emily Whitehead was discharged from hospital having entered complete remission from her life-threatening acute lymphoblastic leukaemia. Developed by Carl June and a crack team of scientists at the University of Pennsylvania, the treatment was made from Emily's own T cells modified to attack the cancer. In the eight years since this groundbreaking result, progress for modified cell therapies has been steady. Two CAR T therapies have been approved by the FDA and other regulators, with a further three poised for approval – and many more showing great promise in the clinic (see Table 1).
Following the approvals, investment piled into the sector. The result: 37 percent year-on-year growth in clinical trials (see Figure 1) to the point that the field now boasts well over 1000 trials across the globe. But after stunning early successes and billions of dollars of subsequent investment, there are still many unsolved challenges relating to the complexity of manipulating living cells. With issues from manufacturing and scalability to patient access and cost, the field is seeking approaches that boost the utility of modified cell therapies.
CAR T and developer
FDA/EMA approval status and disease indication
Target
Cell source
Tisagenlecleucel (Kymriah)

Novartis and University of Pennsylvania
August 2017: FDA approval for B-cell acute lymphoblastic leukaemia (ALL)

May 2018: FDA approval for B-cell lymphoma

August 2018: EMA approval for B-cell ALL and diffuse large B-cell lymphoma
CD19
Autologous
Axicabtagene ciloleucel (Yescarta)

Kite, a Gilead Company
October 2017: FDA approval for large B-cell lymphoma

August 2018: EMA approval for large B-cell lymphoma
CD19
Autologous
KTE-X19

Kite, a Gilead Company
December 2019: BLA submitted to FDA for mantle cell lymphoma

January 2020: MAA under evaluation by EMA for mantle cell lymphoma

February 2020: FDA grants priority review
CD19
Autologous
Lisocabtagene maraleucel

BMS
December 2019: BLA submitted to FDA for large B-cell lymphoma

February 2020: FDA grants priority review

May 2020: FDA extends action data by 3 months for BLA
CD19
Autologous
Idecabtagene vicleucel (Bb2121)

BMS & Bluebird Bio
March 2020: BLA submitted to FDA for multiple myeloma

May 2020: Received FDA Refusal to File letter and EMA validates MAA
BCMA
Autologous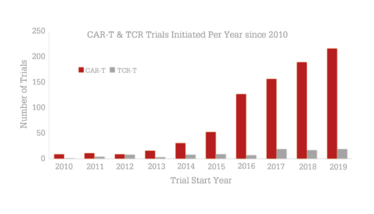 Advancing allogeneic therapies
Emily's treatment used her own cells, much like the other 480 autologous CAR T and TCR therapies currently in development. While offering a truly personalized approach, the deterioration of a sick patient during a lengthy manufacturing process can, in some cases, prevent treatment. Instead, creating modified cell therapies from allogeneic sources, such as from healthy donor blood, stem cells or cell lines, offers the ability to create an off-the-shelf therapy, which would allow patients to be treated faster and at a lower cost.
As of April 2020, Beacon Targeted Therapies reported 84 trials evaluating allogeneic CAR T and TCR therapies. Though the number is significantly lower than their autologous counterpart, the allogeneic space has grown four-fold in the past five years. More than 40 companies are working on these therapies with Allogene Therapeutics leading the way with UCART19, in terms of clinical advancement. To manage the potential of graft-versus-host-disease, TALEN gene editing technology can be used to knock out endogenous T cell receptors. Others, such as CRISPR Therapeutics, rely on alternate gene-editing technologies, whereas others avoid gene-editing completely; for example, Celyad uses a novel T cell receptor inhibiting molecule (TIM) in CYAD-101. Aside from T cells, the use of other immune cells that aren't MHC restricted, such as gamma delta T cells and natural killer cells, are increasingly popular options for off-the-shelf cell therapies.
Generally, clinical results are in the very early stages for allogeneic therapies. At the American Association for Cancer Research (AACR) meeting in April, Gracell Biotechnologies reported that 80 percent of patients with T cell acute lymphoblastic leukaemia achieved MRD negative complete response at day 28, after a single infusion of GC027 – an allogeneic CAR T.
Right now, opinions remain mixed as to whether the allogeneic approach will ultimately be successful. Naturally, more clinical evidence will be required but, until such data is shared, it seems likely that both allogeneic and autologous therapies – each bringing their own advantages – are likely to coexist in the foreseeable future.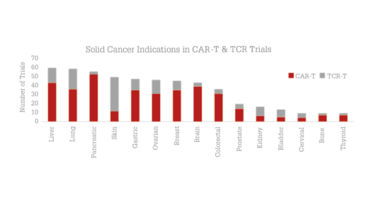 Tackling solid tumors
To date, CAR T therapies have only really proved successful in haematological malignancies. There are over 250 therapies in development against CD19, the target of preference for blood cancers (see Figure 2). As the CD19 space becomes saturated and as the unmet need of solid tumors is recognized, an increasing number of developers are striving to create safe and effective therapies for solid malignancies. Several approaches are being explored with a view to not only identifying the right target antigen, but also to enable delivery to the hostile tumor microenvironment and infiltration into the tumor.
With an antigen-recognition capability that differs from antibodies, a unique selling point of TCR therapy has always been its potential to be highly effective in solid tumors. Of a total of 124 trials evaluating TCR therapies, 107 focus on the treatment of solid tumors. Adaptimmune, a frontrunner in the space, uses proprietary SPEAR T cells in a variety of disease indications from synovial sarcoma to liver cancer.
CAR T therapies are also making progress against solid tumors. Among the 248 CAR T trials in patients with solid tumors, the most targeted disease indications are pancreatic, liver and brain cancers. A few strategies being used to overcome the barriers are local delivery methods (for example, in the T4 immunotherapy trial conducted at King's College London), the addition of soluble molecules targeting the tumor microenvironment (for example, IL-12 in Juno Therapeutics'JCAR020), and the targeting of multiple antigens, such as Celyad's CYAD-231. So far, results from small cohorts have been reported for 41 of the early phase trials. Other CAR-modified immune cell types, such as gamma delta T cells and natural killer cells, are also starting to emerge for the treatment of solid tumors, with 14 trials in the clinic and many more assets in preclinical development.
Again, more data, as well as an improved understanding of tumor biology, are necessary to fully understand the potential of modified cell therapies for the treatment of solid malignancies. However, driven by patient need and the commercial potential, it is likely that significant progress will be made in the solid tumor space in the coming years.
Creating combinations
Another important trend for CAR T and TCR therapies stems from harnessing the success of other therapeutic modalities in combination treatments. So far, therapeutic modalities explored in combination have ranged from oncolytic viruses to bispecific antibodies. The most explored is the use of CAR T alongside immune checkpoint modulators, with a variety of trials already in progress. To modulate the immunosuppressive tumor microenvironment, a checkpoint blocking antibody can either be independently administered alongside CAR T therapy, or built-in with an additional modification to allow in situ secretion. Autolus Therapeutics, for example, are currently evaluating their dual-targeted CAR T, AUTO3, as a standalone therapy and in combination with the checkpoint inhibitor pembrolizumab. On the other hand, the Shanghai Cell Therapy Research Institute has engineered CAR T cells to express PD-1 antibodies. This is a promising strategy and, as the field progresses, it will be exciting to uncover the best combinations.
For good reason, this is unlikely to be the first time you've heard about modified cell therapies, and certainly not the last. After the turning point of more approvals, and with increasingly advanced technologies and assets in development, the field is shifting focus towards the next wave of cell therapy. Whether they are allogeneic therapies, therapies targeting solid tumors, or combination therapies, we will undoubtedly see more researchers and patients joining Carl and Emily in the tale of adoptive cell therapy.
Receive content, products, events as well as relevant industry updates from The Medicine Maker and its sponsors.