Manufacture
Contract Manufacturing Services
Changing People's Perspectives
Sitting Down With… Akhil Ravi, CEO of Aurigene Pharmaceutical Services, a Dr. Reddy's Laboratories company, India
Stephanie Sutton | | 6 min read | Interview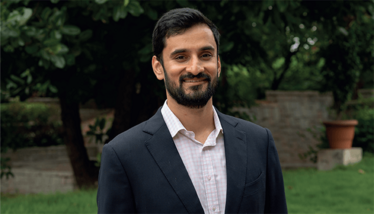 How did you join Dr. Reddy's?

I studied business before joining McKinsey and Company, where I worked across numerous sectors, including healthcare and other allied sectors. Dr. Reddy's is considered one of the most respected companies in Hyderabad – the city I grew up and lived in. After a few years as a consultant, I had the opportunity to go to Dr. Reddy's, but I had to think about it for a few years!
Eventually, I took the plunge. I knew a few colleagues at Dr. Reddy's, so I spoke with them about the culture, which is very important to me. I worked with a lot of promoter-driven companies in my time at McKinsey and I didn't enjoy that culture. But Dr. Reddy's has a very professional management team as well as a good reputation in India and globally. Since joining, I've worked in many different roles, including manufacturing, strategy for the active ingredients' division, and leading sales in Europe for that division.
Why do you think working in the pharma industry is so rewarding?

Everyone in the pharma industry has always found the work rewarding, but I think the reason for that has really hit home in the last three years – thanks to the impact we've collectively had across the entire chain of tackling the pandemic – from prevention to cure. We've gained control of the pandemic and we can now prevent severe COVID-19 disease.
When I first joined pharma, I found it a little frustrating because the pace was slow and conservative. You need to talk to many people to even move an inch! I think the pandemic has taught us that we can move faster while still making high-quality, safe medicines.
Many things came together during the pandemic; the industry was leveraging data sets and computational power; governments were prepared to play their part, and supply chains were adjusted to suit the vaccine roll out. Overall, it's really changed the way people and biotechs think about R&D and how we bring medicines to market.
How have you settled into the role of Aurigene's CEO?

It's been a very interesting journey so far with a lot of new opportunities and exposure to diverse areas. To be honest, I was a little surprised when I got the job! I was on vacation last year when I got a call along the lines of: "Hey, you know how this person left? Do you want the role?" There were then many conversations, but gradually I became more comfortable with the idea of leading Aurigene services, which is a contract research, development, and manufacturing subsidiary of Dr. Reddy's.
My division is focused on using cutting-edge science to partner with other companies bring new medicines to patients. I've had to learn quickly. I've been looking at what works well, and what we need to change. And I've been focused on getting the whole team to see the same vision. We have a great opportunity to bring new medicines to the world through our partners and it's important to ensure that friction in our way is removed.
What are the big topics in pharma right now?

First and foremost, our industry is growing! A great deal of money is being pumped into biotechs across the world, and they need contract partners to help them advance their vision. Many of these companies do not have their own labs or manufacturing facilities and need reliant partners. Thus, there is enormous demand for contract partners right now.
Therapeutics are shifting in complexity. Oncology remains a critical space, but CNS is growing. Technology platforms are also changing, across small molecules, biologics, and cell and gene therapies. There are many different potential avenues to grow – and companies will need to make choices. Where do you want to focus and differentiate yourself, and invest your resources? Going forward, I think digital transformation continues to be a big topic for pharma companies. Companies are leveraging digital know-how across all areas, including R&D, manufacturing, clinical trials, and supply chains, but also to offer better services and treatments for patients. We've all seen the positive impact of digital technology throughout the pandemic, and I think it's inspired the industry; this trend will persist, even as we emerge from the COVID-19 pandemic.
What's your view on sustainability?

It's a really important area for me. But I'm certainly not alone – I think we're all becoming more aware of the issues. In pharma, we not only need to consider reducing energy and plastic use but also the number of solvents or chemicals used to manufacture medicines and our reliance on animal testing. There are many opportunities to improve, with potential solutions at different stages of maturity.
The industry needs to translate peoples' will to help the planet into company policies – and keep environmental, social, and governance (ESG) goals in mind. Remember, some investors reward companies that perform well on ESG metrics – and other companies may purposefully choose to work with partners who have good ESG. And that means ESG can be rewarding for a business – while also making a big difference to the world.
As an organization, we embarked on our voluntary sustainability disclosures journey in 2004 and have been listed on the Dow Jones Sustainability Index since 2016. We were one of the first companies in India to be listed (we were ninth among the most sustainable pharma companies in the Index in 2021). It's been a very conscious effort and we continuously improved over the years with progress in waste minimization and management, and the establishment of zero-liquid discharge at our manufacturing sites. In 2020, we became the first pharma company in India and the third in Asia to join the Science-Based Targets initiative (SBTi) to set science-based targets for ourselves. We want to reduce our energy emissions so that by 2032 we are using less than half of the energy we are using now.

On the social side, we are starting to measure ourselves based on the number of patients we can impact through the partners we work with and the number of rare diseases we cure with the help of our partners. We also have a very strict governance policy, which has been embedded into our culture for many years now. Dr. Reddy's has continuously been identified as one of the best in the governance space in India.
If you could change one thing about the industry, what would it be?

I would change the perception of the industry. There are many articles and documentaries that demonize the industry. But these are isolated events that do not define the industry as a whole.
In particular, some people also have a poor perception of certain manufacturing facilities in India. To those people I say, please come to our facilities. People often visit us in India and are very surprised by what they see! India's CDMO industry has grown tremendously in the last 10 years and is now working with almost every Top 20 innovator pharma company.
Receive content, products, events as well as relevant industry updates from The Medicine Maker and its sponsors.