Manufacture
Bioprocessing - Upstream & Downstream,
Business Practice,
Trends & Forecasts
Creating for Tomorrow
Asahi Kasei Bioprocess – based in Chicago and owned by a Japanese company – supplies bioprocess equipment, consumables, and scientific support, and has always considered itself to be a future-facing company. With the biopharma industry increasingly realizing the importance of sustainability, Asahi Kasei Bioprocess is putting its best foot forward. We interview Clayton Weber, Systems Engineering Lead/ Sustainability Lead at Asahi Kasei Bioprocess, to learn more.
| 7 min read | Interview
sponsored by Asahi Kasei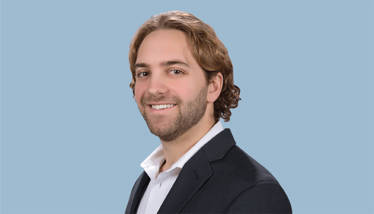 What is your role at the company?

I started my career with Asahi Kasei Bioprocess as a project engineer, but today I am the systems engineering lead, which means I get involved with almost every piece of equipment our company makes. I assist with kicking off discussions with the customer to understand their needs and timelines; we'll then go through full spec, procurement, assembly, and testing of the equipment until it is ready to be delivered to the customer. I'll then be involved onsite with training and set up.
I've built chromatography columns, chromatography systems, inline buffer formulation skids, virus filtration systems... a wide range of equipment. Right now, there is a strategic focus on oligo synthesis, and customers are also looking to update bioprocesses to be more efficient and cost-effective; for example, by moving to automated inline buffer formulation systems, which reduce cleaning and the amount of chemicals used – and get companies away from using "tank farms." Ultimately, adopting these kinds of processes can help companies reduce their environmental footprints.
What does sustainability mean to Asahi Kasei Bioprocess?

Sustainability is a growing trend in the pharmaceutical industry. We've always been focused on pioneering the biologics of the future by developing the equipment needed to manufacture them. Personally, I think the industry's future is brighter thanks to increased focus on efficiency and sustainability, but there is still much to do. Most biopharma companies are now establishing sustainability programs and targets – and asking their vendors to do the same. At Asahi Kasei Bioprocess, we regularly receive enquiries about what we are doing on the sustainability side. Sustainability is not proprietary and if we're going to make a difference as an industry then we need to keep communication open and share success stories.
We are a small part of the overall Asahi Kasei Group, but we want to lead by example. In doing so, we can influence other business units, as well as our customers and suppliers.
As part of your role, what sustainability actions are you taking?

Sustainability is very important to me personally (I've always had a love of the outdoors in particular), which is why I am delighted to have stepped up as "sustainability lead" within the company. Sustainability can be broken down into different areas including environmental, social, and economic. However, my role focuses primarily on the environmental side. For now, we are focusing on three core areas: the emissions and waste that we produce as a company and that is directly under our control; emissions and waste caused by our products; and external emissions, such as those produced by vendors (remember – if your vendors are not sustainable then it can affect your own company and the carbon footprint of your products and services).
The first two areas are easier to address because it is about looking at your own company and what you can do – and they are within your control. To help reduce our emissions, we have signed a contract for a solar initiative. We have a lot of roof space and we have calculated that we will be able to offset 100 percent of our energy consumption – a phenomenal first step, which will also save substantial energy costs.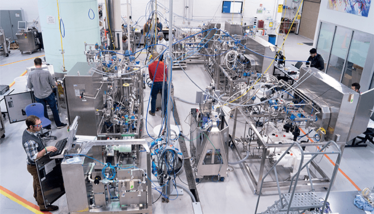 We have also looked at our waste management. We receive a lot of boxes and packaging materials, which can be recycled. Recycling is commonplace, but do not assume that this is already happening at your company, even if you already have recycling bins around your offices. It is important to find out what your waste team is actually doing. In fact, I recommend this as a good starting point for any sustainability strategy. At our company, I discovered that our waste team was disposing of everything as general waste. We took swift action to resolve this, and we now have a specific company that manages the waste and recycling. Due diligence and conversations can make a big difference!
When it comes to manufacturing, we are also increasing the implementation of single use to be more sustainable. There is a perception that single use components have a negative impact on sustainability, due to the disposal of consumables; but they can actually help reduce cleaning needs (less water, less energy, and less chemicals). We are now looking into how single use can be recycled and disposed of appropriately – and some single use tubing manufacturers are also taking a stand to discuss solutions.
What are your top tips for other companies looking to implement sustainability initiatives?

You can choose how far to take your recycling scheme, but it should be tailored to the type of waste that your company produces. Recycling cardboard, plastic, and bottles are easy wins; but there are also companies that handle other materials, such as polystyrene and foam. Just keep in mind, you may not be able to identify a single stream for your recycling, which can complicate matters. I advise seeking recommendations from companies that have similar waste outputs, or even your current waste management company. In our case, we looked online, through sustainability forums and articles for perspectives, and we also talked to our sister companies, which ultimately secured us a good deal with a company that could handle six different categories of waste. The important thing is to ensure proper disposal.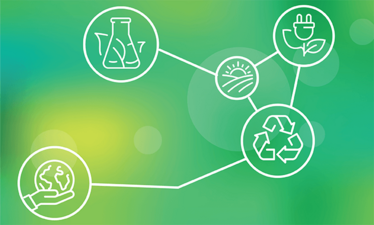 How can companies support their vendors?

As noted previously, some pharmaceutical companies are now requiring their vendors to have sustainable programs in place. This trend will likely continue, pushing more companies to introduce sustainability strategies with more concrete measures and to think bigger about their efforts.
We believe we have a responsibility to help our vendors with their sustainability goals – particularly the smaller companies that do not have the same resources as larger businesses. We've sent surveys to our vendors to understand who is ready to ally with us on sustainability. Not everyone is going to get on board straight away – and right now we certainly don't have all the solutions – but by starting conversations with vendors we can push the issue to the forefront to find a path forward. For example, tube set manufacturers may not yet be looking at sustainable sources for their raw materials, but if they are willing to explore this option, it is a good first step. Any partnerships in this area may also inspire additional partnerships further down the line.
What are the challenges that the industry faces in being more sustainable?

One of the biggest challenges in sustainability for the biopharma industry will be embedding it throughout whole supply chain – from procurement of raw materials all the way to recycling. We don't yet have all the answers, but people are trying different approaches. Collaboration will be required to get initiatives across the board. There are a lot of vendors out there, and if a vendor refuses to engage in finding sustainable solutions, then ultimately, they run the risk of being replaced.
At Asahi Kasei, we like to say, "As the world constantly changes, we will continue to contribute to life and living for people around the world by Creating for Tomorrow." The pharma, bioprocess, and biotech industries all contribute to life and living, but we must go beyond therapeutics. You can't say that you are contributing to life and living in one aspect, but then refuse to contribute to sustainability efforts and reducing the waste and harm produced on an industrial scale. We've already made big progress at Asahi Kasei Bioprocess – with our work on solar panels and the partnerships with vendors being some of our biggest sustainability success stories to date. But there is more to come. Sustainability is not going to stop; in fact, the emphasis on sustainability will only increase – and, in time, it will move beyond emissions and the environment to other aspects, such as community. Whenever we finish one goal at the company, we'll have another one right behind it. I have a great team to support me and what we can achieve is an open book. We will continue to support the biopharma industry by leading the way in both technology and sustainability.
Receive content, products, events as well as relevant industry updates from The Medicine Maker and its sponsors.