Manufacture
Advanced Medicine,
Vaccines,
COVID-19
Don't Shoot the Messenger
Today, mRNA vaccines are playing a key role in suppressing the COVID-19 pandemic. Could they tackle the flu tomorrow? We sat down to ask Russell Basser, Head of R&D at influenza vaccine manufacturer Seqirus, if we should buy the hype.
Angus Stewart, Stephanie Sutton | | Interview
In both Seqirus and the wider industry, how much interest was there in mRNA-based vaccines prior to COVID-19?
Moderna was one of the largest companies involved in mRNA, but research was generally confined to a small handful of groups. As far as the industry was concerned prior to the pandemic, mRNA was untested water. At Seqirus, we were interested in mRNA and had a program in influenza, but, at the time, it wasn't a high priority. We developed a preclinical vaccine and obtained some pleasing data, but we weren't in a position to take advantage or to participate in developing a COVID-19 vaccine once the pandemic began.
The emergence of COVID-19 has probably accelerated the mRNA field by five to ten years.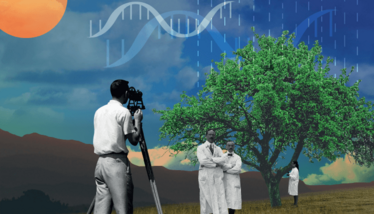 Did people inside the industry expect mRNA COVID-19 vaccines to be so successful?
At the start of the pandemic, there was still quite a lot of skepticism about whether an mRNA vaccine could be developed successfully, as there were relatively few trials before COVID-19. We also didn't know enough about the SARS-CoV-2 virus at the start of the pandemic to say for certain if an mRNA-based approach would work. There were also practical considerations around the supply chain. But Pfizer, BioNTech, and Moderna have done a fabulous job – and the supply chain innovation has been remarkable, particularly early on when not a lot was known about the stability of the vaccines. The flexibility of RNA has helped greatly in generating a COVID-19 vaccine. The identity of the virus was identified and the ability to make mRNA vaccines soon followed, because all that is needed for an mRNA vaccine is a chemical reaction.
One thing that is perhaps not widely appreciated is that without SARS and MERS, the world would still be waiting for a COVID-19 vaccine because we wouldn't have known so early on what the target should be. People understood that the targets used in the SARS and MERS vaccines would probably apply to COVID-19, although it wasn't known how effective these targets would be at generating a response. The COVID-19 vaccines approved thus far have performed brilliantly. The data now coming out in the UK, Canada, and Israel show they are also protecting against the variants much better than we might have expected.
What's your view on COVID-19 booster vaccines? And how might efforts to tackle COVID-19 feed into seasonal influenza vaccines and strategies?
Thus far, there are no recommendations for COVID-19 booster vaccines from any countries, regulatory agencies, or vaccine immunization recommenders. However, that does not mean they will not come. There remains much debate over whether, if, and when a booster injection will be needed. Based on the available data, I suspect it won't be every year; rather, it will depend on how the variants evolve, and what sort of pressure they put on population health. The jury is still out.
In terms of pivoting to flu, mRNA holds much exciting potential. Moderna, for example, had a number of ongoing projects including influenza and infectious diseases before the pandemic. But I think we need to be careful about being distracted by the latest new "shiny thing." With flu, we already have a vaccine. There is room for improvement, but the current flu vaccines have decades of information behind them to show they are safe and effective. With the COVID-19 vaccines, we've seen there can be issues, such as myocarditis in younger people. The COVID-19 vaccines use one protein from a single strain of the virus, but with flu that will be four strains (and ideally more since that will help us to make a more effective flu vaccine), which could introduce challenges and side effects. People don't want to be regularly taking days off work every time they receive their annual flu jab!
I recently attended an Australian online scientific conference on mRNA and there was discussion on another RNA product that is indicated for rare diseases. The results showed positive outcomes for some young boys suffering from one particularly horrible disease. On the other hand, at the conference we also heard about a number of projects which had to be halted because of negative unintended consequences.
The mRNA technology has worked brilliantly for COVID-19, but we need to ensure we use mRNA-based approaches appropriately. In fact, all the vaccine platforms have been highly successful with COVID-19, which suggests to me that SARS-CoV-2 is – fortunately – a good target for the vaccine. However, it doesn't suggest that an mRNA platform is going to make existing vaccines better. There's still much to learn, but I think we can get a little excited about the great outcomes we could see.
In summary, mRNA won't immediately dominate the field, because there are risks attached to it. If we're to continue to protect the public, we must work ethically. If we suggest a way forward that is burdened by risk, then we're not doing our job properly. I believe we developers have a long way to go before we understand how mRNA for seasonal flu fits into that obligation.
How do you think regulations around mRNA might change?
This is the second pandemic where I've been involved in drug development; once events normalize, standard regulations will return. Many of the usual barriers were reduced for COVID-19 drug development because there was a global threat, but that won't last forever. The regulations may not swing back to exactly where they were before, but developers will have to prove safety, dosing, and long term efficacy. The regulators are not going to set the bar low and people who already make flu vaccines will want to be confident that any replacements they make are worth the cost. New platforms don't come cheap either.
How do we prepare for the next pandemic?
I believe that we still need to be ready for the possible event of a flu pandemic. When that day comes, we may have mRNA approaches at the right level for flu, or we may not. It is also worth considering that during a flu pandemic, the populations most at risk are not just older people, but often infants and pregnant women. Until mRNA vaccines have a strong track record, they won't be the solution we need.
For a variety of reasons, flu levels are down from last year. And that means that the world could be a little bit less protected from flu, which is causing some concern right now; if a pandemic did strike, we'd want to disseminate a proven vaccine among the entire population. We wouldn't have time to wait for a flu vaccine to be developed in mRNA, and proven across all age ranges. Put simply, our focus should remain on the strategies that are proven to be safe and effective.
Receive content, products, events as well as relevant industry updates from The Medicine Maker and its sponsors.
---