Manufacture
Technology and Equipment,
Business Practice,
Drug Discovery
Driving R&D With Digital Creativity
Sitting Down With… Anne Phelan, Chief Scientific Officer at BenevolentAI, London, UK
Maryam Mahdi | | Interview

This article was published in our sister publication, The Small Molecule Manufacturer, which celebrates the field of small molecule drug development and manufacturing with interviews and articles focusing on success stories, equipment, and new processing techniques. Read more about The Small Molecule Manufacturer here.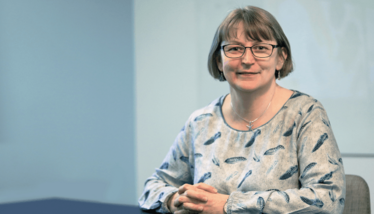 Did you always want a career in pharma?
As an undergraduate, I was entirely unfamiliar with the pharma industry. I had never given any thought to where medicines come from or how they work, which feels ridiculous now! My fundamental interest in science and problem-solving led me to a PhD in genetics, after which I planned to pursue a career in academia.
For my first postdoc, I worked at the MRC Institute of Virology in Glasgow with John Barklie Clements. We were investigating HSV-1 viral host interactions – a very competitive area of research. We needed to make every experiment count. It was a steep learning curve, but it instilled a sense of care and precision in my work.
But nine years of postdocs – though interesting from a pure research perspective – taught me that publishing in peer-reviewed journals and securing grants was not sufficiently fulfilling. I wanted the research I engaged in to have a more practical and tangible outcome – seeing new medicines reach patients and treat the conditions they lived with. I made a career shift from academia to industry 20 years ago and have never looked back.
You spent many years in big pharma before moving to smaller companies. What are the biggest differences?
In a large company, there is an enormously sophisticated infrastructure of support and domain area expertise for every element of the drug discovery process. This enables the most comprehensive discovery programs to be funded and delivered, which is obviously satisfying, but can also be slow and cumbersome. A small company, on the other hand, brings with it a greater sense of autonomy and decision-making, but you have to learn to deliver without the safety net of the pharma support network – and fast. New skills have to be learned quickly and multitasking is essential for delivery, but it is a pace I personally find compelling.
The sheer volume of biomedical literature and the complexity of human biology is an unfathomably difficult area for even the most gifted scientists to traverse unaided. The industry needs the capacity to interrogate and interpret the vast amount of data at its disposal. Well-trained artificial intelligence and machine learning models thrive on this information and clearly represent the potential for a step-change in the way we think about drug discovery and the delivery of drugs to patients.
I joined BenevolentAI in spring 2018 because I was intrigued by the possibility of doing drug discovery differently. Expensive failures in clinical drug development have cost the industry and the patients waiting for these treatments dearly. Now is the time to define a new era in R&D. Using an integrated knowledge graph, as well as machine learning and AI tools, BenevolentAI is working toward discovering the best therapeutic targets, drugs, and treatments for patients – something I'm thrilled to be a part of.
What projects with BenovolentAI are you most proud of?
Back in January, a Benevolent team of researchers – made up of a pharmacologist and a handful of data scientists – used our biomedical knowledge graph to identify approved drugs that could stop the progression of COVID-19, inhibit the cytokine storm, and reduce the inflammatory damage associated with the disease.
Using our predictive tools, they narrowed down the therapeutic options until baricitinib became a clear favorite. The drug, developed by Eli Lilly, is used to treat rheumatoid arthritis. We alerted the company and published our findings in several medical journals. Within a matter of weeks, the drug was administered to patients, including a large global trial by NIAID and Eli Lilly. Baricitinib has since been used in investigator-led trials as a therapy in more than 800 hospitalized patients, with the NIAID trial's latest data showing that baricitinib in combination with remdesivir reduces the recovery time in hospitalized patients with COVID-19.
Though I was impressed by the speed with which the team were able to identify baricitinib, I was not surprised. We would never have discovered this without the years of investment and building our biomedical knowledge graph, which underpins everything we do.
How do you think AI will change pharma's future?
Traditional drug discovery was, and to an extent still is, siloed into specialist therapeutic areas – looking to find the next best target or drug in a predetermined domain. There is little cross-fertilization of ideas or information-sharing, which stifles creativity and limits discovery.
AI, on the other hand, can be integrated from early discovery to clinical testing to remove data silos, and biases and allow for better-quality hypotheses. New technologies can integrate and interrogate data at scale across any given therapeutic area and drug modality. Working in this disease area-agnostic forum, where the mechanistic signature of disease can be evaluated and extrapolated across multiple areas of high unmet clinical need, is liberating for scientists, and will help accelerate discoveries.
Overall, I believe that the partnership of AI and scientific expertise will result in a faster, more cost-effective, inclusive, and efficient drug discovery and development model and expand the search for treatments in typically neglected disease areas.
Receive content, products, events as well as relevant industry updates from The Medicine Maker and its sponsors.