Manufacture
Technology and Equipment,
Small Molecules
Entering Molecules
Drug designers already use molecular visualization tools to help them with their jobs, but virtual reality can take this to a whole new level – while also making you feel like Tom Cruise.
Jonas Boström |
Jonas Boström is a drug designer based in the Department of Medicinal Chemistry at AstraZeneca in Sweden. He has a Masters in Chemistry from Göteborg University, but has always had a keen interest in computers – which he attributes to the two Commodore 64s of his childhood. At an early age, he learned to program in BASIC and would swap games with friends in the schoolyard. After being introduced to computational chemistry in the late 1990s, he decided it was the perfect fit for combining his love of chemistry and computers.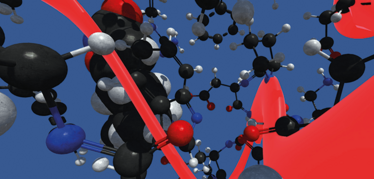 Boström and his colleagues have developed a molecular visualizer tool called Molecular Rift, which creates a VR environment where users can interact with molecules using hand movements. Boström tells us more.
How did you first get interested in VR?
Ever since I saw Tom Cruise moving objects around in augmented reality in the movie "Minority Report", I've wanted to do something similar, but with molecules. And then a talented student of mine (Magnus Norrby) asked if he could do his master thesis in computer science with me. He was very persistent in wanting to use the latest VR technology: Oculus Rift. After six months of creative hardwork we had developed a VR molecular visualizer: Molecular Rift.
We like to think of it as the next generation of molecular visualization.
How does Molecular Rift work?
Molecular Rift creates a VR environment using Oculus Rift goggles. Users can interact with molecules through gestures. We like to think of it as the next generation of molecular visualization. It can, for example, be used to view protein–ligand complexes in a new way because drug designers can step inside a protein and be fully immersed. Remember, all molecules ranging from small-molecule drugs such as aspirin to the famous DNA double helix are 3D objects, which drug designers work with on a daily basis. The first version of Molecular Rift was controlled with the gaming sensor Microsoft Kinect v2 (developed for the Xbox One console), but this wasn't ideal since the Kinect is designed to track a whole body rather than fine finger movements. In version two, we implemented the more advanced Leap Motion sensor, which allowed near perfect accuracy in gesture recognition.
What were the early challenges you faced?
One problem was a supposedly straightforward matter: acquiring the actual hardware. We ended up buying a used (and the last one available on the site) Microsoft Kinect v2 from Amazon in the US – and got a friend of a friend to ship it to us in Sweden. The Oculus Rift goggles were also not easy to get hold of. Technically, it was a challenge to work in a Windows environment, which can be quite restrictive for programmers. We use a few software development kits in Molecular Rift, and it wasn't always easy to get the different versions to play with each other. But, Magnus is a computer whiz kid so all technical challenges seemed trivial to solve. They most probably were not…
What stage is the project at now – and what comes next?
We've just got the code to work with the new consumer version of Oculus Rift, and the open-source Rift version has just been modified to work with the HTC Vive headset by a collaborator in New Zealand. High on my wish list now is the ability to visualize molecular surfaces and manipulate structures. I'm also a believer in the potential of voice recognition. I tried Amazon Echo (Alexa) a while ago and was stunned by how accurate it was. It would be cool to use that with Molecular Rift.
You've also started a new company EduChemVR…
EduChemVR is a company that Magnus and I just started. When I studied chemistry in the late nineties, the lecture halls were full of students but today chemistry is a rather unpopular university subject – seen as dry and dull. I think that's because chemistry is abstract and difficult to understand. Enter EduChemVR. We aim to take a lead in gamifying chemistry education by making VR smartphone apps to engage students and inspire further studies. With EduChemVR smartphone apps and cheap Google Cardboard, teachers and students can be teleported into virtual worlds of atoms and molecules. Molecular Rift requires a high-quality computer and the Oculus Rift goggles, making it relatively pricey. By using Google Cardboard technology, however, we believe that we can reach anyone everywhere; from VR enthusiasts in the western world to impoverished school kids in developing countries. Our vision is to make chemistry the coolest subject to learn.
What are your thoughts on the future of virtual reality in the pharma industry?
A tough question. The pharma industry is facing many challenges right now and it is too easy to down-prioritize IT investments. However, I do know that it is being used in quite a few public relations projects, such as to show how drugs actually work. And some companies are also investing in CAVEs – cave automatic virtual environments – but CAVEs are not the height of VR technology today in drug discovery.
There are a number of VR-skeptics out there. For example, a frequent question we often hear regarding our work is, "Is Molecular Rift more useful than traditional molecular visualizers?" A virtual reality experience is famously indescribable. We can write and talk about all the amazing things one can experience until the sun goes down, but until you get people to try VR for themselves it's just words. Many people don't realize just how cool and useful VR is until they try it. It's like when Morpheus says to Neo in the classic Matrix movie: "Unfortunately, no one can be told what the Matrix is. You have to see it for yourself."
The Machine Maker
As well as potentially changing the way things are done in pharma and biopharma manufacturing, could VR be useful in the design of manufacturing equipment? Bausch+Ströbel, a supplier of pharmaceutical packaging machines, created a "Virtual Reality Center" in 2011. We spoke with Thomas Bühler, sales group leader at Bausch+Ströbel, and Tobias Hörner, who is in charge of the company's VR system, to get their take on how VR is revolutionizing machine making.
How did Bausch+Ströbel get started with using VR?
The automotive and aviation industries can be considered the pioneers of VR technology. Other industries, including the special machine building industry, have been using VR in marketing for quite some time already so it was only natural that it piqued the interest of several Bausch+Ströbel employees as we specialize in building machines! Some of our salespeople, engineers and students analyzed possible applications and the results of the analysis and a presentation of the system convinced our management of the potential benefits.
How is VR used within the center?
We are using VR in a number of ways, including: virtual mock-up studies, design reviews, safety studies, ergonomic studies, failure mode effects analysis, training, machine redesign assessments, computer-aided engineering and air flow visualization.
We also use the technology for marketing purposes, such as giving customer or trade show presentations. It can also be used for assessing animated processes.
How did employees react to the technology at the outset?
When we introduced the VR system, our customers and staff were quite curious. At the beginning, it was strange for everybody to work with a machine mock-up that they could not touch – it was a very different sensory experience. Still, the spatial view and fine details of the machine model were convincing and it wasn't long before curiosity transformed into continued support of the technology. We've been working with VR for a few years now and there are benefits for our customers and us.
Benefits for customers:
VR technology saves time in project work.
Customers can get involved in early project planning.
Our processes and work flows are more efficient and transparent to the customers.
We found that the fault rate in virtual mock-ups was zero percent.
Applying VR technology has been cheaper than any alternative technologies.
Benefits for our company:
We can use the system to demonstrate machines that we have already built. As we offer a wide range of machinery, we often do not have real machines to show to potential customers.
We can involve our customers more closely in the product development process, increasing their acceptance of our technological solutions.
New design features can be tested and implemented much faster.
Receive content, products, events as well as relevant industry updates from The Medicine Maker and its sponsors.