Manufacture
Bioprocessing - Upstream & Downstream,
Bioprocessing - Single Use Systems
Facing the future
Why could next generation bioprocessing be so valuable for the biopharma industry? A supplier and a manufacturer share their views.
Jonathan Souquet, Merrilee Whitney |
sponsored by MilliporeSigma
Contributors
The Supplier Perspective
Merrilee Whitney, Head of Next Generation Bioprocessing, MilliporeSigma, is a chemical engineer by training. "Our business unit is not directly involved in drug discovery or the manufacture of commercial drugs, but our products do contribute and that is really motivating for me," she says. "Next generation bioprocessing is a newly emerging, complex area, and there are a lot of questions that need answering, and a lot of problems to be solved. The chemical engineer in me is really excited to be involved in this field."
The Manufacturer Perspective
Jonathan Souquet is Head of Technology and Innovation for Bioprocess Sciences within the healthcare business of Merck KGaA, Darmstadt, Germany. Part of his role is to design, develop and deliver a strategy for a next generation manufacturing platform to support the emerging pipeline. He says, "I've always been interested in technology, but the appeal of Bioprocess Sciences is that it sits between discovery and commercial operations, and is an applied science aimed at translating research output into a manufacturing environment. Solving the challenges in today's bioprocess operations is very rewarding as it is a relatively immature industry with significant scope for advancement."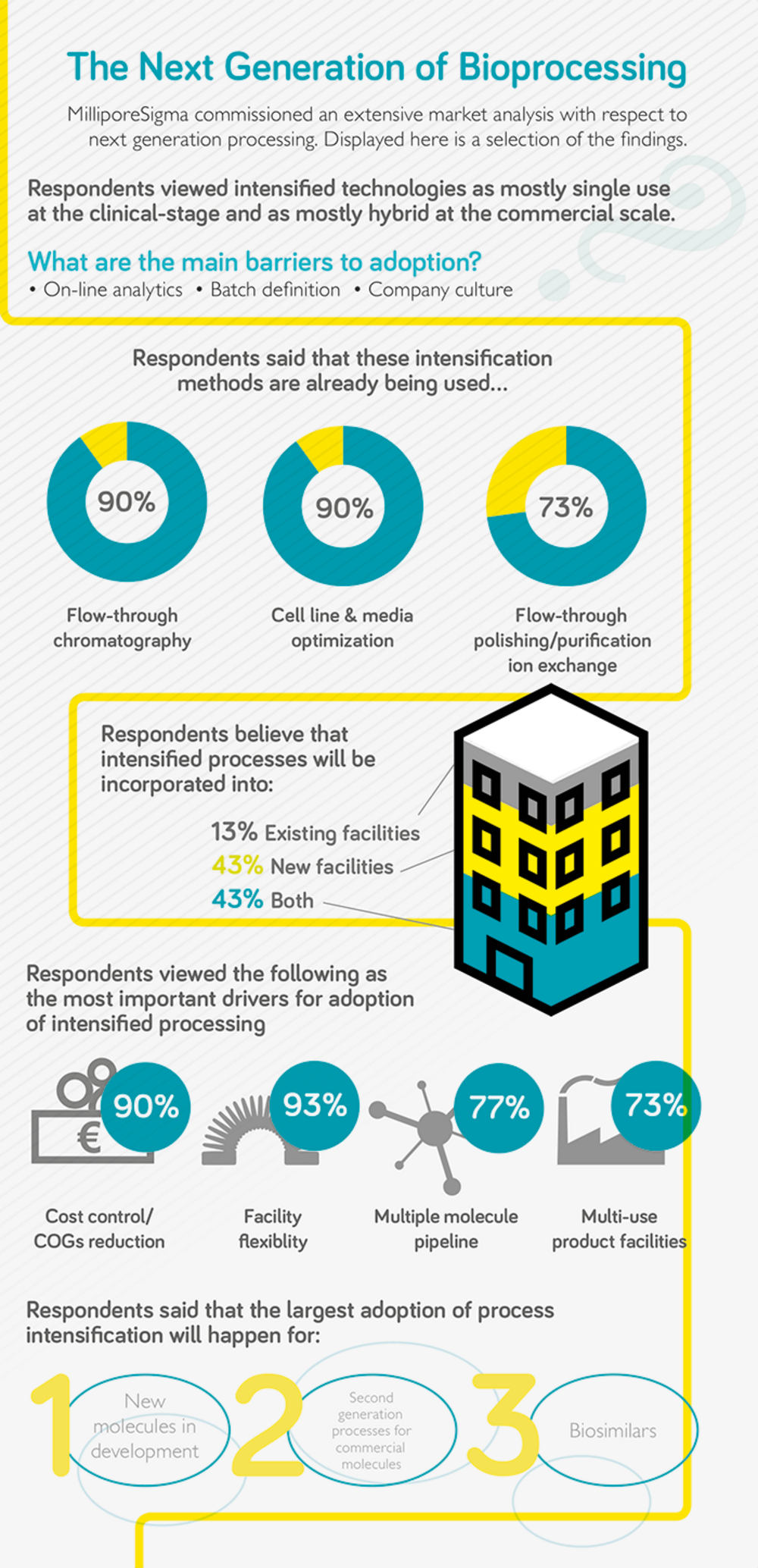 What are the key challenges shaping the future of bioprocessing?
Jonathan Souquet (JS): From a development perspective, pipelines are diversifying and molecules are becoming increasingly complex. Some of today's processing technology platforms are not adapted to new molecular formats, which can bring about unprecedented challenges that we, developers and manufacturers, have to resolve quickly and efficiently. In addition, clinicians are becoming very creative in terms of reducing clinical development timelines and, therefore, time to establish a viable manufacturing process is becoming limiting. For some oncology products and indications, there are no longer phase II trials, while regulatory authorities are also establishing accelerated pathways for breakthrough therapies and products addressing unmet needs. R&D strategies are also focusing on increasing the number of candidates in the pipeline to mitigate against high attrition rates in clinical development. In order to maximize candidate numbers we must minimize the effort and resources deployed on any one asset, which leads us to find technology solutions to improve efficiency and effectiveness of bioprocess development.
There are also considerable commercial challenges facing the industry. There is significant competition in the marketplace – with similar therapeutic modalities aiming at identical targets with similar modes of action. In addition, pricing pressures are increasing through globalization towards emerging markets, and drug costs being increasingly challenged by payers and health authorities. Added to all of this is a high level of volatility – it is very difficult to predict what manufacturing capacity is required and when it will be needed to supply a future portfolio. Excess capacity should be minimized as it results in significant costs, but under-estimating capacity needs would limit supply to the market and impact patient access, as well as potential market share.
Merrilee Whitney (MW): Bioprocessing today, especially for monoclonal antibodies, is a well-established process – not only from a technology perspective, but also in terms of regulations. Biopharma companies understand what they're doing, what they need to measure and how to validate a process. Suppliers, like ourselves, also understand the field and know that we need to develop efficient products, and demonstrate the performance and claims of products from a scientific standpoint. But although bioprocessing is fairly mature, is it really meeting the true needs of today's industry? And will it be suitable for the future, given that more and more biopharma products are being developed? As Jonathan said, there are many challenges facing the industry and I feel that current processing models and approaches have been pushed as far as they can go in terms of flexibility, utilization, risk mitigation, and speed to market. If we want to see real step changes in manufacturing costs, efficiencies and plant utilization now, then we need to look at bioprocessing in a new way – which will involve new technologies and methodologies. A number of stakeholders in the industry are now focusing on the possibility of developing a connected, fully continuous bioprocess. Of course, revolutionizing biomanufacturing is never easy and there are many questions to answer. How do we validate new products and technologies to show performance? What will regulators want to see? How do we define a batch in the future if we move to fully connected, continuous bioprocessing? Manufacturers, suppliers and regulators need to be working in lockstep to answer those questions.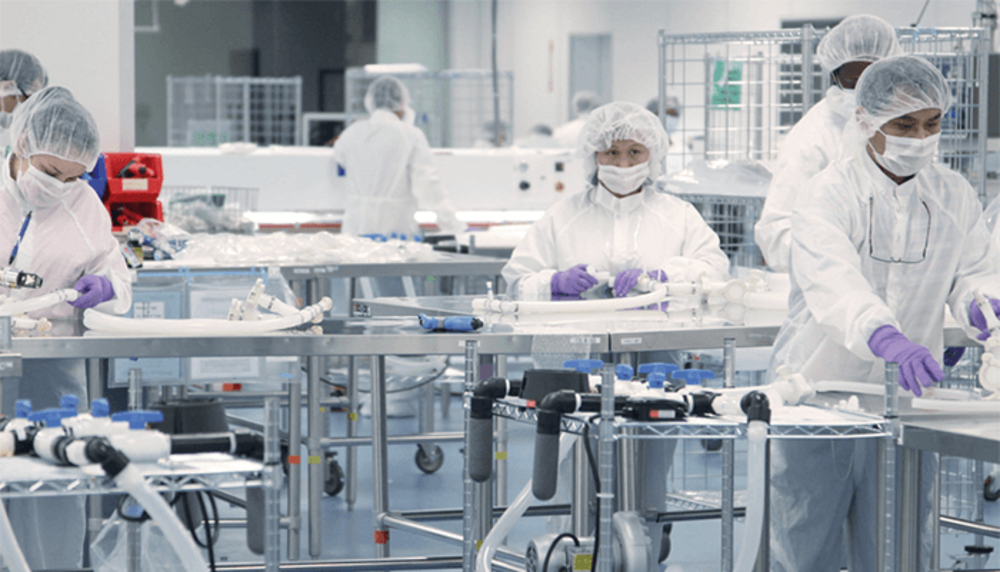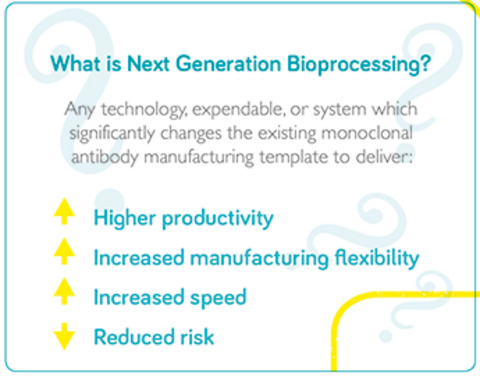 What is "next generation" bioprocessing?
JS: The industry needs to be much more efficient in how it manufactures and supplies products. Manufacturing platforms need to be agile, able to adapt to specific requirements, extend capacity rapidly, and be responsive – able to react to market demand quickly. A key enabler is to establish high performance processes, which will reduce the manufacturing footprint and, hence, lead time to adapt and establish manufacturing assets, significantly mitigating risk of uncertainty in capacity needs. Today's facilities take an average of 5 years to build and commission, but future facilities will target 18 months. Process intensification will also decrease cycle time to produce and release product, facilitating an on-demand supply chain. Both of these characteristics, reduced footprint and cycle time, will also have a significant impact on capital and operational costs. This is where "next generation" technologies and methodologies come into play as a means to increase the performance of manufacturing processes. There is no established industry standard for what next generation manufacturing looks like; every organization has their own flavor as the industry is exploring potential technology solutions, but perhaps in a few years the industry will start to converge towards one or two overarching platforms. Right now, everyone is addressing their own unique challenges and prioritizing based on their most pressing needs, resulting in significant diversity. Continuous bioprocessing is seeing a lot of attention, but implementation seems to be slow. In my view, next generation bioprocessing is about targeting high productivity, high intensity processes – and continuous mode manufacturing operations are a significant contributor either as a full end-to-end integrated process or as a hybrid setup.
MW: There are many different definitions in the industry. For some people, next generation bioprocessing means a completely single-use manufacturing facility; others think it is a fully connected and fully continuous process. From my perspective, the goal is the latter, but the true definition of next generation bioprocessing is the technologies that will get us there. I consider next generation to be any technology, expendable, or system which significantly changes the existing monoclonal antibody manufacturing template to deliver higher productivity, increased manufacturing flexibility, increased speed, and reduced risk. The fact is that we need more flexible approaches to biopharma production and the evolution is already underway with the intensification of specific unit operations. Companies are now looking at how they can connect those operations together, with the ultimate vision being a fully connected, fully continuous process involving intensification, single use, process analytics, and monitoring. The big challenge will be jumping from process intensification to connection, but I'm seeing a lot of resolution in the industry to get there.
There are clear benefits in terms of reduced footprint and capital, and improved product quality.
What technologies do you think are the ones to watch?
JS: The approach to next generation manufacturing technologies at the healthcare business of Merck KGaA, Darmstadt, Germany, is focused on two main areas. We have a significant amount of installed capacity that we seek to maximize and we are also working on our future manufacturing model in anticipation of new facility needs as a result of a rapidly growing pipeline.
Advanced process and quality control analytical applications will play an important role in next generation manufacturing, as well as automation and digitalization, including data management and modeling. Technologies that enable a highly integrated and parallelized manufacturing operation with reduced volume requirements will come to the fore. One particular example encompassing a challenge that is often underrated is the buffer bottleneck. The amount of buffer required for a process is not a function of the process scale, but a function of the quantity of product that is being produced. Therefore, even if the core manufacturing process is shrunk through intensification, similar amounts of buffers will be required. Technologies and methodologies with the ability to reduce the amount of buffer, and the numbers of individual formulations will have a significant impact on manufacturing cost and footprint requirements.
MW: There are new technologies across the board. Perfusion has really made a big difference in upstream processing because it allows you to increase the productivity of the capital intensive upstream stage. Many companies are leveraging perfusion in a hybrid way; for example, they may run their inoculum and seed train in perfusion mode and then move to fed batch. The industry is also looking to optimize not just the operation of the bioreactor, but also its feeding strategies, the cell culture media, and other ancillary operations. Importantly, the industry needs to look at how to most efficiently handle the media that is going into the bioreactor for perfusion – because when you operate in perfusion you increase your media consumption by around three times in terms of volume. Technologies focused on media management will perhaps be compelling for manufacturers in the future.
Looking downstream, systems for continuous multi-column chromatography are improving, but it is also necessary to optimize chromatography technologies. There is some interesting work going on there, as well as in the flow-through polishing piece, such as cation exchange and anion exchange. For instance, our recent acquisition of Natrix Separations, Inc. and its unique single-use membrane chromatography technology platform that is capable of delivering high productivity and impurity removal in a single-use format. These products are compact and single use, eliminating validation, cleaning, sanitization, and storage, while also enabling flexible downstream processing; an ideal fit with intensified processing. I also find in-line viral inactivation fascinating because it's very beneficial in terms of establishing a truly continuous process. If you can perform an inactivation step in a continuous mode of operation, rather than in multiple large hold tanks, then it could have a positive impact on capital investments. There are clear benefits in terms of reduced footprint and capital, and improved product quality. Not only will the large tankage be eliminated, but it can be done in a way that meets regulatory requirements and overcomes the hurdles and validation strategies associated with in-line viral inactivation.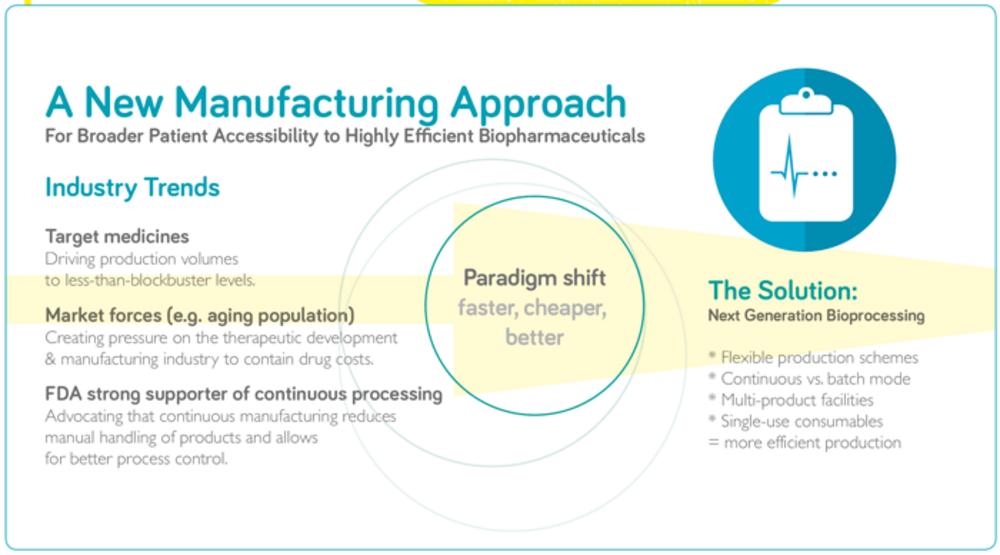 What advice would you give to a company that is curious about next generation bioprocessing, but unsure of where to start?
JS: There are many opportunities in leveraging next generation technologies to alleviate manufacturing bottlenecks. I would recommend not to fully commit before identifying the value and applicability of the solution. There is a wide palette of "next gen" bioprocessing technologies being developed, and there is probably something to meet everyone's needs, but specific challenges should be approached in a methodical way to ensure the application is fit for purpose and results in a robust solution. In the healthcare business of Merck KGaA, Darmstadt, Germany, we have established a technology development workflow with well-defined stage gates to ensure a successful implementation and to maximize the value of our innovation process. We start by analyzing our needs and gaps, and look for solutions to resolve them through ideation exercises. Then, we embark on an exploration phase where a number of technologies and/or methodologies are tested or developed, before moving into a proof of concept exercise for the most promising candidates. Once proof of concept criteria are met, the selected solution is taken through a feasibility testing cycle, normally incorporating a scale-up prior to implementation into our routine operations. Overall, I strongly believe it is important to be curious and to take the time to explore new technologies. The industry is ever changing and you can't keep still if you want to be competitive.
MW: At the outset, it is important to have an idea of what you're trying to achieve and the bottlenecks you are facing. My advice is to obtain a good understanding of what connecting processes means at the bench scale first, because addressing the challenges early on will make it easier when you are moving to the larger scale. Partnerships are also going to be incredibly important if we want to move into this new generation of advanced bioprocessing. Suppliers, like ourselves, have a role to play since we are developing solutions to help manufacturers overcome the challenges of next generation bioprocessing. Each molecule and manufacturer is unique with different processing priorities. Working with a vendor offering a wide portfolio of manufacturing options, coupled with deep technical expertise enables manufacturers to best tailor processes to meet their needs. Partnerships with regulators will also be crucial.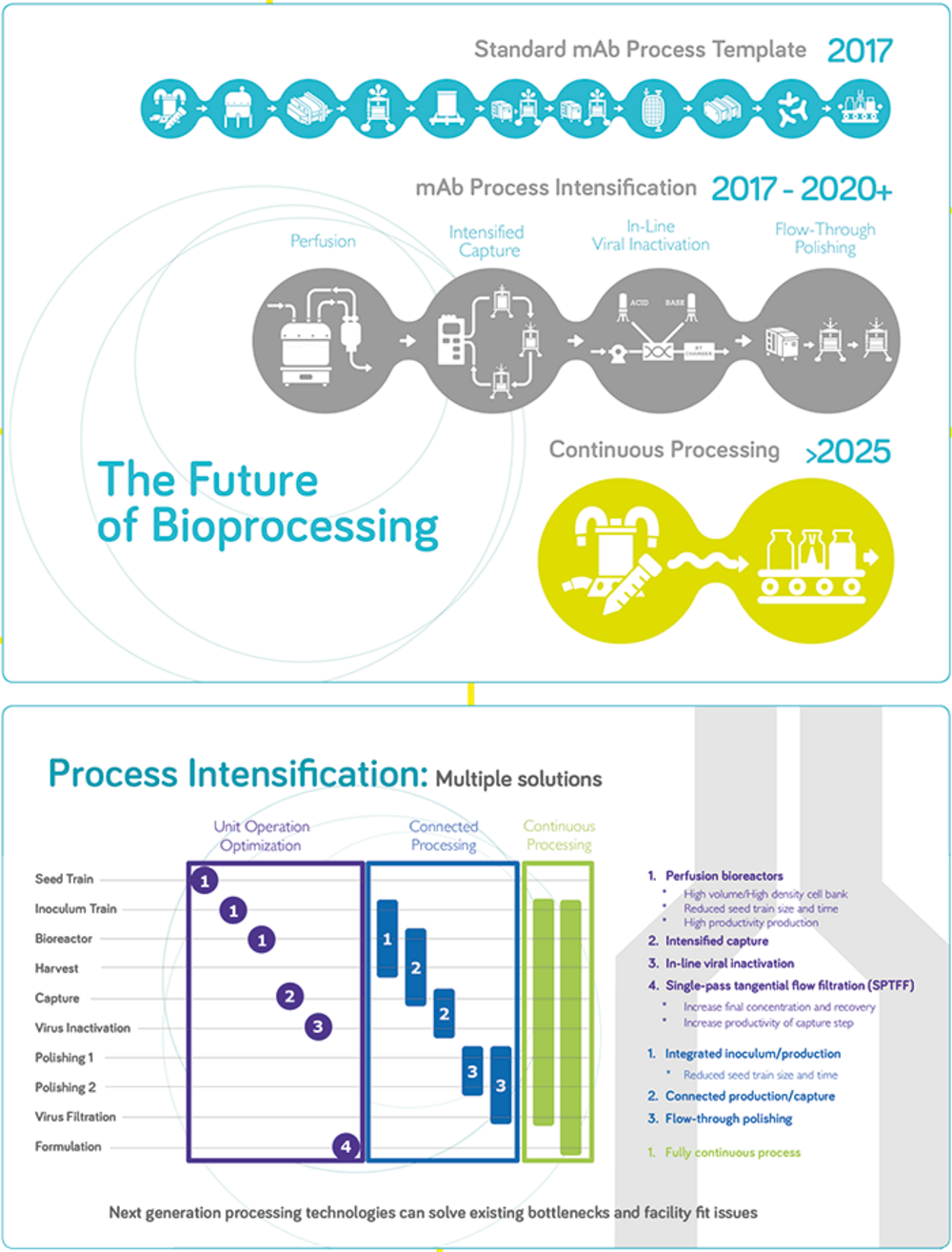 How are MilliporeSigma and the healthcare business of Merck KGaA, Darmstadt, Germany collaborating to usher in the next generation of bioprocessing?
JS: We are part of the same parent company and we have established a strong collaboration model between the two businesses. The healthcare business provides MilliporeSigma a clear viewpoint on the development and manufacturing challenges being faced in the industry, an early customer voice in the technology development process and real world case studies to apply prototypes, helping Merrilee and her colleagues to ensure that their products and solutions are relevant. In return, the healthcare business gets early access to new technologies influencing the process to meet our exact needs. We view the collaboration as highly synergistic with complimentary skills sets and know-how, with an overall impact of accelerating the technology development process.
MW: Our collaboration with the healthcare business has given our engineers and scientist the opportunity to observe real-life challenges in bioprocessing – and help overcome these. The fact that we are both part of the same organization has made for a really open collaboration. We want the right products and solutions to help our customers drive down cost and increase the flexibility of their facilities. The healthcare business is looking to make significant advancements in terms of flexibility, infrastructure and being ready for the future, so they are looking for new technologies and approaches to make their lives easier, and to help them get the most out of their current facilities. Our goals are aligned, with both businesses demonstrating a strong dedication to next generation bioprocessing.
Enjoy our FREE content!
Log in or register to gain full unlimited access to all content on the The Medicine Maker site. It's FREE!
Login
Or register now - it's free!
You will benefit from:
Unlimited access to ALL articles
News, interviews & opinions from leading industry experts
Receive print (and PDF) copies of The Medicine Maker magazine
About the Authors
Jonathan Souquet
---
Merrilee Whitney