Manufacture
Vaccines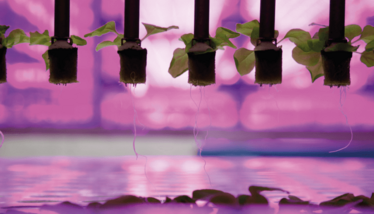 At the start of April 2020, the global number of confirmed COVID-19 cases was rapidly approaching 1.5 million; the death toll: over 80,000. And these numbers will likely have changed substantially since the publication of this article. A vaccine is urgently needed. Pharma companies are scrambling into action with vaccine candidates and early trials, but drug development will take time. Some companies, however, are taking a different approach by introducing technologies that could help with research or manufacturing. As just one example, iBio is hoping its technology can help accelerate manufacturing and scale up for a potential vaccine. The company is developing a new vaccine for COVID-19 and has partnered with Beijing CC-Pharming to test the vaccine in China. The vaccine will be produced using iBio's FastPharming system – a manufacturing technology that uses plants for rapid scale-up. We speak with Robert Erwin (President) and Sylvain Marcel (Vice President of Protein Expression Sciences) from iBio to find out more.
What are the challenges when it comes to developing a vaccine for a new virus, such as SARS-CoV-2?
There are challenges to developing any safe and effective vaccine, but even more so once an outbreak has already begun. First, a scientific team must determine which and how many targets to focus on to create vaccine candidates that will produce a protective immune response. Just producing an immune response is relatively easy, but producing an immune response that is protective and durable is not. In addition, the vaccine candidate must not produce a harmful immune response that might cause unwanted side-effects, or potentially even make a person more susceptible to viral infection – an effect referred to as "antibody-dependent enhancement." This was a serious problem in past attempts to develop a safe and effective vaccine against Dengue fever.
We felt a responsibility to take a proactive role in the response to SARS-CoV-2, especially as our FastPharming facility was purpose-built for just this kind of scenario. We've made our advanced manufacturing systems available as a CDMO, while at the same time developing our own proprietary vaccine candidates.
Not every company has the appropriate enabling technologies and capabilities, but there are definitely roles for big pharma companies to play in this response. This can be by directly supporting the efforts of companies pursuing vaccines and therapeutics for SARS-CoV-2, or simply ensuring that there are no critical interruptions in the supply chains of any necessary medicines.
One thing that this pandemic has absolutely made clear, however, is that there is a crucial need for governments to proactively provide funding to ensure that we develop robust, sustainable response capabilities so that we are collectively better prepared to respond to future pandemics.
Why must research teams consider manufacturability even at the early stages of development?
A vaccine must be administered to large numbers of people at a reasonable cost to be effective in preventing disease spread within populations. To be practical, the vaccine must be priced affordably and obviously produced in large quantities. Any inefficiencies in the manufacturing process – or stability and storage problems with the vaccine – will extend the time required for production and raise the cost. An excellent vaccine design that cannot be turned into high-quality, finished pharmaceutical product at a reasonable cost is not worth much in practical terms. In addition, scalability and ready access to large scale production is critical, as the time required to build a production facility that meets regulatory compliance for a vaccine takes years.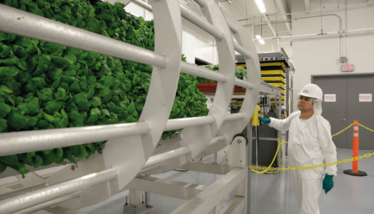 What's the story behind the FastPharming facility? And how did the Defense Advanced Research Projects Agency (DARPA) get involved?
iBio's FastPharming facility was originally constructed in 2010 with funding from the Defense Advanced Research Projects Agency (DARPA), part of the US Department of Defense, which was exploring a range of technologies that could enable faster responses to outbreaks. Plant-based expression technology won out, and the facility was one of three commercial sites comprising the "Blue Angel" initiative.
As part of the DARPA Blue Angel H1N1 Program, the facility was designed and built to manufacture kilogram quantities of recombinant proteins within months versus the historically longer time frames needed for more traditional systems. Its rapid launch to production has been designed specifically for medical countermeasure responses.
Today, iBio's site in Bryan/College Station, Texas, is among the largest cGMP-compliant biotherapeutic production facilities in the world for the production of recombinant protein in N. benthamiana, with a capacity to produce bulk clinical protein at the scale of 0.5–1 kg per month, or 15–30 million doses/month (at 30 μg/dose). The site is equipped with automated hydroponics and vertical farming systems for the production of a wide array of biological medicines.
Why did you choose to focus on plant-based production?
Unlike traditional cell-culture bioprocesses that are performed in stainless-steel or single-use bioreactors, the FastPharming system uses plants as bioreactors. The gene or genes encoding the protein or proteins of interest are temporarily transfected into the leaves of our hydroponically-grown plants. Pharmaceutical proteins accumulate in the leaves as the plants grow over a period of 4 to 7 days, and the leaves are then harvested. The protein is isolated, purified, and formulated into the desired drug or vaccine product. The plant we use is a relative of the tobacco plant.
During a pandemic, having the ability to rapidly scale, with confidence, is invaluable.
Plant-based production saves months in initial setup time compared with traditional pharma manufacturing methods, and there is no need for expensive, labor-intensive, cell-line development. The risks and delays associated with manufacturing scale-up are also reduced – it's easy to grow more plants. In addition, the protein for pharmaceutical use obtained during the research stage is highly comparable to the protein obtained at the commercial scale. During a pandemic, having the ability to rapidly scale, with confidence, is invaluable.
How and why did you partner with Beijing CC-Pharming?
We began working with CC-Pharming back in 2018, with an initial focus on an anticancer antibody and the design of processes and facilities for manufacturing in China. The original agreement was written in the expectation that iBio and CC-Pharming would eventually select additional product candidates for joint development and commercialization. When it became clear in mid-to-late January that the new coronavirus was going to be a problem, the companies agreed to work together to design, produce and test vaccine candidates. We plan to have CC-Pharming test our proprietary vaccine candidates in China. We will soon enter the in vivo testing phase with one or more candidates, and expect further evaluation and development to occur in both the US and in China.
Receive content, products, events as well as relevant industry updates from The Medicine Maker and its sponsors.