Manufacture
Bioprocessing - Upstream & Downstream,
Business Practice
Future-Proofing Aseptic Filling
How the thoughtful adoption of new technology can both problem-solve and future- proof critical processes in biomanufacturing
Adam Pinkert, Áine Brennan | | 6 min read | Practical
sponsored by Cytiva and Resilience
For any forward-facing biomanufacturing service provider, it's crucial to keep on top of new technologies and be ready to meet new industry trends and challenges. Resilience is a technology- focused biomanufacturing service provider that can support end-to- end services for the development and production of biologics, vaccines, cell and gene therapies, and mRNA products. The company was established in 2020 with the aim of addressing two major challenges faced by the biopharma manufacturing industry: a shortage of manufacturing supply chains capable of withstanding disruptive shocks (a clear issue during the COVID-19 pandemic) and a lack of scientific advancements in biopharmaceutical manufacturing. Manufacturing has not kept pace with innovation in therapeutic discovery, which is preventing new modalities from reaching patients at speed. To address these challenges, Resilience focuses on implementing flexible technologies.
Resilience works in numerous therapeutic areas, including biologics, vaccines, nucleic acids, cell therapy, and gene therapy, spanning platform technology and development, process and analytical development, and cGMP manufacturing. With increasing demand for advanced therapeutics, Resilience has pivoted between products quickly and adapted to the ever-changing needs of clients.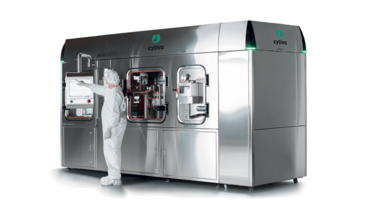 Adopting the right technology

In its ongoing search for flexible solutions, Resilience recently invested in two Cytiva SA25 aseptic filling workcells, which are currently available and ready to use, for its manufacturing site in Florida.
Resilience was looking for a filling solution with a small footprint that could handle multiple products, with quick changeover times and high product quality output. After investigating several options, the company chose Cytiva's SA25 – a fully closed, gloveless, robotic isolator that can fill nested vials, syringes, and cartridges (from 0.5 mL to 50 mL) with high levels of accuracy and consistency. All material handling is robotic, with no conveyor belts or crimp capping, to help ensure the sterility of the environment.
The system is suitable for a wide variety of emerging therapeutics, including mRNA, biopharmaceuticals, and cell and gene therapies. And because the system operates within a closed, robotic aseptic filling workcell, the risk of product contamination is significantly reduced. The robotics eliminate the need for operators to intervene in the process with the use of traditional, and cumbersome, cleanroom gloves that limit dexterity. The use of robotics not only eliminates operator interventions, it increases filling accuracy and consistency, enabling higher product quality and yield.
Another key feature of the SA25 for Resilience was the speed of deployment. For any busy manufacturer, speed is key. Every SA25 machine is standardized with pre-qualified components that enable rapid machine changeovers (less than one hour) between runs, keeping the output rate high. It also means that any product validation work performed on one machine effectively validates every other machine because they are the same. Overall, these features help manufacturing service providers to move their customers' products to the clinic faster.
Key Questions Answered
What are the main advantages of the SA25?
Flexibility. The SA25 can fill a range of final product packaging, including nested vial, syringe, or cartridge formats ranging from
0.2 to 50 mL. Cytiva says that users can change between formats within around 45 minutes.

Reduced risk. The integrated gloveless robotic isolator design intentionally removes the need for operator intervention. The intelligent automation oversees every aspect of the aseptic process and reduces the risk to drug product quality.

Speed to market. The SA25 is a standardized system that can be installed quickly and easily adopted. Cytiva sees customers regularly reach GMP production within 15 months after purchase.
Can you use pre-sterilized and packaged vials?

Yes. Pre-sterilized and packaged vials, syringes, or cartridges are supplied in sealed tubs, usually sterilized with radiation or EtO2. Single-use components are compatible and standardized for the SA25.
How does the system remove the Tyvek lid?

When the components enter the filling chamber, they are handled by the tray- robot and a peel tool. This removes the Tyvek within the filling chamber. The system uses a vision process coupled with robotic handling to remove the first Tyvek layer, then a secondary action to remove the inner layer of the packaging, giving full access to the containers within.
What is the time from fill to storage?

At Resilience, as the tubs are coming off, they move directly into the visual inspection area prior to cold storage (or any other chosen storage conditions). Depending on the filling speed, and how fast the visual inspection is performed, the process usually takes between 4–8 hours from initial fill to storage.
Can the system accommodate PUPSIT testing?

The SA25 is designed to allow for PUPSIT testing of the external sterilizing filter. Cytiva also has a dedicated team that can help design alternative approaches to PUPSIT, if required.
The design behind the system

Cytiva is a well-established provider of high-quality technologies and services for the biopharma drug development industry, covering drug development, drug substance, and drug product. In 2021, Vanrx became part of Cytiva, bringing its expertise in aseptic filling, the final step of the biomanufacturing process. By improving this process, biomanufacturers can bring their novel therapies to patients faster.
The design of the SA25 concentrates on the fundamentals of quantitative risk management: identify the risk and then remove the path to that risk. Over the years, aseptic filling has made significant advances, including the introduction of RABS and gloved isolators, but the SA25 goes a step further by completely eliminating the human operator from the core of the process. Given that human intervention in aseptic processing is the leading cause of contamination risk, a fully enclosed robotic system mitigates that significant risk.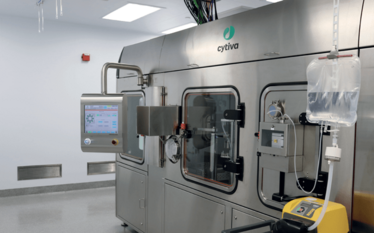 The SA25 comprises two chambers. The first is the decontamination and staging isolator (DSI), which is a material transfer airlock designed and qualified to meet ISO 5 particle limits. The tubs of ready-to-use primary container enclosure units are loaded and external surfaces are decontaminated with hydrogen peroxide before entry into the filling chamber. The DSI carousel can hold 24 container tubs and eight closure tubs, depending on the chosen format. The second chamber is the fill isolator, the main aseptic processing unit, where the primary containers, closures, and drug products are combined in a controlled environment to preserve product sterility. The results include increased product and patient safety. For this reason, the SA25 has become a standard system for many leading biopharma companies and has been part of the journey to bring several clinical and commercial products to patients.
In addition, the system has been designed to take advantage of single-use/ready- to-use components (either standardized or customized) and a proprietary needle (available in sizes of 0.8 to 3.2 mm). An environmental monitoring swab sheath allows safe, non-aseptic installation of the flow path during batch set up, which maintains integrity prior to decontamination of the fill isolator.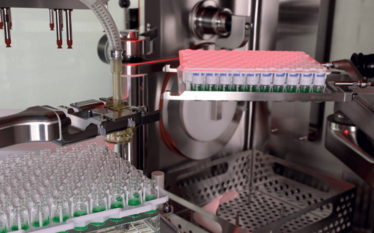 Setting up for success

Speed and flexibility are essential for the success of a biomanufacturing service provider – and new technology can help achieve these important goals. Resilience believes that technology like the Cytiva SA25 can help the company remain agile and responsive to clients' ever-changing needs. The system is helping the company maximize valuable manufacturing space and increase production capacity, while improving process quality through a dependable assurance of sterility, reproducibility, use of high-grade components and, importantly, removal of human error via the robotics. Together, these characteristics promise high product quality and allow Resilience to face the future with confidence.

If you'd like to know more about this topic, then check out this webinar on future proofing aseptic filling
You can also contact:
Nithin Stephen, Director, Commercial Development - Drug Product at Resilience
Scott Harper, Head of Business Development, at Cytiva Aseptic Filling
Receive content, products, events as well as relevant industry updates from The Medicine Maker and its sponsors.
---