Manufacture
Bioprocessing - Upstream & Downstream
High Intensity Purification
How multi-column chromatography can support companies as they set their sights on intensified bioprocesses
sponsored by Tosoh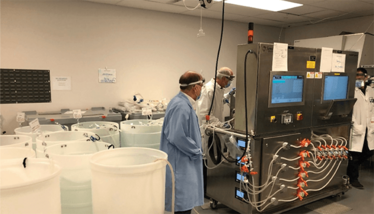 The biopharmaceutical industry is constantly reaching new heights. Driving the sector's continued success is investment in a diverse array of products and processes. From biosimilars to viral vectors to bispecific antibodies, companies are pursuing various drug modalities. But as companies continue to explore the potential of these new therapeutic avenues, they are also focused on process intensification to increase productivity – and that demands closer scrutiny of equipment choices in all bioprocessing steps. Here, Anthony Grabski, Global Technical Leader of multi-column chromatography (MCC) instruments and applications for Tosoh Bioscience, and Emily Schirmer, Senior Director, Process Development, Catalent Biologics explain why Tosoh's upcoming MCC product launches – Octave® BIO and ProGMPTM Systems – can help companies achieve their bioprocessing goals.
How are bioprocessing needs changing in the industry?

Companies no longer want or need to deal with the large stainless steel equipment, and buffer and resin volumes associated with batch processes.
Schirmer: From large pharma companies to contract manufacturers, there are several trends that are changing the industry landscape. We are seeing the addition of larger volume bioreactors,a trend towards optimized cell line development, and increased use of process intensification and continuous processing methods to drive higher productivity. These technologies and product development approaches have enabled a significant increase in the amount of material that can be generated upstream. This increase in upstream material means there is a need for efficient downstream purification methods – to avoid bottlenecks and reduce manufacturing footprints.
What role can MCC play?

Grabski: MCC fits the growing industry trend of switching from batch to continuous processes and meets the four design principles for biofacilities of the future: fast, flexible, small, and sustainable. Companies no longer want or need to deal with the large stainless steel equipment, and buffer and resin volumes associated with batch processes. MCC relies on a series of small columns instead of one large column, reducing the total resin volume required by as much as 90 percent. The various operations of the process protocol (loading, washing, elution, and cleaning) are carried out simultaneously in different columns under the control of individual pumps. Periodic switching of the inlet and outlet streams to downstream column positions via a valve system executes the progression of process steps in a continuous cycle. MCC also allows maximum productivity as mass transfer to the Protein A chromatography resin allows the total capacity of columns to be reached as fast as possible while maintaining high purity and recovery.
As the industry looks to overcome the bottlenecks that can occur during process intensification, I believe that MCC can offer a pertinent solution.
Ultimately, MCC opens the bottlenecks that companies typically experience and provides significant economic advantages over traditional batch methods for mAb purification, including 3–10-fold increased productivity, 85–95 percent resin capacity utilization, 30–50 percent reduced buffer consumption, decreased column volume, and smaller versatile process skids.
All very impressive! But what makes MCC technology most important to me is the patients treated with the mAbs and biologic therapies manufactured using it. I hope MCC will make biological medicines more affordable and available, producing the highest quality, safest, and most effective treatments possible for those who need them.
Schirmer: Protein A can be costly – often requiring a large upfront investment to establish the downstream process. The investment required for expensive chromatography matrices is limiting for many of our partners, especially small biotechnology companies. But this can be avoided using MCC because it reduces resin usage. As the industry looks to overcome the bottlenecks that can occur during process intensification, I believe that MCC can offer a pertinent solution.
What's the story behind Tosoh's upcoming MCC launch?

Grabski: The Octave® BIO and ProGMPTM Systems are based on MCC technology developed by Semba Biosciences. Semba's in-house research focused on developing MCC methods for Protein A capture of mAbs. After screening many commercial Protein A resins, Semba found that TOYOPEARL® AF-rProtein A HC-650F from Tosoh Bioscience had the best combination of capacity, flow properties, and resulting product purity to achieve the highest productivities when used on Semba's MCC Systems. These findings and additional superior MCC results using other TOYOPEARL resins for mAb polishing led to a strong partnership with Tosoh Bioscience – and then Tosoh's acquisition of Semba in 2021.
The new Octave® BIO works particularly well with Tosoh Bioscience's SkillPak pre-packed columns; this powerful combination offers customers a single-source solution for robust, flexible, and rapid MCC process development.
What sets these systems apart?

Grabski: The Octave® BIO and ProGMPTM Systems paired with TOYOPEARL® AF-rProtein A HC- 650F resin allow flow rates of >600 cm/h and loading residence time as short as 0.25 min for Protein A adsorption of the mAb versus 4 min or more in a single column batch process. As all non-loading steps are carried out simultaneously in the other columns, there is no delay in completing each step. The entire Protein A capture is achieved with greater speed and efficiency than a single column process. Flexibility is afforded by adjusting the column number, size, and configuration to suit feed and adsorbent properties, accommodate all process steps, and satisfy run time requirements.
How are customers benefiting from the systems?

Schirmer: Catalent had been considering alternatives to traditional batch chromatography to address process intensification upstream. And that's how our partnership with Tosoh came about. We worked with Tosoh's MCC systems and completed several pilot and manufacturing scale runs. The results clearly illustrated the potential to make significant time and cost savings for our partners. The automation the systems provide is also beneficial to the manufacturer with respect to operator time.
How can companies learn more about MCC?

Grabski: Over the past three years, Tosoh has been investing in the support infrastructure to help educate current and future MCC users, both with virtual and in-person offerings. Tosoh Bioscience has created its MCC Center of Excellence in Madison, Wisconsin, and expanded the US headquarters in King of Prussia, Pennsylvania, to include a demonstration lab and training facility dedicated to MCC education. We are also investing in a similar set of Centers of Excellence and Application Labs at other offices worldwide. The platform is helping to educate and support the industry all the way from the lab to the field.
Receive content, products, events as well as relevant industry updates from The Medicine Maker and its sponsors.